MetaCash Round 1 Post-Airdrop Community News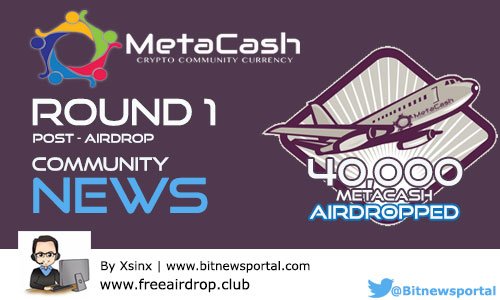 ORIGINAL ARTICLE
http://bitnewsportal.com/metacash-round-1-post-airdrop-community-news
JOIN METACASH AIRDROP
https://freeairdrop.club/metacash-coin-airdrop
Hello Everyone! Welcome to very first community news for metacash community. Before i start this article is a community initiative news entry and not from the metacash development team. For this entry we will tackle Airdrop #1 highlights and some other important announcement made by the dev team.
Metacash airdrop has been very sucessful with 311 Airdrop participants for airdrop #1, 40,000 MetaCash has been shared by 311 Accepted Airdrop participants. Each participants receive 128.62 META. As of today, we cannot still determine the price of each coins since there are still no exchanger available for MetaCash Coin.
With the mandatory voting requirements on AIODEX the airdrop participants go down from 1300+ Members down to 311 Active Airdrop participants. 1000 fake airdrop entries has been remove due to the strict voting requirements and this rules will make it harder to cheat and abuse the airdrop.
The registration is now open and all accepted participants don't need to re-register again while all those new airdrop applicants needs to complete the voting requirements to qualify for the next airdrop round.
Help and vote metacash to get listed on an exchange
Vote for MetaCash on AIODEX - VOTE NOW
https://aiodex.com/vote/coin/5b59c1311aaad360dc475204
Vote for Metacash on Coinpulse - VOTE NOW
https://request.coinpulse.io/suggestions/14409/metacash-meta
Vote for Metacash on SONOX - VOTENOW
https://sonox.io/
Soon MetaCash will be available for trading on ESCODEX a decentralized cryptocurrency exchange platform. Stay tuned for more announcement from the dev team regarding escodex listing.
That's all for today! i hope you find this article useful and informative. Don't forget to LIKE, SHARE, Re-TWEET this article in different social media. Lets spread the word about METACASH and together as a community we can make a difference if we work together.
Thank you for Reading....
FOLLOW ME ON TWITTER!
https://twitter.com/BitNewsPortal
Disclaimer
This News Entry is a personal opinion and not directly from Metacash developer team this is a community initiative news entry, for official news and updates check out #announcement channel via Metacash Discord.