There's only one way to be rich… you have to play the game of money and put value on what you do!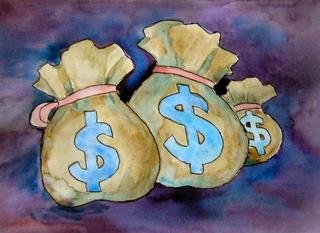 It' so easy to say that you want to be rich!
But what are you doing to get rich? 
What value do you put on your skills or talent?  
What price will you put on your product, whatever it is? 
That requires you have to decide how much money you want to make/earn per year.  
Take the figure you want to earn in a year and divide that by 52 weeks in a year. 
Then decide how many days in the week you want to work on your creative project? Remember you also need time for your family and home. 
If it's five day eek, divide your last answer by five. That is what you could possibly earn per day. 
That's in theory! But can you achieve that?
Is it possible to earn that much per day, with what you do? 
Deduct costs involved to make your product, to get a realistic idea of what you are up against. 
Would you have to create more items to make that much money per day or week? 
How will you cope personally with the production demand on your own, on ongoing bases?  
Will it stress you out to work those long hours? Will you need staff to help you achieve your target? 
Things may look grim up to this point, but don't get dis-heartened and give up just yet. 
Keep notes of your answers of your answers as you play the game.
Let's continue to play the GAME:
Throw your dice. What did you get? 2 possibilities or 5 possibilities of achieving your goals?! 
How are you going to achieve your goals?  
Will you have to change `gear' to get what you want? Do something else in the meantime, that will create the capital you need. 
You may have to do it in stages. First with what little you have. Make something with that and then sell it and plough that money into your next project. And from that project (could be more than 2-4 projects before you can) use the capital to finance your ultimate goal. 
Will it mean a longer term than you thought, to achieve your dream of success? Are you willing to spend all that time and effort to achieve what you want? 
What other options do you have? Will you have to change your plan to plan B or C? Would you have to discover better or different materials or theory, to create what you have in mind? 
Making money is like playing snakes and ladders!
You have `UP ladder' days and months, and you have `DOWN snake' times. That's when you need to believe in yourself, when the `dice' is thrown again. 
You have to have a BIG money heart. Have high expectations like winners have.  
Desire, wisdom, hope, effort and patience play their part.  
Rich people believe there's lots of money out there. All it requires is some bright idea and inspiration to collect it. 
Pace and brace yourself. Don't be scared of those `big mouth snakes' out there. They add thrills to the money game. ·
 Look at the ups and downs as an adventure. Each activity is part of the trip you are taking through life.  
`Ring the bell' every time you make a successful hit on the right `square'. Acknowledge your success to yourself, to build your confidence. And give thanks to God for supporting you along the way. 
Do you need partners to play the game?
Choose them wisely. Are they cleaver at what they do? If they like what they do, they will continue to play the game in your favour!