The animal world is quite amazing when I think of their communication system. It must be one effective way of getting the word out! Somehow or other they all seem to know that they are welcome at my place, so much so that they get fed whenever they want. I wonder how they do it? Lorikeets, willy wagtails, doves, pigeons, honey eating birds, peewees and the Indian Minor birds have moved in not long after we set up home. Not a bird was in sight in the first 6 months. I think we put out the welcome mat when the bird feeders, bird baths and some native Australian shrubs were added to the garden.
If you have not seen a peewee, it is also known as a magpie-lark and is native to Australia as well as Timor and southern New Guinea. It is quite a bold cheeky bird that walks into the deck making a very loud noise as it walks along. I often see this bird chasing the doves and pigeons away from the seed on the ground. I have never heard this bird sing. It is an unusual sound so I am sharing from youtube.
Butcher birds and magpies have joined the bird family that are visiting my place on a daily basis. They both started coming a while back. I suspect they were being fed by our back neighbour who has gone away on a holiday. At this stage they get fed mince meat, even though their diet consists of crickets, lizards and other vertebrae. They are so friendly, they fly into the deck perching on our chairs even when we are not at home.
Like the magpie, the butcher bird is native to Australia. This bird has a little hook on the end of its beak to impale its captured prey on a tree or a crevice. It certainly is an effective way of making sure it gets it food!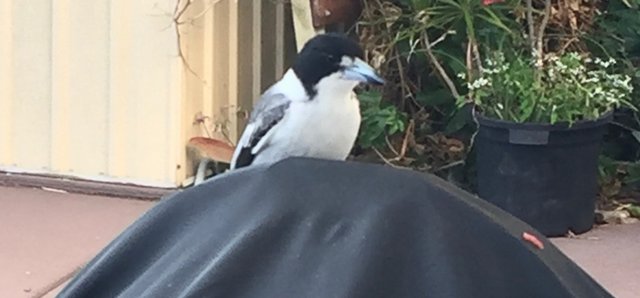 Here is a butcher bird singing. I love this sound and found a reasonably okay one to share on youtube.
There a few different magpies that are visiting and are happy to take food from my hand. Obviously they are tame from being fed by humans for quite awhile.
Here is a photo taken of this one yesterday.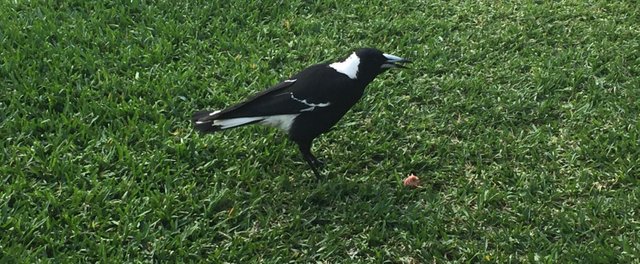 The magpie can be heard in the early morning, it is a beautiful warbling sound. Here is a youtube clip the gives you an idea of their singing. It is not as good as the ones I hear in the morning around my place.
The interesting fact from my perspective is that all 3 birds are similar in colour. We have amazing colourful birds in Australia but his group of birds are basically black and white.
---
Cheers
---