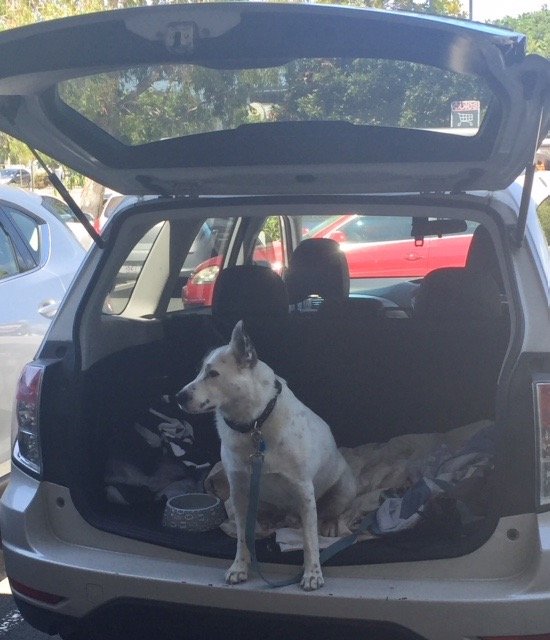 Check out this dog called Jack, sitting comfortably in the back of the station wagon with a bowl of water!
By chance I just happened to be walking to Coles when I saw this scene in front of tables set up outside a cafe. Made me laugh! Never seeing anything like this before and not letting a photo opportunity go by I stopped and took out my iPhone to snap one when the three people at the table started talking. Naturally a conversation flowed once I asked if it was okay to photograph their dog. His name was Jack and Jack was wanting to get closer to his owners.
Here is Jack's story:
This couple rescued Jack from the pound a few years ago. They think that he was very neglected, left on his own a lot and obviously abused. Jack is constantly with them or else he gets quite anxious. They aways make sure he can see them, hence the back of the car set up at the Coffee Shop.
I also learned that Jack has his own Instagram account and lives at the Beerwah Motel. Beerwah is in the country part of The Sunshine Coast and is approximately 30 minutes down the M1 from the Shopping Centre.
I think that Jack was one lucky dog when this couple went to the Pound that day. This story brings up the age old moral dilemma in societies everywhere, Why do some people buy or take on dogs when they are cute little puppies only to abandon them when they grow up or the going gets tough? The sad fact is that if dogs are not rescued after so many days at the Pound they are put to sleep. That is what I have heard. I really hope this is wrong.
---
Cheers
---