Becoming like my mother seemed to be inevitable ...... accepting took some years
When I was young exploring the world being like my mum was the furthest from my mind. If I had an objective it was not to be like my mum at all.
I was no different to my girlfriends. They did not talk talk about being like their mums either.
But Guess what? Somehow or other a 360 turn just occurred over the years. It all started when my first baby came along.
Early on in my parenting years I had a Hahah moment! It was the recognition that my motherly feelings must have been the same as my mother's.
Over the years I naturally drew on the treasure chest of mum's parenting approaches. There was compassion, love, understanding, guidance, encouragement and humour to name some. Mum gave me freedom to develop and grow physically, emotionally and mentally.
She was a good role model!
When the school years finished, just like my mum I too waved my young adult children off as they happily ventured into a life of independence. And just like me at this stage of life, my children did not look back either.
When it all comes down to it our parenting is influenced by many different factors. Hopefully they are as positive as they can be.
PS: - in my growing wisdom I just know that being like my mum is a fact of life! She was one good looker!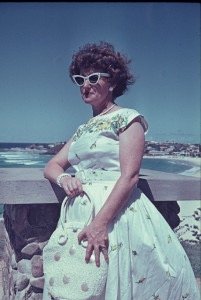 (I wrote this post on my Blog, "educatingparents.org" in February 2017. I miss talking and sharing stories and conversations with my mother, she passed over in 2009. )
Happiness guys
---
cheers
---