My Very First Steemit Meetup In Chiang Mai + Like-Minded Bonding Of Souls
And here it is!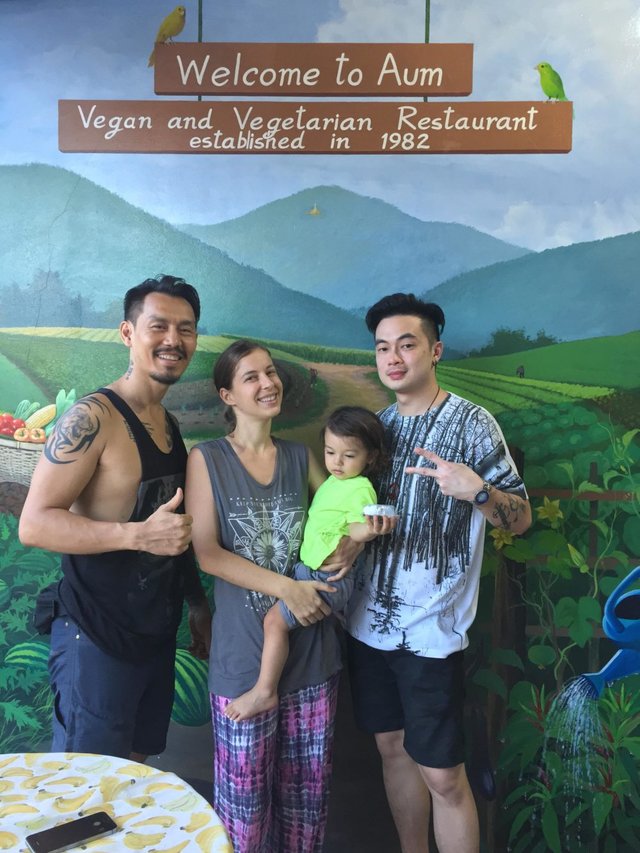 With @kenistyles, @iamjamie and their devilishly handsome son, Kai.
Kenistyles invited me to meet up at the Aum Vegetarian restaurant.
So we proceeded to eat grass, leaves, twigs and stuff LOL. I am kidding of course.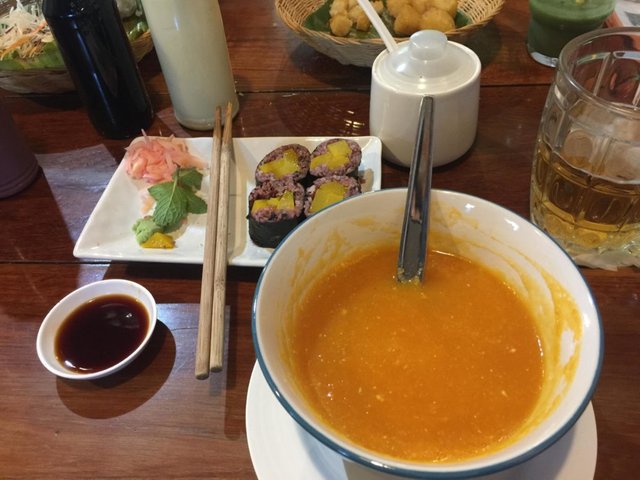 I had pumpkin sushi (or maki, I forgot) and carrot soup. The latter was actually pretty dope. Also, there was beer.
On like-minded bonding of souls
You know what?
None of us are whales here. 
It's not like we make a ton of money. It's not like we're balling. It's not like we're geniuses with great foresight that will change Steemit. It's not like we were even there to talk about our achievements and how we can help each other out.  You're not going to find some weird offer keni and I cooked up in a brilliant burst of inspiration for you.
Heck man, as I am writing this now, I can say for certain that I am writing this with nothing but honest, fruitful joy from being able to meet my friends in person. I am absolutely not writing this just to show off to Steemit that we had the venerable "Steemit Meetup."
We were just there to talk, chill and share about our lives.
And that's the way I like it. 
If you don't, well, sorry, we ain't no circle-jerkers here.
There's truly nothing more pure than just being to connect on a human level. 
Keni shared with me his life before and after having Kai. He talked about his family. He talked about the time he was a porn star before (oh fuck yeah he is, pretty much the reason why he caught my attention here. No homo.) He talked about the near-death experiences he had.
I shared how girls in Chiang Mai were hot haha.
This is an absolute far cry from the time I met up with some friends because we had a "business idea" and we felt good merely talking about it. We validated ourselves with just ideas and aspirations of money. 
None of us did jack shit after that.
Like-minded bonding of souls. I wish whoever is reading this will have it too.