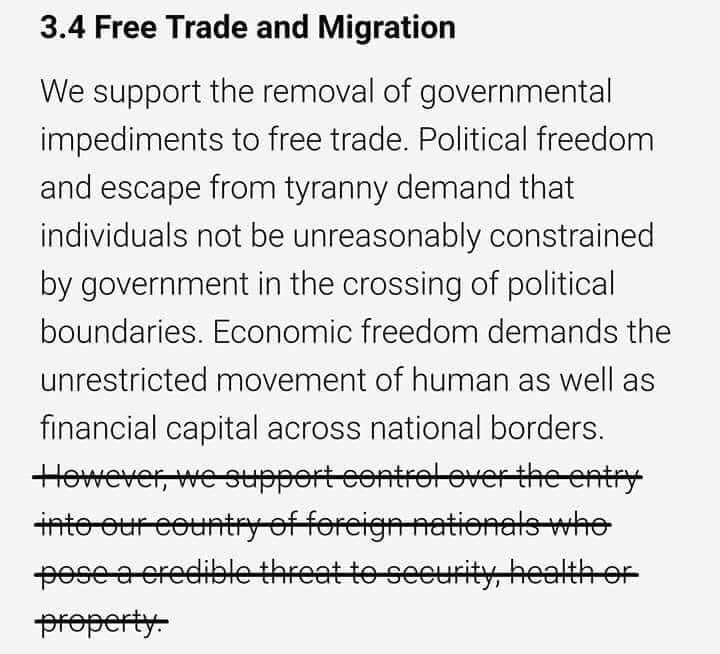 After convention was over I learned there a bunch of confused Libertarians who can't understand the words "unreasonably constrained". This will be the next episode of my podcast, which will come out this Wednesday. I wanted to share a story that was told to me by someone who thinks Libertarianism is somehow an alt-right constitutionalist movement. To give you an idea of how maniacal this person is, they think you are stealing from the government when you protest taxation. I asked this person if they knew what the core principles of libertarian philosophy was, and they said, "Uphold the constitution, and the military." After I stopped laughing I said, "No, really what are they?" You get my point.
So, during the debate to remove the last sentence of Plank 3.4, that person was getting red-faced upset about it. They started cussing and calling everyone a "communist". Again I chuckled and said, "Borders, and their strict control is right out of the Bolshevik playbook. So who is the communist again?" After we passed the correction, they remained upset. After the day was over they posted on facebook how liberal socialists have taken over the party. I had to call them out on it. I asked what they thought the new plank meant. They replied, "Open borders." I then asked what they thought, "unreasonably constrained" meant. Again they replied, "Open borders."
At this point, there really is no arguing with anyone who doesn't have a command of the English language. After I explained that the part of the plank was deleted is not libertarian in any way. I went on to explain that until such a time government ceases to exist, it is reasonable to constrain the movement of someone who poses a threat to life and property. It is unreasonable to constrain them if all they are here to do was work at jobs that Dillon and Madison refuse to do for the money offered.
To my shock and horror this brought out a racist tirade from them I was not expecting. "What happens when armed immigrants take over my trailer with their diseased children, and change the locks?" That's right, this person has a paranoid delusion that if they leave their trailer, an armed band of immigrants will show up with their 19 children who all happen to have every early 20th century factory worker disease, will take over and lock them out. I asked how many times this very thing has happened over the years. Unsurprisingly, they couldn't cite a single example of it happening before.
Beware those so-called Libertarians who think we are the Constitution Party, Pot smoking Republicans, or Democrats who can balance a check book. Strict control over the border is Statist thinking. The only borders that should be respected are those that surround private property. The very thing a border wall would disintegrate. The government will use eminent domain to confiscate the land from property owners to build this monument to Trump. That will only lead to more illegal immigration. Also it will be used to keep people in when the economy finally goes tits up after the Fed runs it into the ground.