Las Vegas Massacre on October 1st 2017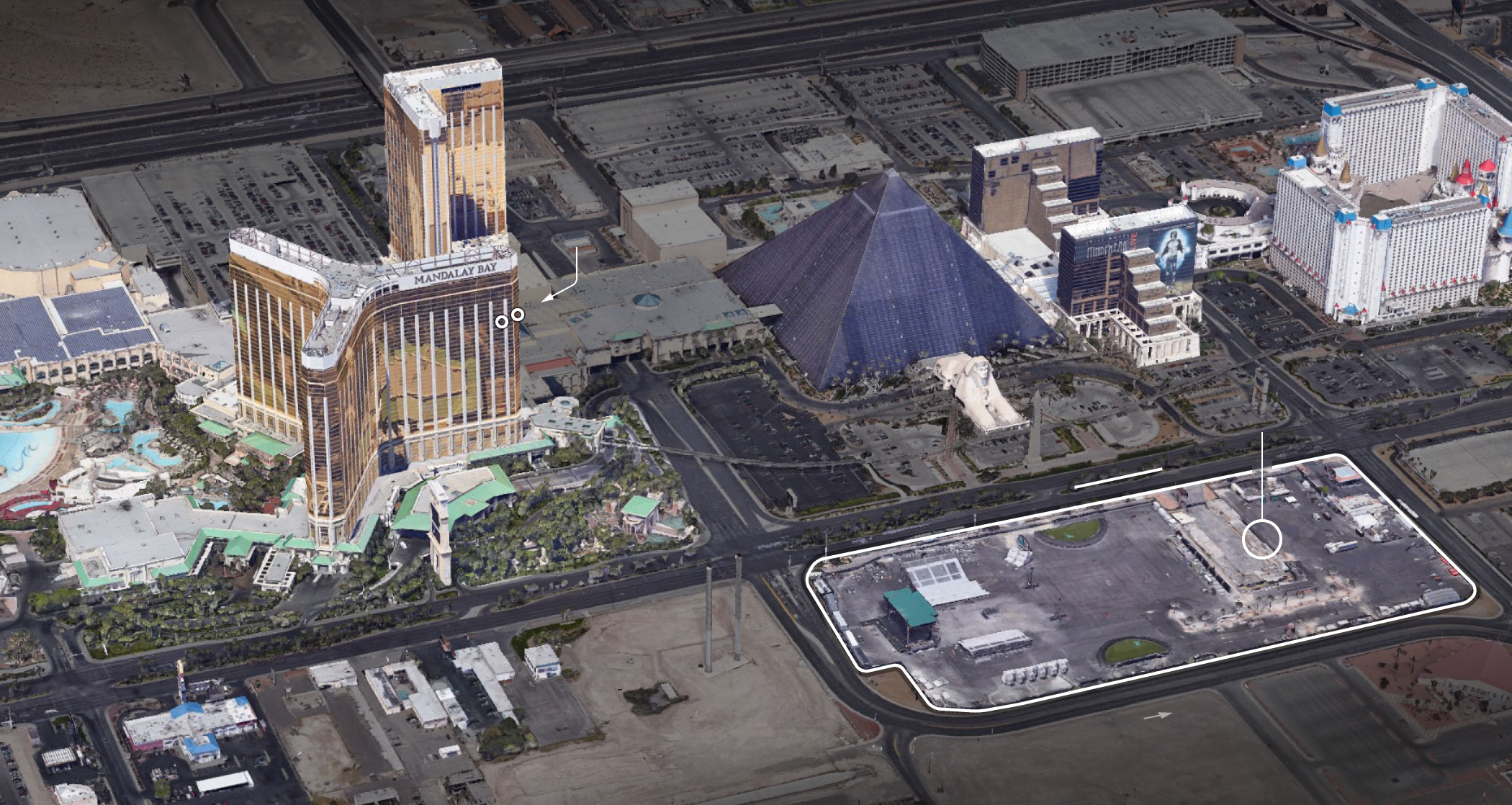 Las Vegas Shooting Dubbed As The Deadliest Mass Shooting in US History!
Dubbed as the US's worst mass shooting, the Las Vegas shooting caught Las Vegas residents by shock. There have been reports of as many as 59 casualties and up to 527 injured as a result of the shooting. Never before have there been casualties or injured with such a high tally count in any mass shooting on US soil.
The shootout occurred at a music festival which was taking place near the Mandalay Bay Casino.
President Trump called the mass shooting an act of pure evil and addressed the nation in this regard. He also later paid a visit to Las Vegas.
The gunman was later identified as a 64-year-old Stephen Paddock. He was reported to be a resident of Mesquite, Nevada and of white origin.
It was found that the gunman fired bullets from his hotel room on the 32nd floor by smashing one of its Windows with something similar to a hammer and aiming his automatic weapon towards the crowd which was nearby. Police also say that the weapon was doctored by the shooter to convert it into an automatic gun.
It was estimated that at the time of the shooting there were as many years 22,000 people gathered to listen to the singers performing in the concert.
• Shot Himself Dead Shortly
It was also noted in the media that after killing and injuring people, the shooter then shot himself dead before Police could reach and arrest him. This points to his psychological health issues as he was possibly afraid of the Police taking him captive and running a trial on him while imprisoning him as well.
• One Man Show
What we know so far is that there was a sole gunman who opened fire on people while the singer had just started singing. The music stopped shortly afterward and the lights went off the screen because people suddenly realized that they were under fire.
The Police were of the opinion that it was a "lone wolf" attack and that Stephen Paddock did not have others in the loop working with him side by side. Neither was he a member of any terrorist organization. Police and security agencies have maintained this narrative in spite of the fact that the ISIS claimed Stephen Paddock had converted to Islam and had attacked people in the US on their behalf. The agencies had rebuffed those claims made by the Islamic State as false claims.
• Muslims Surprised & Happy
This assertion by the intelligence community of the US came as a welcome surprise to the Muslims around the world especially those living in the US that this incident was not connected with an act of terrorism emanating from a Muslim, as is the routine in such cases. Analysts and the media are quick to blame militant Islamists as the main perpetrators of terrorists' attacks in the West. Terrorist attacks are conveniently tied to Islam and Muslims which has damaged its image in the West. Not only that but this stereotyping of Muslims leads to a lot of insecurity and revenge attacks on the Muslims residing on US soil, especially in the same town or state.
According to witnesses, as soon as the shooting started, initially many people thought that the noise was that of firecrackers. However, soon people realized that they were being sprayed with bullets and immediately dropped onto the ground in a bid to save themselves from the hailstorm of bullets inbound.
One witness recounted how there was blood everywhere while another remarked how a person had died in his arms.
• Motive Incomprehensible So Far
The Police say that the motive of the shooter is yet unknown and that they were trying to ascertain why he did all of this.
This is especially because he has no prior criminal record except a minor traffic signal ticket.
His own family is said to be in a state of shock after having discovered what the 65 year old had done.
Stephen Paddock was said to be a man whose main source of income was gambling and real-estate.
People who knew him have said that apparently there was nothing wrong with him, no criminal record, and no extremist beliefs that they know of. In fact, he loved to travel and had accumulated a huge number of air miles.
Further to this, he was a rich man, with as much as 2m$ in assets. Therefore the reason for his action and subsequent taking of his own life remains a confusion that is as yet unclear.
It is possible that he was mentally sick because of which he acted in the way that he did.
• Civic Citizenship!
Surprisingly, a dealer has willfully come forward and reported to the Police that he sold weapons to Stephen Paddock. He said that Stephen only made purchases which were legal in nature and never in his wildest dreams did he know what was going on in his mind, what he was actually up to.
• Planned in Advance
According to the Police who raided the hotel room of Stephen Paddock, there were many loads of ammunition as well as at least 10 rifles found from his room. This brings the hotel security into question as to why it was so lenient that a person was able to smuggle so much weaponry into his room, all unchecked. In the view of an ex-Pentagon officer Michael Maloof, the minimum security in place at the hotel is what allowed him to take advantage of the situation and take ammunition and guns to his room.
Also, it was being said that Stephen Paddock had wired spy cameras to his hotel door to see if anyone is coming to arrest him from his room. So basically this was a well-planned and well-thought over act on his part as he made a lot of arrangements before he actually executed his plan.
• Words of Praise For First Responders
On the other hand, the authorities have praised the first responders to the shooting incident who played their part before the police and emergency services arrived at the scene.
There were strangers who were helping each other out and taking the injured to hospital in their cars owing to the high number of them that they faced a shortage of ambulances. The hospitals too were overcrowded as no one had anticipated such a huge influx of injured who had to be treated for bullet and shrapnel wounds, et cetera.
In addition to that, the blood donation level was so high that authorities in charge of blood banks had to formally stop people from donating any further until further notice. This was done in view of the high amount of blood which was collected and considered sufficient for the time being.
• Authorities in Action on the Crime Scene
The authorities on their part rushed to the scene soon after the shooting started as long queues of SWAT and police vehicles could be seen everywhere.
They also set up a family reconciliation center for the benefit of the families whose loved ones were in attendance at the music concert. This was done so that the missing family members could be identified and information passed onto the families who were in a state of mourning at what had happened to their loved ones all of a sudden.
Analysts have suggested that such mass shooting has become commonplace in the US and this particular one which, was called the deadliest in US history, could turn things around. They argue that this incident could lead to a change in the laws that make it easy for Americans to buy guns without an ID check. These laws may possibly become tougher and make it difficult for Americans to buy guns off the shelf.
This is a developing story and more updates would be made available on it soon.