Do you ever wondered what language is the most used in Steemit?
English is not the only language used by steemians, even if it is obviously the #1.
Some posts are written in "foreign" languages and may even contains multiple languages.
Here is the answer to my first question, if we exclude English: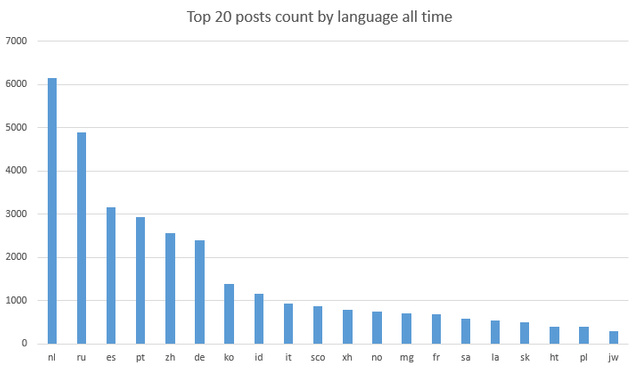 This chart includes posts only (no comments or replies)

OK, there are some unexpected languages in this chart. Please keep in mind that language detection is not always perfect and sometimes got tricked when there are not enough words in a posts.
And the winner is ... Dutch!
He he, I'm pretty sure our friend @roelandp is on the starting blocks to ask Steemit.inc to create his own copy of steemit and rename it to stoomit or stemit like the Russians did with Golos ;)
Mate, calm down a bit before to rush headlong into it. Have a look at the following chart first. It shows daily posts count for the top 3 languages starting from July (data before July are quite irrelevant).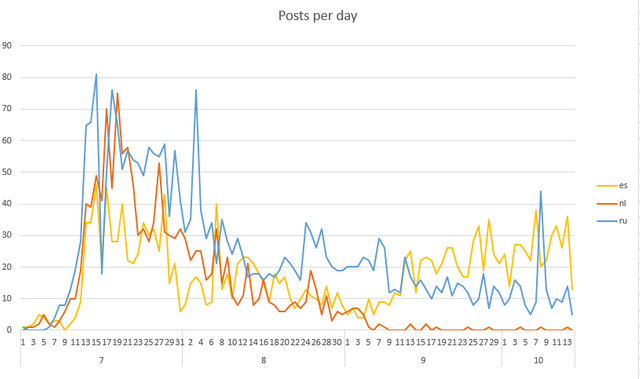 Interesting, isn't it?
What we see is that the Dutch community has been the most active in July, followed by the Russian community. But they slowly declined starting mid-July to become pretty mute nowadays.
Look at the Spanish's posts! As for other languages, there has been a decline but less important.
Moreover, starting September, the number of Spanish posts got higher and higher and this community is now dominating since mid-September.
Sorry @roelandp but your fellow Dutch language authors have hard work to do and come back pole position. Hopefully SteemFest will help the emergence of new Dutch writers.
The challengers
Here the same graph with the top 6 languages altogether.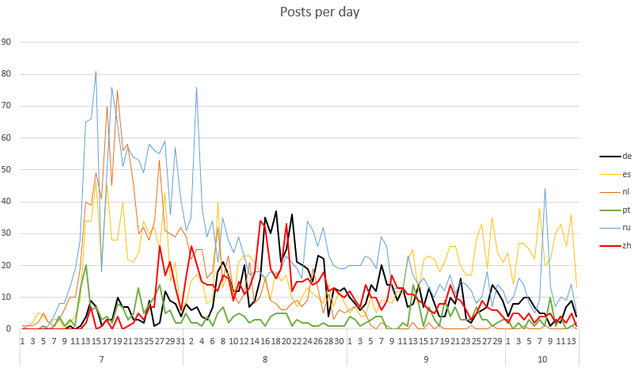 Chinese and German community did their best mid-August, outshining current best performers. Unfortunately, they have failed to keep pace and are now on a downward trend.
The contributors
Want to know who are the top "foreign" language authors this month?
Top Spanish writers
Top Russian writers
Top German writers
Top Chinese writers
Conlusion
Go on steemians, there is a place for language diversity on steemit. Follow the Spanish community example and write in your own language.
There are also several English authors who explicitly authorize the translation of their posts as part of Operation Translation, a project initiated by @papa-pepper. The author of the translation get the rewards if the translation is upvoted.
Let's make steemit community truly multilingual.
Thanks for reading!
---
Image source 1
---
I hope you enjoyed reading this post. I stated in my witness thread, I'm committed to help non-English communities to develop.
Support me and my work as a witness by voting for me here!

You like this post, do not forget to

upvote or follow me or resteem