Caught Red Handed! You wont believe this Yard Transformation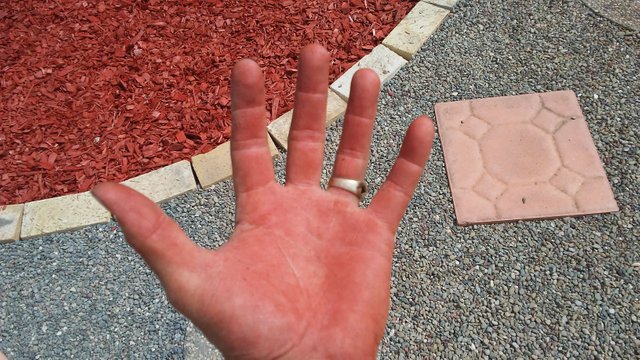 How did this happen to me? Read on to find out....
With all of the heavy lifting out of the way - it's time for the fun part - filling in all that empty space with some decor. If you have been following this series then you know that we are finally getting around to landscaping our front yard and it has been going nicely so far with the weather giving us plenty of good opportunities to get out in the yard and get our hands into the dirt. If you haven't been following us - please take a moment to check out our previous work so you can see what we have done already.
Now that you've gotten caught up with the project - let's dive into the next part of it.
We had to level the ground , clear out the grass and layed down some brick to define our area. Now we are going to get to fill in the space with tree bark, rocks, and plants. We don't have all the plants yet but we will continue to add plants over time since it's a flower bed and we are likely to change up the flowers regularly. The good news is that we will have nice canvas to work from.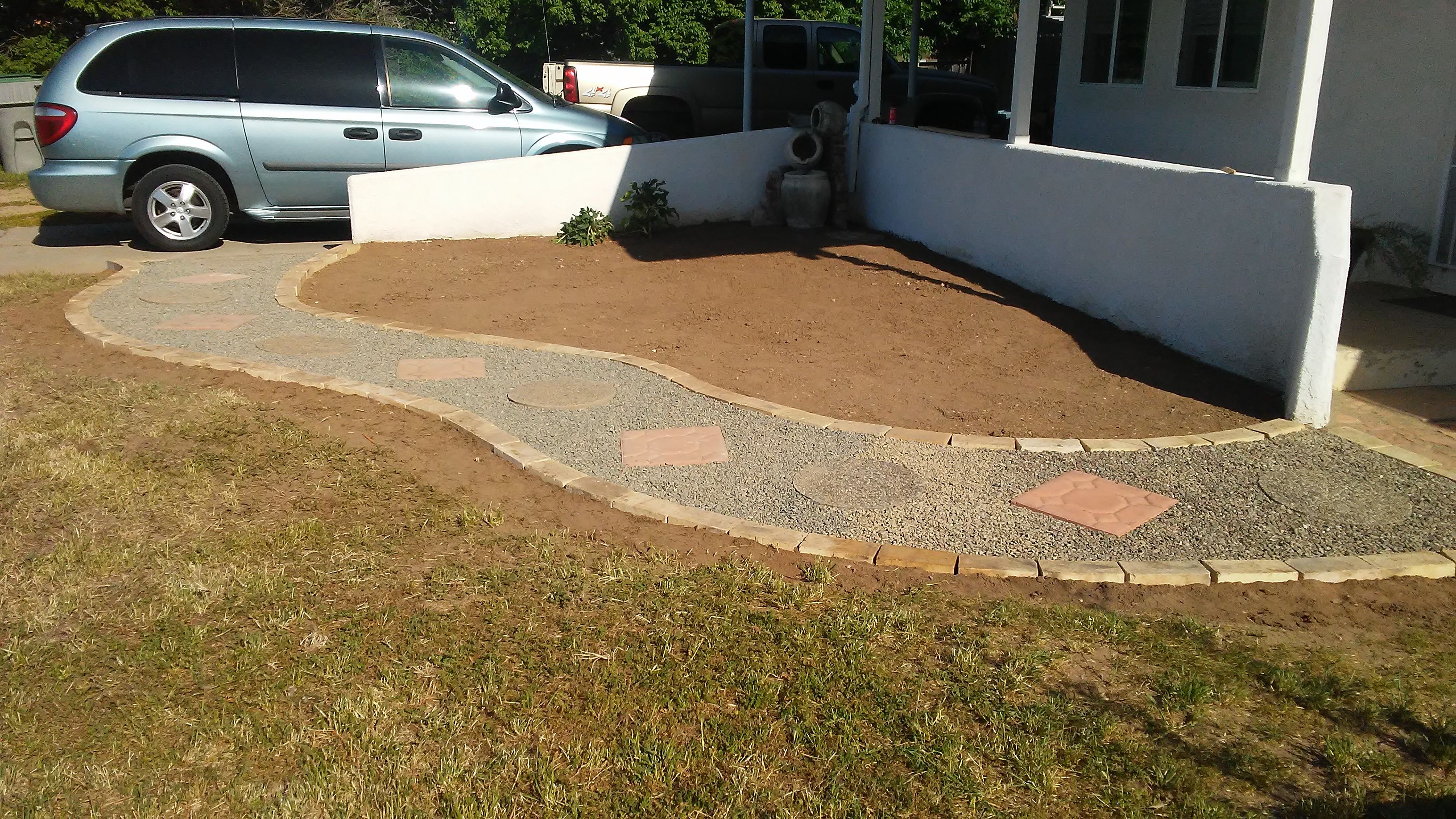 After our previous time in the yard - this is our starting point for the day - we have plenty of space to work with but it looks so empty so we are going to spruce it up a little.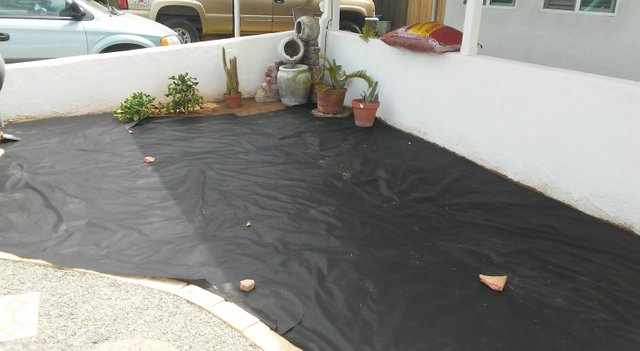 The first step is to lay down the weed prevention fabric - as we covered in my previous post- this is to help prevent weeds from sprouting up through the rocks and bark that we are going to lay down. Weeding the garden can take a lot of time if they get out of control and in a space this large - it can easily get out of our hands and become a hassle to maintain. To prevent that - we will simply put down some underlayment that blocks out the sun and also keeps weeds from penetrating through it - then we will add the rest of decor on top of that.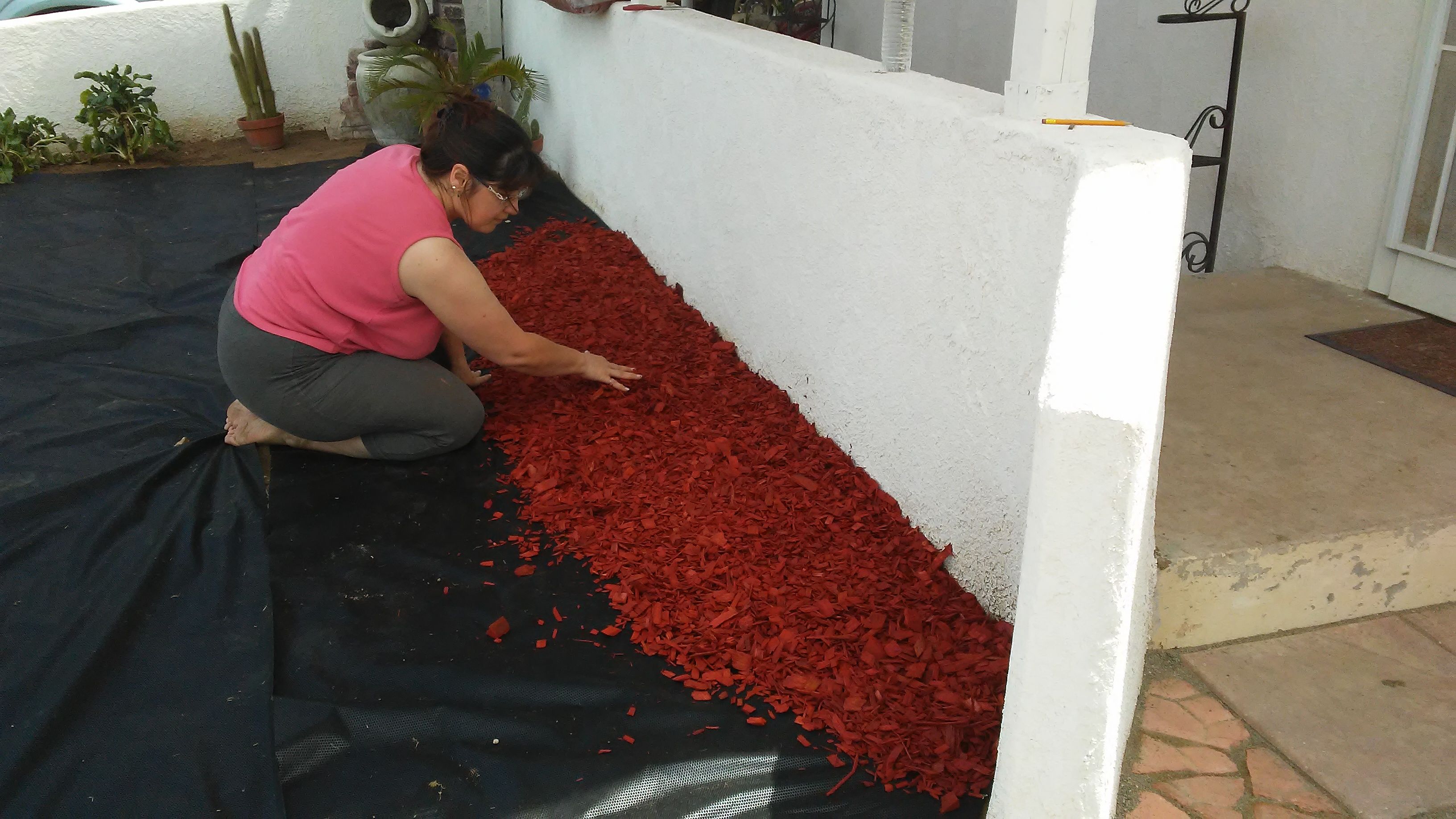 Once the fabric is layed down, it's time to start filling it in with the bark. We selected a red bark which is going to go really nice with the paint and trim on our house. The cream color of the house combined with the red bark, white rocks and green plants will give us a very colorful contrast and make everything stand out better.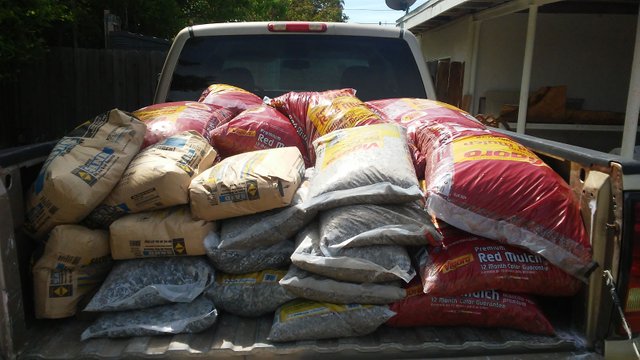 We have plenty of materials to get us started. Up to this point, we have been able to do a lot of the yard with materials that were already laying around - it was nice to be able to repurpose these items to give us a good foundation to build up from - but now were are at a point were we needed to purchase some materials to complete the job. Luckily -there happened to be sale going at the Home Depot and we were able to get most of these bags for $2 a piece.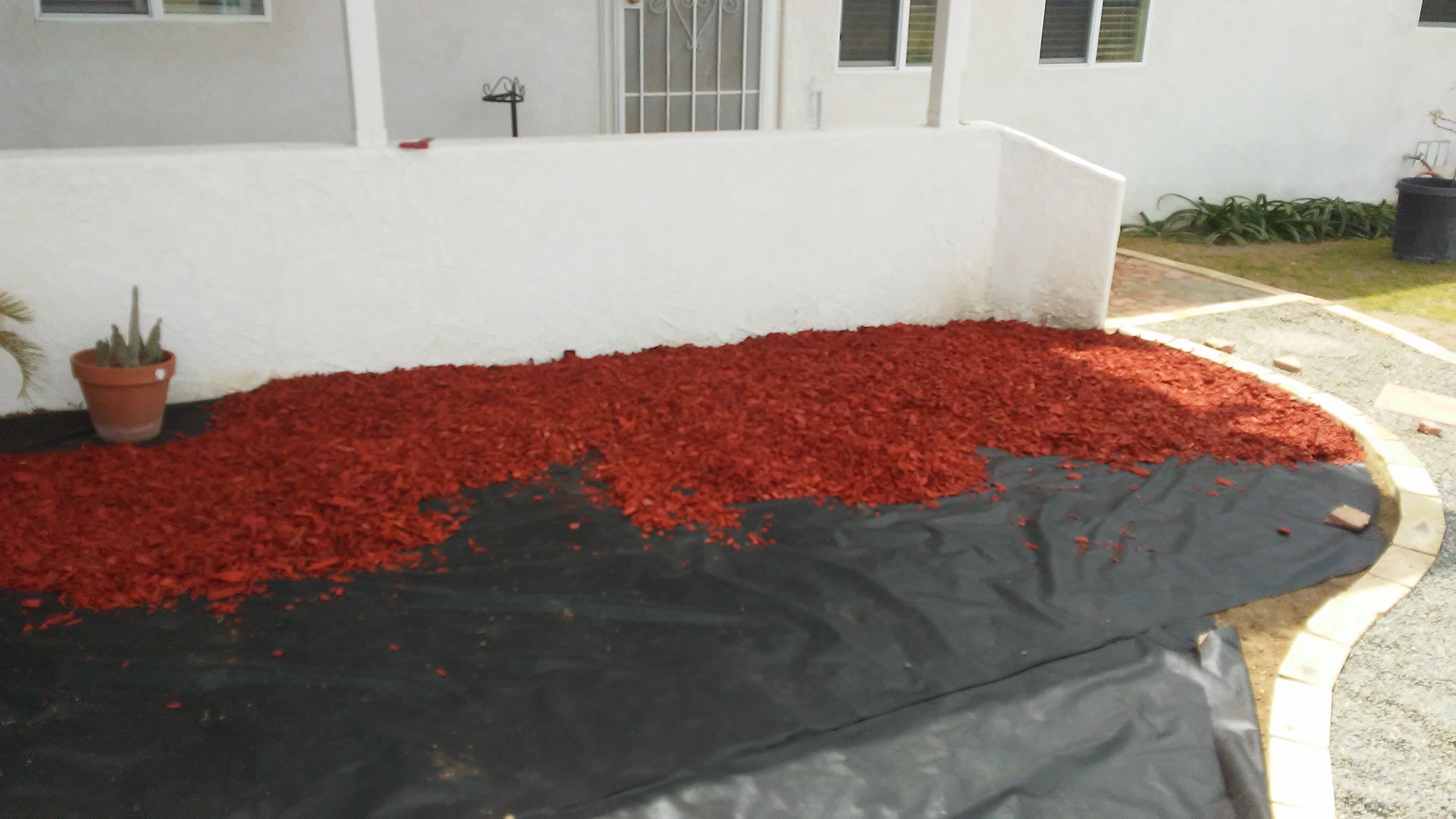 The work goes rather quickly since most of the heavy lifting is out of the way. The bulk of what we had to do is open the bags up, dump them out and spread them around the garden. It didn't take long for it to start filling in and was kinda fun.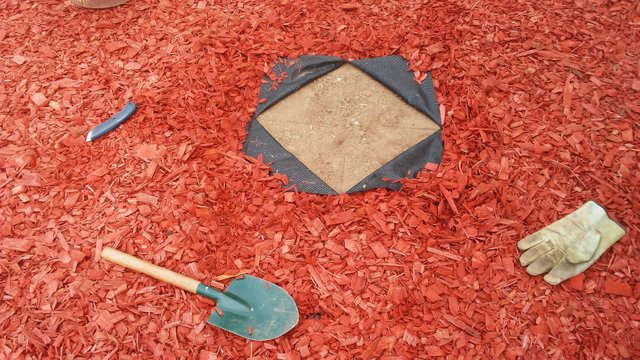 Of course we want to have more than just bark - so we start getting plants into the ground. The way we do this is to lay all the fabric first - then cut it open wherever we want to drop some plants in. I cut an "X" into the cloth and peel it away from the center to expose the dirt where I want to dig a hole.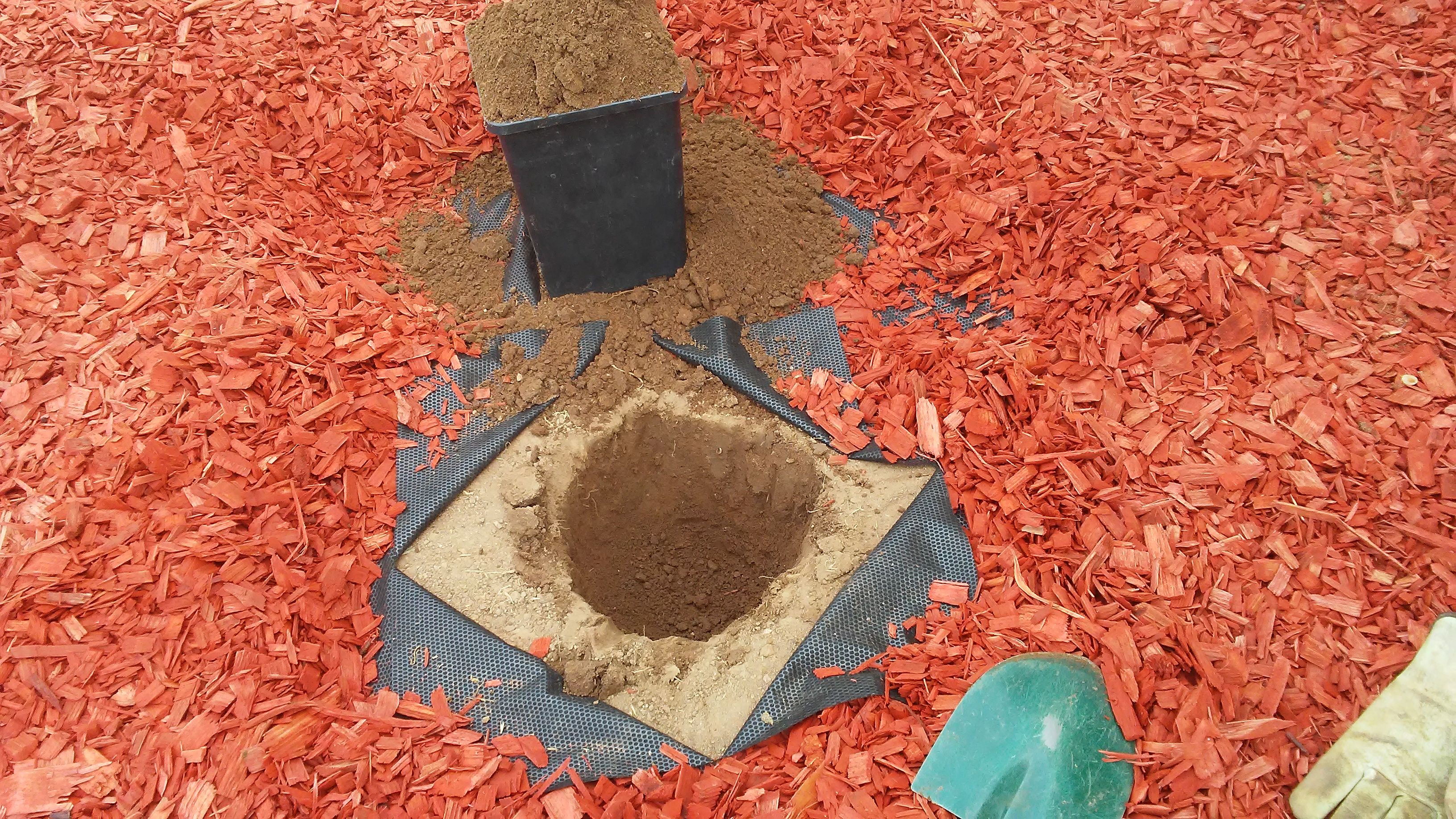 With the ground exposed - we dig a good sized hole to hold the Sago tree we are dropping in the ground. I could have used the post hole digger for this, but it was on the other side of house and I didnt feel like chasing it down. A simple hand shovel did the trick for me easily enough.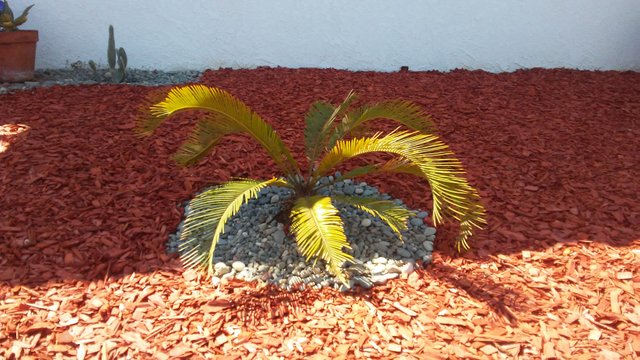 We drop the Sago into the ground , fill it back in with dirt and surround it with decorative rocks to finish off the look . We have had this plant for over 3 years now and have never put in into the ground. We are hoping it will really shine once it has more room for the roots.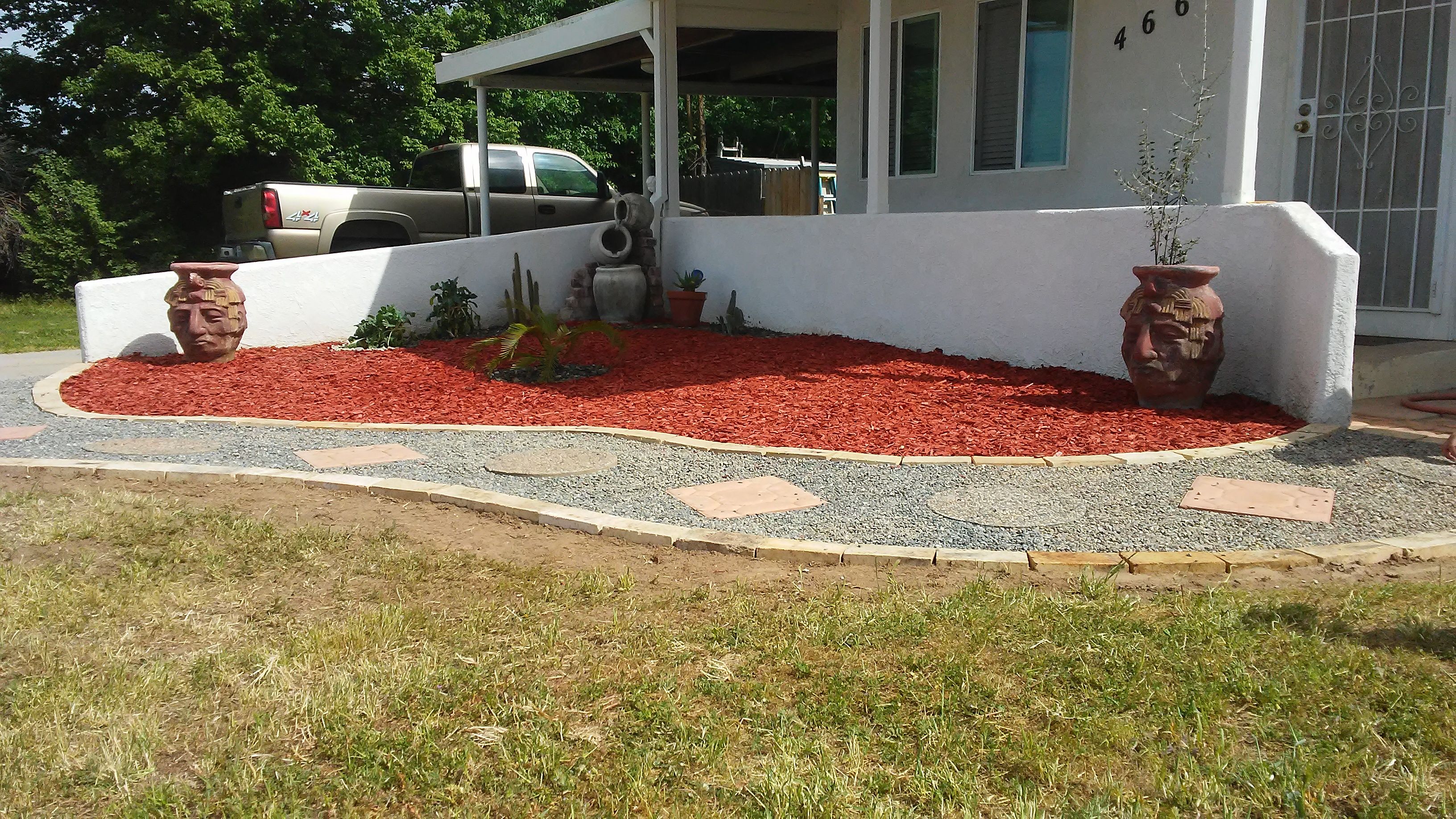 Time to stand back and and admire our work -obviously we still plan to add more plants to make this garden really pop but for now we have some Swiss Chard in the ground as well as a few cactuses that are about to bloom and the Sago of course. We plan to add more vegetables and some colorful flowers once we figure what we really want. We are excited to have such a beautiful starting point to work from.
Oh - and about my hands?

It's from the red bark of course! After working with this stuff we hand red dye all over our hands, feet and clothes. It washed off easily however - but it still makes me glad that we didn't go with the black bark!
Thank you all for checking out my blog
I have many many more projects on the schedule and I look forward to sharing them all with you. I hope you will continue to follow us in the journey to make our home into a homestead.
---

Please be sure to check out my others articles on real estate, investing , and cryptocurrency ( and some other random dog stuff)
I always upvote comments to my blog posts