Exchanging Of Fiat Money To Cryptocurrency Got Easier With Konios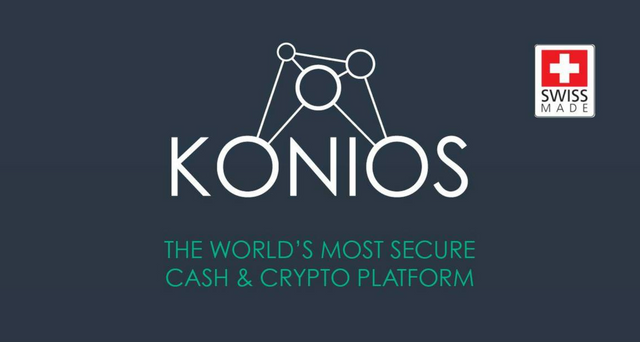 The Konios ICO platform was started with the intent of offering an easy way to access the cryptocurrency community. This platform wants to do away with the time-consuming process and the high processing fees that are involved in getting the cash converted to cryptocurrencies. It connects the local cash to cryptocurrency buyers and sellers. It will be free of restrictions, personal data requirements and the regulations that are preventing many people to access the crypto community. You get to sell or buy anything you want in the Konios platform quickly and without being traced.
Features of Konios ICO
This platform offers face to face transactions of cryptocurrencies or cash and it is completely safe, secure and anonymous.
It is also a marketplace to sell or buy commercial goods and services using cash or cryptocurrencies.
The trading platform has the right analysis tools and charts to even help the laymen to carry out smooth and quick transactions.
It offers uniform exchange principles for all users from all over the globe.
The users get rewarded for taking part in any kind of transactions on the platform as well as for their loyalty.
Team and advisors of Konios
Patrik Krasnic is the founder and the CEO of Konios. He is highly experienced in e-commerce and sales development.
Mikel Krasniqi, the Founder and CTO of Konios is well experienced in software development.
Patrick Dobler de Souza is the CMO with experience in business marketing, as an entrepreneur and business consultant.
Emmanuel Chilaka is the African Ambassador of Konios, who is a cryptocurrency and a bitcoin enthusiast with technical expertise.
Jeremy Sun is the Head of Operations in China & Government Relations with profound knowledge of the Chinese market and broad network.
Ivana Ljubic is Head of Patents and Advertising with years of experience in patent process, copywriting, and content writing.
Kushtrim Gojani is in charge of Algorithms & Calculations of Konios platform with experience in linking IT solutions and Algorithms.
Marko Zorkois experienced in graphics and programming and is the Head of Visualization at Konios.
Mike Russell, the Platform Developer has vast experience in UI/UX design.
DB is the Blockchain/AI Developer with experience in blockchain development.
David Tackett is the Software Developer with experience in UX design and data management.
Cihan Demir, the Software Developer, has high skills in software architecture, P2P, JavaScript.
Waldemar Nickel is the Network Specialist, system administration and hardware expert.
Harro Uwe Heininger, the Head of Logic & Auditorium, is skilled in software development.
Advisors of Konios are
Jürg Bühlmann- Legal.
Helge Kiessler- International Payments.
Mischa Hampe-Investors and Strategy.
Gabriel Salicunaj- Don't Be Evil.
Michael Ricks–Cyber Security.
Roadmap of Konios ICO
The idea of Konios ICO platform started to take shape in January2017. The founders out their minds and along with the team came out with a face-2-face exchange solution by March 2017. New team members joined the Konios fold in July 2017 and the whitepaper work was started in September 2017. The website was getting developed in October 2017 and the advisors started to offer their support to the Konios team in November 2017. The platform development was initiated in December 2017 and it is expected to go on until November 2018. The Konios whitepaper was completed in January 2018 and the presale started in March 2018. The Konios ICO started its run in May 2018 and there will be the release of Konios APP test in July 2018. The beta version of Konios will launch in November 2018 along with reward system and advertising. The Konios platform announcement will take place in December 2018. The Konios trading will be announced in April 2019 and the migration and integration of the Konios blockchain will take place in September 2019.
Overview ICO
NAME: Konios Token
SYMBOL: KON
PRICE: $ 0.01
MAX: 5 billion
TOKENSALE
1st Lot: 2'000'000'000 KON
2nd Lot: 600'000'000 KON
3rd Lot: 300'000'000 KON
ACCEPTED CURRENCIES
CRYPTO: BTC, ETH
FIAT: -
MAX: -
BONUS Number of Token
1st Lot 35% 700'000'000 KON
2nd Lot 20% 120'000'000 KON
3rd Lot 10% 30'000'000 KON
START
: July 1, 2018
DURATION: 90 Days
JOIN AT: Website ico.konios.com
TOTAL TOKEN IN THE ICO: 3'750'000'000 KON
PREMATURE END: Yes, upon reaching USD 29 Mio.
(Hardcap)
ACTIVATION DATE OF THE TOKEN: After the ICO
Links
Website: https://konios.com/?utm_source=trackico#team-sec
Whitepaper: https://drive.google.com/file/d/1Nf6o1WJooXwv8KCe6vxxqoqmQFpIcMY1/view
Telegram: https://t.me/koniosofficial

---
Posted from my blog with SteemPress : https://icoshrimp.com/exchanging-of-fiat-money-to-cryptocurrency-got-easier-with-konios/
---