KONAMI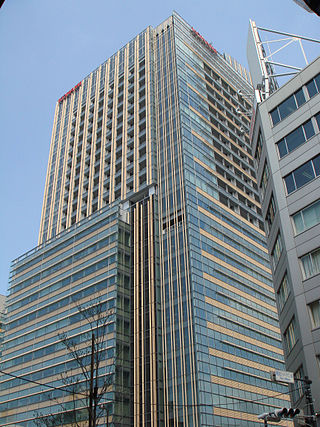 Konami Holdings Corporation (Japanese: 株式会社コナミホールディングス Hepburn: Kabushikigaisha Konami Hōrudingusu, TYO: 9766 OTC Pink: KNMCY), commonly referred to as Konami, is a Japanese entertainment company. It operates as a product distributor (which produces and distributes trading cards, anime, tokusatsu, slot machines and arcade cabinets), video game developer and publisher company. It also operates health and physical fitness clubs across Japan.
Konami is famous for popular video game series such as Suikoden, Castlevania, Contra, Dance Dance Revolution, Frogger, Gradius, Metal Gear, Pro Evolution Soccer, Silent Hill and Yu-Gi-Oh!. Konami is the twentieth-largest game company in the world by revenue.[4]
The company originated in 1969 as a jukebox rental and repair business in Toyonaka, Osaka, Japan, by Kagemasa Kōzuki, who remains the company's chairman. The name "Konami" (/koʊˈnɑːmi/; Japanese pronunciation: [koꜜnami]) is a conjunction of the names Kagemasa Kozuki, Yoshinobu Nakama, and Tatsuo Miyasako.[5]
Konami is currently headquartered in Tokyo. In the United States, Konami manages its video game business from offices in El Segundo, California and its casino gaming business from offices in Paradise, Nevada. Its Australian gaming operations are located in Sydney. As of March 2016, it owns 21 consolidated subsidiaries around the world.[3]
Contents [hide]
1 History
2 Corporate structure
2.1 Japan
2.2 Australia
2.3 America
2.4 Europe
2.5 Asia
2.6 Konami Digital Entertainment
2.6.1 Subsidiaries
2.7 Former subsidiaries
2.7.1 Konami Computer Entertainment Tokyo
2.7.2 Konami Computer Entertainment Japan
2.7.3 Megacyber Corporation
2.8 Distribution of Konami's games in Australia
3 Video games
4 Marketing
4.1 Film production
5 Criticism and controversy
5.1 Silent Hills and development for home video game consoles cancellation
5.2 Kojima Productions
5.3 Treatment of employees and ex-employees
6 See also
7 Notes
8 References
9 External links
History[edit]
The company was founded on March 21, 1969 and was officially incorporated under the name Konami Industry Co., Ltd. (コナミ工業株式会社 Konami Kōgyō Kabushiki Gaisha) on March 19, 1973.[6][7] The company's founder and current chairman, Kagemasa Kozuki, previously ran a jukebox rental and repair business in Toyonaka, Osaka before transforming the business into a manufacturer of amusement machines for video arcades. Their first coin-operated video game was released in 1978, and they began exporting products to the United States the following year.
Konami began to achieve success with hit arcade games such as 1981's Frogger, Scramble, and Super Cobra, many of which were licensed to other companies for stateside release, including Stern Electronics and Gremlin Industries. They eventually established their U.S. subsidiary, Konami of America, Inc. in 1982. It was during this period that Konami began expanding their video game business into the home consumer market following a brief stint releasing video games for the Atari 2600 in 1982 for the U.S. market.[8] The company would release numerous games for the MSX home computer standard in 1983, followed by the Nintendo Entertainment System in 1985.[9][10] Numerous Konami franchises were established during this period on both platforms, as well as the arcades, such as Gradius, Castlevania, Twin Bee, Ganbare Goemon, Contra and Metal Gear. Due to the success of their NES games, Konami's earnings grew from $10 million in 1987 to $300 million in 1991.[11]
In June 1991, Konami's legal name was changed to Konami Co., Ltd. (コナミ株式会社 Konami Kabushiki Gaisha) and their headquarters would later relocated to Minato, Tokyo in April 1993. The company started supporting the 16-bit video game consoles during this period, starting with the Super NES in 1990, followed by the PC Engine in 1991 and the Sega Genesis in 1992. The company also started branching into the pachinko and pachislot business in 1992 with the formation of Konami Parlor Entertainment.
After the launch of the Sega Saturn and PlayStation in 1994, Konami became a business divisional organization with the formation of various Konami Computer Entertainment (KCE) subsidiaries, starting with KCE Tokyo and KCE Osaka (which would be later known as KCE Studios) in April 1995, followed by KCE Japan (later known as Kojima Productions) in April 1996. Each KCE subsidiary would end up creating different intellectual properties such as KCE Tokyo's Silent Hill series and KCE Japan's Metal Gear Solid series (a revival of the MSX Metal Gear series). In 1997, Konami started producing rhythm games for the arcades under the Bemani brand and branched off into the collectable card game business with the launch of the Yu-Gi-Oh! Trading Card Game.
On July 2000, the company's legal English name was changed once again to Konami Corporation, however, the Japanese legal name remained the same. As the company transitioned into the developing video games for the sixth-generation consoles, they also branched out into the health and fitness business with the acquisitions of People Co., Ltd and Daiei Olympic Sports Club, Inc., which became Konami subsidiaries. In August 2001, Konami invested in another video game developer, Hudson Soft, which became a consolidated subsidiary after Konami accepted new third-party shares issued by them. In March 2006, Konami merged all their video game development divisions into a new subsidiary known as Konami Digital Entertainment Co. (KDE for short), as the parent company became a pure holding company. Their headquarters would be relocated once again, this time to headquarters was moved to Minato, Tokyo, in 2007.
The absorption of Hudson Soft in 2012 resulted in the addition of several other franchises including: Adventure Island, Bonk, Bloody Roar, Bomberman, Far East of Eden and Star Soldier.
In April 2015, Konami delisted itself from the New York stock exchange following the dissolution of their Kojima Productions subsidiary.[12] In a translated interview with Nikkei Trendy Net published in the following month, the newly appointed CEO of Konami Digital Entertainment, Hideki Hayakawa announced that Konami will shift their focus towards mobile gaming for a while, claiming that, "Mobile is where the future of gaming lies."[13] The trade name of the company was changed from Konami Corporation to Konami Holdings Corporation during the same month.[14] In 2016, Konami merged Konami Parlor Entertainment into Konami Amusement Co., Ltd. (their arcade division).
In 2017, Konami is to publicly announce that they would be reviving some of the company's other well-known video game titles following the success of their Nintendo Switch launch title Super Bomberman R.[15]
https://en.wikipedia.org/wiki/Konami
Marketing[edit]
Konami is represented by the goroawase number "573". "Five" in Japanese is go, changed to the voiceless form ko; "7" in Japanese is nana shortened to na; "3" in Japanese is mittsu, shortened to mi; "573" = ko-na-mi.
This number appears in many Konami telephone numbers and as a high score in Konami games like Dance Dance Revolution, (which also featured songs with a max combo of the number) as an example; in some other games like Castlevania: Dawn of Sorrow, the number is occasionally used as minor self-reference to the company.
In 2003, Konami started distributing game contents for mobile phones to Vodafone's customers in 13 European countries, including Britain, Germany and Italy.
Film production[edit]
In 2006, Konami started producing movies based on their popular franchises. Konami produced the Silent Hill movie (released in 2006) and has announced that they will produce a Metal Gear Solid movie.[46]
https://en.wikipedia.org/wiki/Konami