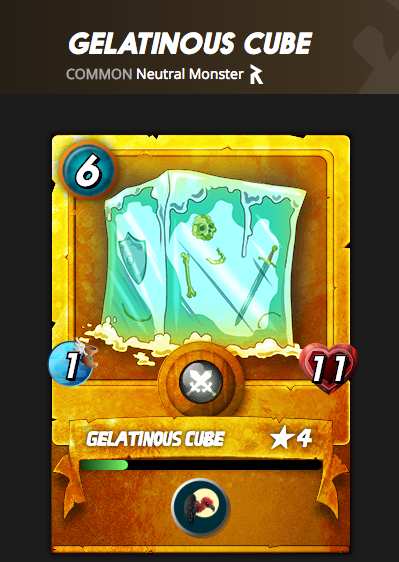 With all the excitement concerning the release of the new Splinterlands Untamed booster packs one important development that slipped under the radar was the release of several new monsters gained through the game's reward system. Today we will examine an intriguing addition to the battlefield, the Gelatinous Cube.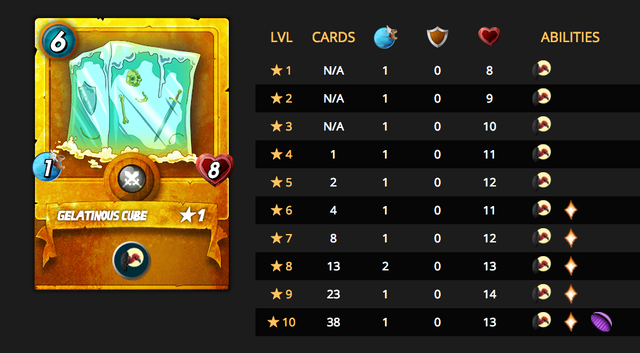 This monster has the scavenger ability at level 1 as well as the heal ability at level 6 and a maxed out card also gains the void ability. The scavenger ability is relatively new in the Splinterlands and it provides +1 health whenever any monster (yours or your opponent's) dies during the battle. There are a lot of furious chickens running around the battlefield these days so this benefit can kick in rather quickly during a battle. This monster lacks any sort of attack ability so it will never be excluded from any battles due to a forbidden attack skill such as "broken arrows."
In a pinch this card could be used as a tank (the first position of your Splinterlands team) but this card really shines when placed strategically on your team to absorb damage from snipe or sneak attacks. When played alongside a monster with the triage ability (e.g., mermaid healer, water splinter) the gelatinous cube can survive incredible amounts of damage.
Since this monster is a reward card it will not be found in any of the Splinterlands booster packs. This just provides all of us a little extra incentive to play every day and complete our daily quests! Although this card is interesting and presents a lot of upside as you level it up I would not rush out and buy it yet on the open market. The market price of reward cards tend to be a little inflated when they are new and should come down over time as more players earn these cards through rewards. Instead, I would recommend saving up your funds to buy Splinterlands Untamed booster packs and just wait to accumulate this card through your daily and season ending rewards. Since it is a "common" card you should be able to accumulate this card with little difficulty if you are a frequent player.
Best Regards,
M.S.