Messianic prophecy: He will reign on David's throne and over his kingdom, establishing and upholding it with justice
The prophet Isaiah developed his prophetic work during the reigns of Ahaz and Hezekiah, kings of the reign of Judah, and probably witnessed the fall of the Kingdom of Israel with its capital, the city of Samaria. Isaiah also prophesied that the Kingdom of Judah would fall some time later, the dynasty of David was in a critical situation in the face of the expansionism of the Assyrian and Babylonian empires.
But it was not all bad news for this prophet, Isaiah knew how to harbor hope in his prophecies. The messianic prophecy of Isaiah about a redeemer is a reminder of the pact made by God with King David through the words of Nathan; a descendant of this great King would establish an eternal and perpetual kingdom, Isaiah called this successor Immanuel (Isaiah 7:14), which means God with us. This envoy from on high would be in charge of motivating hearts and returning men to the ways of God.
Isaiah taught to us that the miraculous child who would fulfill the prophecy of Immanuel would live in Galilee or he would be called Galilean (Isaiah 9:1).
But the prophet also described his qualities and his personality traits, peace and wisdom would be the most important spiritual gifts of the messiah:
"For to us a child is born,
to us a son is given,
and the government will be on his shoulders.
And he will be called
Wonderful Counselor, Mighty God,
Everlasting Father, Prince of Peace" Isaiah 9:6
And about his reign, Isaiah told us that God would give him power and dominion over other nations, the sovereignty of this kingdom would have no limits, and everything would be affirmed by the power of the Almighty:
"Of the greatness of his government and peace
there will be no end.
He will reign on David's throne
and over his kingdom,
establishing and upholding it
with justice and righteousness
from that time on and forever.
The zeal of the LORD Almighty
will accomplish this." Isaiah 9:7.
For christians the fulfillment of this prophecy of Isaiah was the life of the Lord Jesus.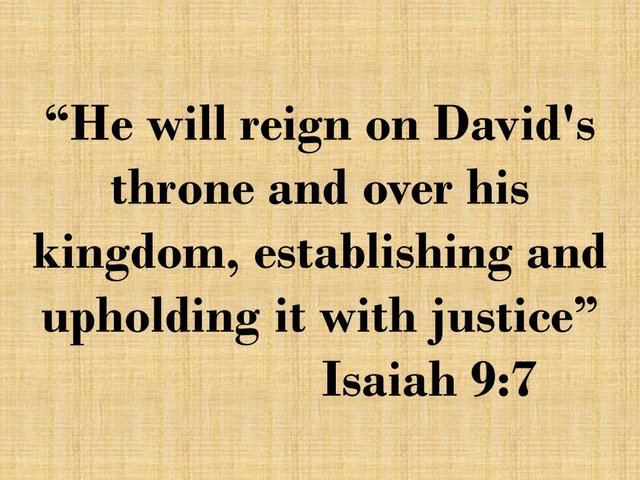 For more information visit my profile follow the link and download for free my ebook.