THEY MAKE THEIR LIVING OFF THE EVENING NEWS ... THEY LOVE DIRTY LAUNDRY ... KICK'EM ALL AROUND! PEDO BEVIN! MY NAME IS ON THE WALL AT NAVAL JUSTICE SCHOOL, NEWPORT, RHODE ISLAND ... INTERNATIONAL MILITARY TRIBUNALS ARE COMING! G_D IS WITH US! GOOD IS COMING!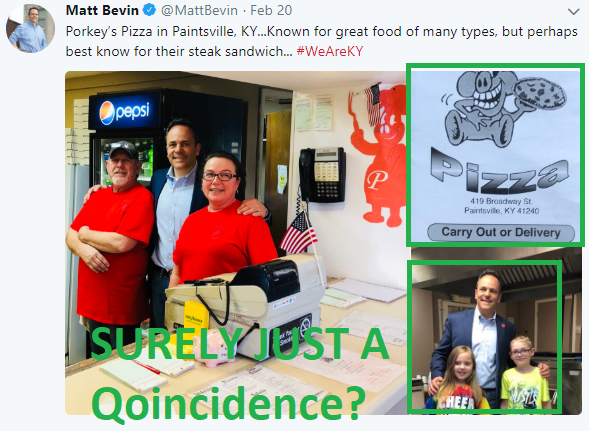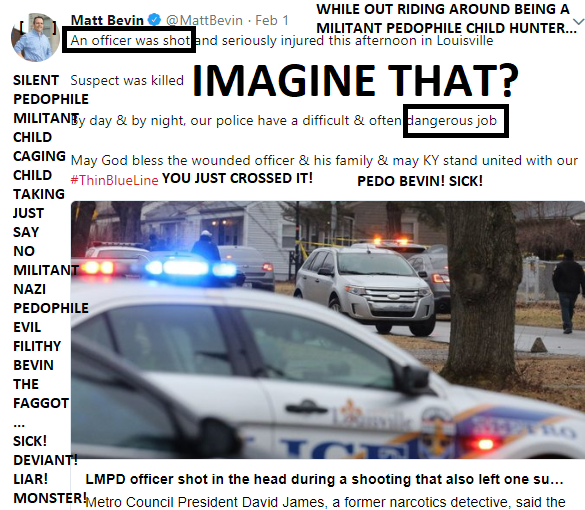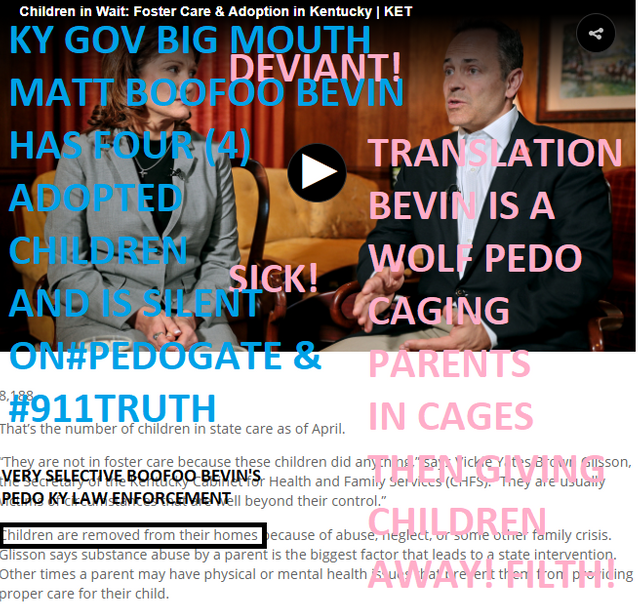 https://www.ket.org/public-affairs/children-wait-foster-care-adoption-kentucky-2/
SO MATTHEW ... YOU WANT TO PLAY A GAME ... A JUDGMENT GAME ... DEUTERONOMY 32 : 20-25 ... REVELATION 3:16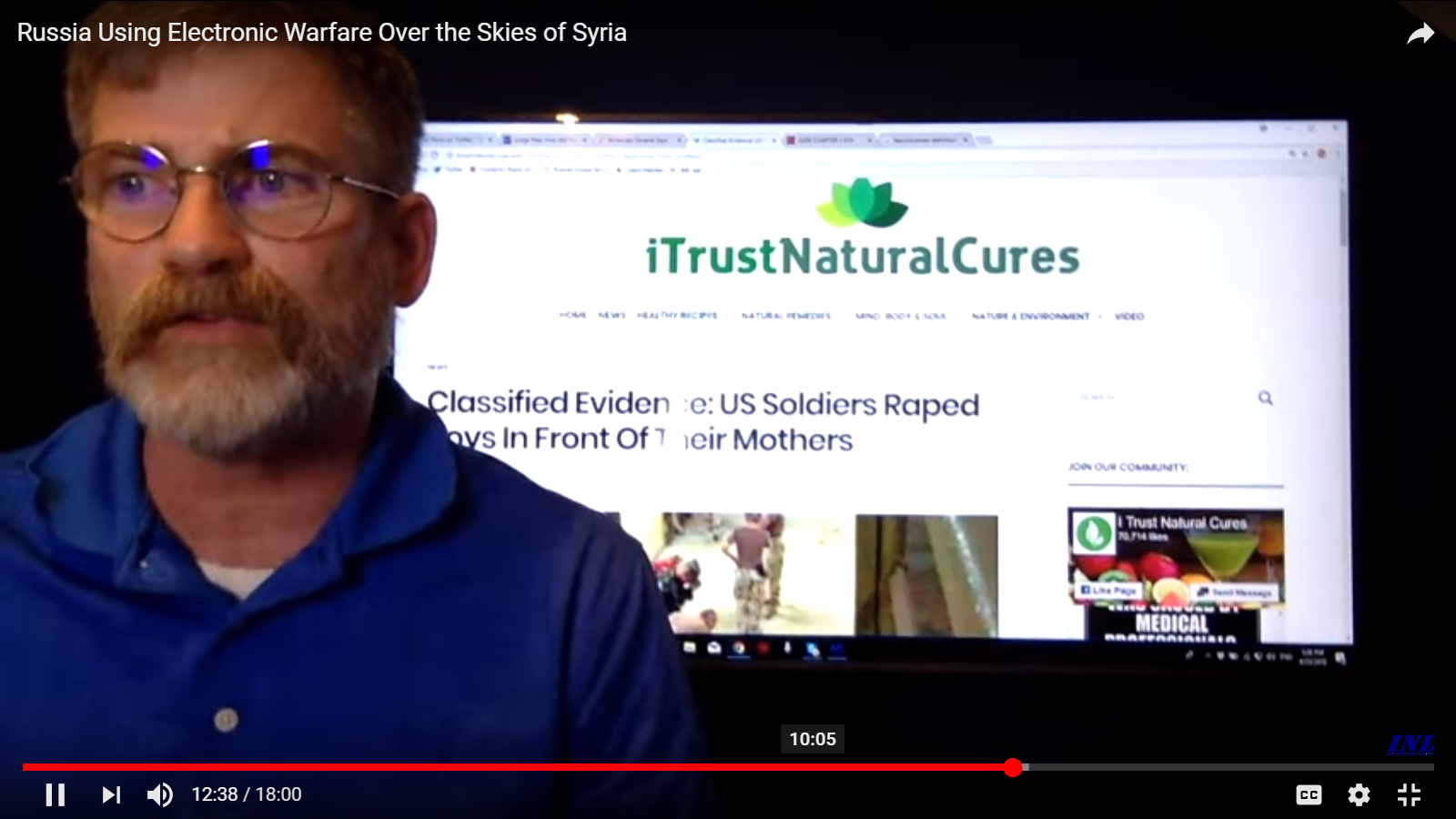 OKAY BOOFOO MILITANT CAGER OF LIVING SOULS ... SILENT ON PEDOGATE ... "RAINBOW" LET'S "DESIGN" A GAME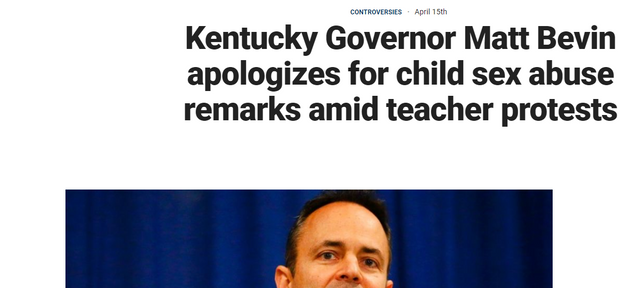 http://www.foxnews.com/politics/2018/04/15/kentucky-governor-matt-bevin-apologizes-for-child-sex-abuse-remarks-amid-teacher-protests.html
MONSTER!
https://www.courier-journal.com/story/news/politics/ky-governor/2017/05/03/matt-bevin-appoints-official-oversee-adoptions-foster-care-kentucky/309672001/
WE'LL GET SOME TESTIMONY UNDER OATH FOR G_D AND ALL WHO ARE GOOD TO HEAR YOUR FILTHY LIES!
WE'LL PRESENT SOME WRITTEN PAPERWORK TO SHOW HOW YOU GAVE, THEN ABUSED, THEN NEGLECTED TO ADVISE AND GIVE NOTICE, THEN MISHANDLED AND OBSTRUCTED AND WERE SILENT AND TOOK ROTHSCHILD FEDERAL RESERVE PEDOPHILE U.S. DOLLAR PEDOPHILE BLOOD MONEY PAYCHECKS WHILE NOT PROVIDING EVEN TRUTHFUL OR FAIR MUCH LESS POLITE AND HELPFUL SERVICES TO YOUR CITIZENRY OF WHICH I AM MOST CERTAINLY NOT ONE WILLINGLY BUT ... that's a different story ... AND HERE WE ARE... YOU ROTHSCHILD POLICE MILITANTS RUNNING THE STATE OF KENTUCKY AND THE U.S. of A. AND ME AND G_D AND ALL THAT IS GOOD. GOOD WINS! GOOD ALWAYS WINS!
PLEASE ALLOW ME TO AIR SOME DIRTY LAUNDRY AND MAKE SURE YOU UNDERSTAND THAT 11,648.00 YOU JUST STOLE FROM ME PEDOPHILE BIG MOUTH DO NO 'TING' BOOFOO RAINBOW SUPPORTING MATT BEVIN AND YOUR EVIL FILTH IN FRANKFORT, KENTUCKY AND LOUISVILLE, KENTUCKY CONSPIRING AGAINST ME WHEN I HAVE WRITTEN PROOF OF ALL OF IT AND YOU KNOW IT #beCAUSE FAG BOY I SENT IT ALL TO YOUR FILTHY PEDOPHILE INFESTED MASONIC LODGE OF AN OFFICE YOU SATANIC FILTHY DEVIANT PEDOPHILE WOLF IN SHEEP'S CLOTHING!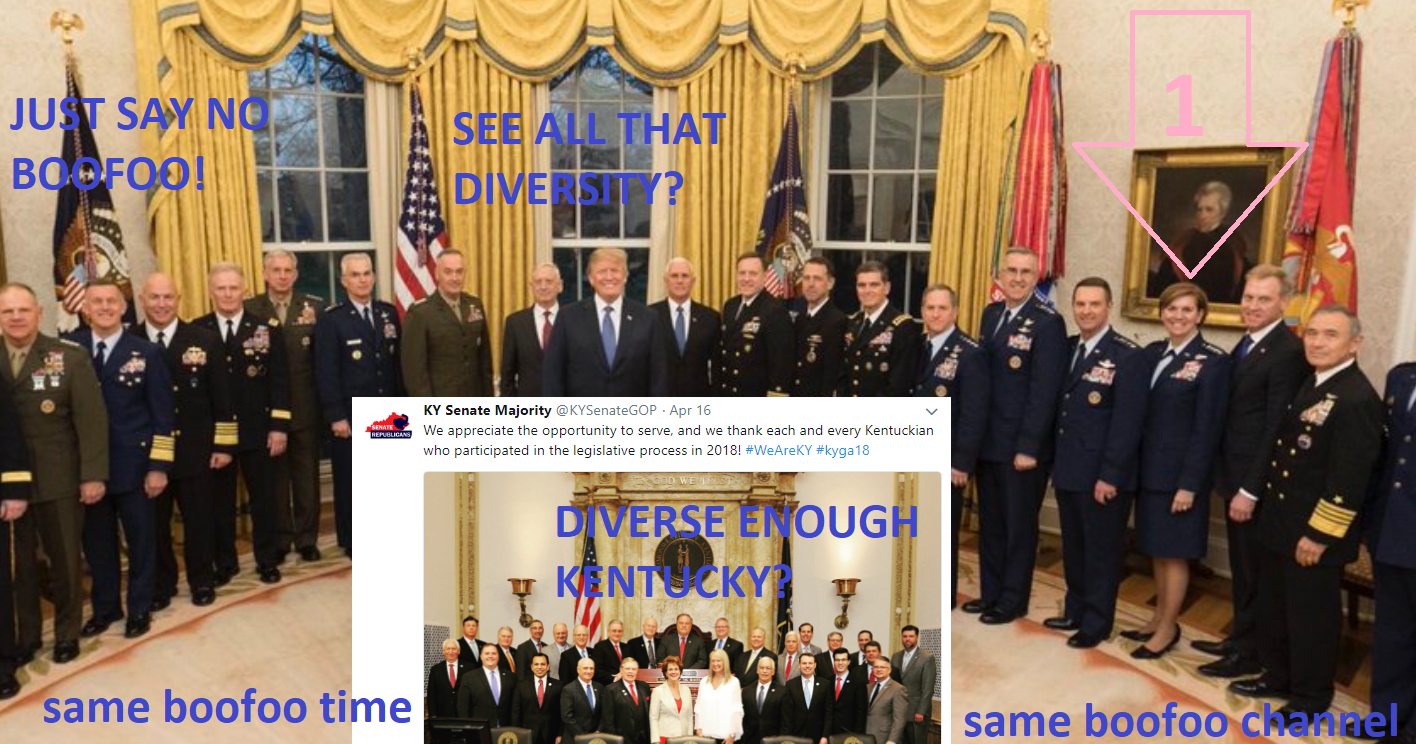 WE ARE MANY!
WE ARE GOOD!
WE ARE COMING!
TRY 11,648,000,000,000.00 NOW ON FOR SIZE AND INCLUDE ALL THOSE WHO DO BUSINESS WITH THOSE BOOFOO #beCAUSE MR. TED TURNER AND YOUR EVIL ILK LUCENT DEVIANTS ... YOU ARE SO DONE ... G_D IS WITH US & GOOD IS COMING! JUST ASK Q! YOU'RE FUCKED BEVIN! YOU'RE FUCKED STATE OF KENTUCKY! YOU'RE FUCKED RAINBOW DESIGN! YOU'RE FUCKED CHARTER! YOU'RE FUCKED SPECTRUM! YOU'RE FUCKED TIME WARNER! YOU'RE ALL FUCKED! YOU KNOW IT! I KNOW IT! NOW THE WHOLE FUCKING WORLD IS GOING TO KNOW IT! STAY TUNED FOR SCANNED DOCUMENTS AND COURT FILINGS IN AN INTERNATIONAL MILITARY TRIBUNAL JUST FOR YOUR FILTHY MOUTHS!
CHECK! MATE!
ASK YOURSELF IF YOU DOUBT ME FOR ONE SECOND ... WHY IS BEVIN SILENT ABOUT THIS? WHY? HE' A PLANT! A SICK ESTABLISHMENT PEDOPHILE BOOFOO MITCH MCCONNEL PLANT OF A NEW HAMPSHIRE REPUBLICAN PARTY PEDOPHILE DEVIANT MONSTER! THAT'S WHY! BEVIN IS A MASONIC FRIEND OF VP PEDO PENCE SUPPORTING @A21!
SHEOL AWAITS US ALL ... #beCAUSE #PUREHEART ... SILENCE IN THE FACE OF EVIL IS EVIL ... DEUTERONOMY 32 : 20-25
MONSTER!
G_D IS WITH US & GOOD IS COMING!
IT REALLY IS THIS BAD ... hard to believe ... but TRUTH is the WAY to LIFE with G_D ... so be GOOD #beCAUSE #PUREHEART Leviticus 25:35 ... Matthew 21:21 ... REVELATION 3:15-16 ... DEUTERONOMY 32 : 20-25