Join us for karaoke every night on #steemschools on discord at https://discord.gg/TaZFW5r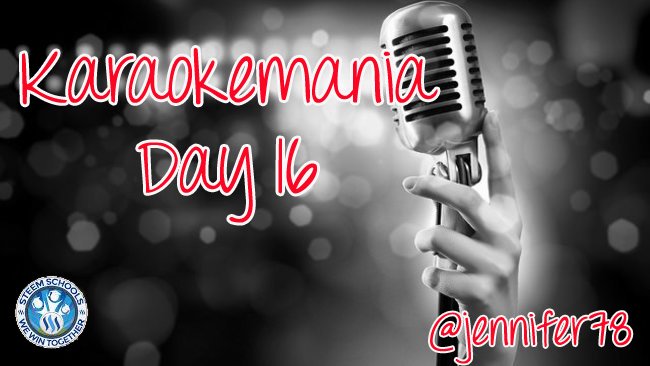 Tonight I sang 6 songs:
This brings my total up to
137 Total Songs Toward the 1000 Songs in 45 Days Challenge
1.Butterfly Fly Away (Part of The Steem Stars Karaoke Contest)

2.Drops of Jupiter (Train)

3.Breaking The Habit (Linkin Park)

4.Kryptonite (3 Doors Down)

5.Bust A Move (Young MC)

6.I'll Be (Edwin McCain)
Below is a list of previous songs I've sang:
I'd Really Love To See You Tonight (England Dan & John Ford Coley)
Did You Get My Message (Jason Mraz)
Rebel Yell (Billy Idol)
The Goodbye Girl (David Gates)
If You Could Only See (Tonic)
Unwell (Matchbox Twenty)
The Dolphin's Cry (Live)
Collide (Howie Day)
Bring Me To Life (Evanescence)
Big Empty (Stone Temple Pilots)
Bittersweet Symphony (The Verve)
One Headlight (The Wallflowers)
Black Cat (Janet Jackson)
Alive (Pearl Jam)
Sometimes When We Touch (Dan Hill)
Hopelessly Devoted To You (Olivia Newton John)
Wanted Dead or Alive (Bon Jovi)
Here I Go Again (Whitesnake)
Despacito (Luis Fonsi ft. Daddy Yankee) w/ @DarkFemme & @MasterMagician
Hit Me With Your Best Shot (Pat Benatar)
Numb (Linkin Park)
Mambo No. 5 (Lou Bega)
Bette Davis Eyes (Kim Carnes)
Shadows of The Night (Pat Benatar)
Crazy For This Girl (Evan and Jaron)
Play That Song (Train)
Under The Boardwalk (The Drifters)
Please Mr. Postman (The Carpenters)
Livin' La Vida Loca (Ricky Martin)
We Are Young (Fun ft. Janelle Monáe)
Hollywood (Madonna)
Something To Talk About (Bonnie Raitt)
Where Everybody Knows Your Name (Theme From Cheers) (Gary Portnoy)
Nobody Knows It But Me (The Tony Rich Project)
What A Wonderful World (The Ramones)
Breathless (The Corrs)
Heaven Is A Place On Earth (Belinda Carlisle)
Gloria (Laura Branigan)
Operator (Jim Croce)
Wild World (Cat Stevens)
Suspicious Minds (Elvis Presley)
Being With You (Smokey Robinson)
What It Takes (Aerosmith)
The First Cut Is The Deepest (cover by Sheryl Crow)
Need You Now (Lady Antebellum)
The Reason (Hoobastank)
Every Breath You Take (The Police)
Head Over Heels (Tears For Fears)
It's All Coming Back To Me Now (Celine Dion)
Rapper's Delight (The Sugarhill Gang)
With Or Without You (U2)
Jenny From The Block (Jennifer Lopez)
Jump In The Line (Harry Belafonte)
Hands (Jewel)
The Time of My Life (Bill Medley and Jennifer Warnes)
Boulevard of Broken Dreams (Green Day)
No Rain (Blind Melon)
Dreams (The Cranberries)
Blister In The Sun (Violent Femmes)
Holding Out For A Hero (Frou Frou)
Hard Habit To Break (Chicago)
Missing You (John Waite)
One Way or Another (Blondie)
These Boots Are Made For Walkin' (Nancy Sinatra)
Eternal Flame (The Bangles)
Blaze of Glory (Bon Jovi)
Objection Tango (Shakira)
Never Tear Us Apart (INXS)
Hungry Like The Wolf (Duran Duran)
Teenage Dirtbag (Wheatus)
Dancing Queen (ABBA)
The Middle (Jimmy Eat World)
Keep On Loving You (REO Speedwagon)
1979 (Smashing Pumpkins)
Then He Kissed Me (The Crystals)
Here Comes The Rain Again (Eurythmics)
Cherish (Kool & The Gang)
Ob-la-di Ob-la-da (The Beatles)
Sailing (Christopher Cross)
Don't Dream It's Over (Crowded House)
Hallelujah (Part of the Steem Stars Karaoke Contest)
Snow (Hey Oh) (Red Hot Chili Peppers
Will You Still Love Me (Chicago)
When You Say Nothing At All (Allison Krauss)
Right Here Waiting (Richard Marx)
Just The Way You Are (Bruno Mars)
I Wish It Would Rain (The Temptations)
Die Young (Ke$ha)
Cool (Gwen Stefani)
Just Give Me A Reason (P!nk Ft. Nate Ruess)
Hotel California (The Eagles)
Crocodile Rock (Elton John)
The Remedy (Jason Mraz)
Unbreak My Heart (Toni Braxton)
Patience (Guns N Roses)
You Never Can Tell (Chuck Berry)
Copacabana (Barry Manilow)
She Talks To Angels (The Black Crowes)
U Can't Touch This (MC Hammer)
Whatever It Takes (Imagine Dragons)
Love Song (Tesla)
Faithfully (Journey)
1-2-3 (Gloria Estefan)
Head Over Feet (Alanis Morissette)
Everlong (Foo Fighters)
Wish You Were Here (Pink Floyd)
It Must Have Been Love (Roxette)
Believe (Cher)
Love Is A Battlefield (Pat Benatar)
All Along The Watchtower (Cover Version)
Sittin' On The Dock of The Bay (Otis Redding)
Bailamos (Enrique Iglesias)
To Sir With Love (Cover by Katey Sagal)
Into The Mystic (Van Morrison)
Give Me One Reason (Tracy Chapman)
You Were Meant For Me (Jewel)
It's Too Late (Carole King)
Against All Odds (Phil Collins)
I Wanna Dance With Somebody (Whitney Houston)
The Game of Love (Michelle Branch ft. Santana)
Take A Bow (Madonna)
Smooth (Rob Thomas ft. Santana)
La Isla Bonita (Madonna)
Runaway Train (Soul Asylym)
Just Like Heaven (The Cure)
Crazy For You (Madonna)
Something Just Like This (The Chainsmokers ft. Coldplay)
You and I Both (Jason Mraz)
Bubbly (Colbie Caillat)
Just A Girl (No Doubt)
I See Your Smile (Gloria Estefan)
So, if you like karaoke and want to win 5 SBD, join our #steemschools on discord at: https://discord.gg/TaZFW5r and introduce yourself in the section that says #introduction. You can tell them you followed my link to get there!
We are not professionals, but we do have some people who have amazing voices and listening to them is a treat!
So, here's how #karaokemania breaks down:
Join us on discord at: https://discord.gg/TaZFW5r
Rules:
Sing 1000 songs accumulated
Join discord live channel with karaoke voice channel at https://discord.gg/TaZFW5r
Join I TALK RADIO CHANNEL 247 on KARAOKE discord VOICE channel
JOIN KARAOKE CLASS AND CHALLENGE IS ONLY DURING OPEN KARAOKE CLASS
Share this link and invitation https://discord.gg/TaZFW5r
Invite all your friends to vote and support you
Keep track of song titles and number of songs daily when you join for that day
Post number of songs that day and accumulative total number of songs from today
Use tag #karaokemania
Make daily posts when you sing that day with all titles of the songs for that day
3 members will win this reward in next 45 days.
Daily random rewards are always good reasons to join us.
Join Karaoke Mania and invite all your friends to joins us at karaoke channel
We also offer free classes for #steemschool that help you earn as you learn daily at 7pm UTC +2.
Again, the discord channel is: https://discord.gg/TaZFW5r
Much love,
@jennifer78