Don't know who that is, dear reader?
Don't feel bad, it is unlikely that you would.
Justing was a young man just trying to get by in St. Paul, Minnesota.
He was living life in his own unique way.
Then, he comes into contact with the local organized uniformed crime gang in the area, and he doesn't get to play this game anymore.
He left behind a young wife and son.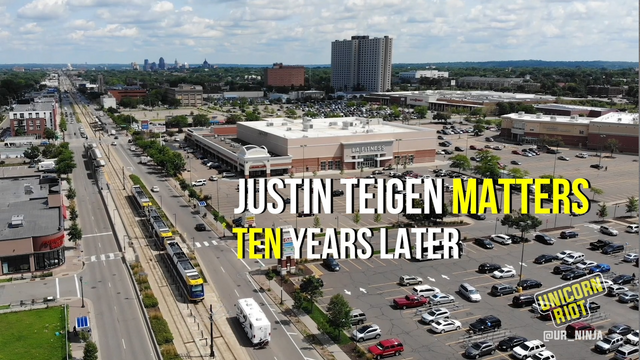 Justin Teigen Matters: Ten Years Later
By Georgia Fort, Unicorn Riot
August 18, 2019
St. Paul, MN
At the age of 24, Justin Teigen took his last breath following an encounter with Saint Paul Police Officers.
Multiple narratives have tried to explain the chain of events that resulted in Teigen's body being found at a recycling center in Inver Grove Heights.
Teigen was engaged at the time of his death to Toshira Garraway.
Together Justin and Toshira have a son who is now 13-years-old.
Surveillance of the incident was captured from Walmart on University Avenue.
The surveillance shows the foot chase, but goes black before you're able to see just how Justin ended up in the recycling bin. Garraway believes this is because there was foul play.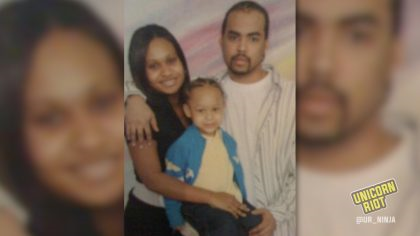 It is your tolerance of violence being used in the pursuit of political goals that is responsible for this young man's death.
Until you actively reject rule by force in your sphere of influence, a portion of this falls on you.
When you 'agree' to pay taxes, you fund the criminal gangs that cause this.
When you bend over to kiss the ass of the 'authorities' that have enslaved you, body and mind, you reward the thugs for behaving like this.
I don't know if those pigs killed that guy.
I don't know if that guy had it coming.
I doubt that he did.
I don't doubt that sociopaths are attracted to positions with power over others.
Stop supporting this system, please.