A CALL FOR JUSTICE FOR *AJILA*
ADEYEMI COLLEGE OF EDUCATION, ONDO, STUDENTS' UNION GOVERNMENT
_______________________________________
Saturday , 6th of October, 2018
_______________________________________
OPEN LETTER TO THE ONDO STATE COMMISSIONER FOR POLICE
_______________________________________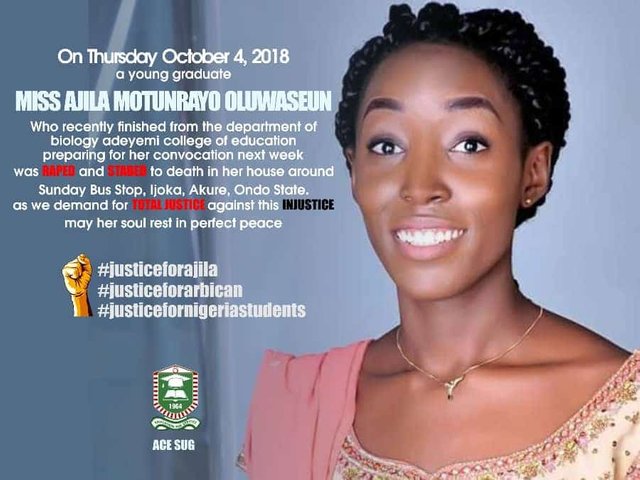 A CALL FOR JUSTICE
Combatant greetings to you from the Apex body of the Students' Union Government, Adeyemi College of Education, Ondo.
The students' union, a consortium of articulate, lucid and quintessential students that is irrevocably committed and dedicated to the protection, defence and advocacy of students' interest.
The Students' Union Government which is posed to serving the students' populace with utmost priority hereby uses this medium to demand JUSTICE FROM THE ONDO STATE POLICE COMMAND as regards a (20) twenty years Old AJILA OLUWASEUN MOTUNRAYO, a graduate of Adeyemi College of Education, Ondo and the only daughter of her single mum, who was raped and stabbed to death in her mum's house on 4th October, 2018 at Sunday Bus stop, Ijoka, Akure, Ondo State.
#We seek justice and we want the evil perpetrators to be brought to book.
WE need Justice For Ajila Oluwaseun Motunrayo
Arbicans Cry For Justice
ACE SUG CALL FOR JUSTICE!
All we want is Justice.
Best Regards!
Signed:
Comrade Zubair Taofeek Abidemi
2017''2018 SUG president,
Adeyemi College of Education, Ondo.
07032985550
Cc:
Provost, Adeyemi College of Education, Ondo.
Deputy Provost, Adeyemi College of Education, Ondo.
Registrar, Adeyemi College of Education, Ondo.
Dean of Student Affairs, Adeyemi College of Edu,Ondo.
Information Unit, ACEONDO.
Security Unit, ACEONDO.
DSS
SSS
NTA
PUNCH NEWS PAPER
DAILY TRUST
VANGUARD NEWS PAPER
Sahara Reporters