Hello everyone!!
This is my entry to @jerrybanfield super natural writing contest.
---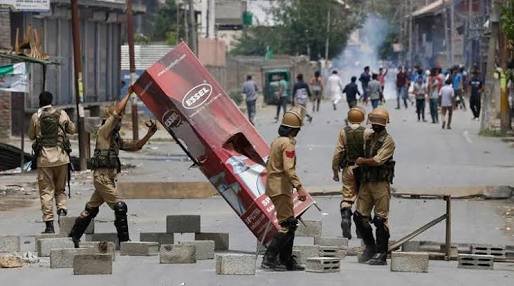 Source
---
Ist let me introduce myself alittle;am Naseer Bhat belonging to a remote state of jammu and kashmir in INDIA. The story am writing here is about my near death escape at an encounter site.
It was the day of march,school had just opened after a gap of 3 month winter vacations i was leaving for school from my home and i was alone that day as i left early from my school after my teacher in charge gave me permission to leave.
The reason why i left school early that day was i had a bad dream,really really bad one and when i woke up i made my mom listen to it and she just ignored it by saying ok come home early and don't wait for your school bus if you are worried that much. Sincerely,i was worried to my core not only about myself but also about my friends with whom i used to come home everyday and leave school everyday. Oh, i forgot to mention what i saw in my dream, i saw that after leaving school our school bus met an road accident and all my friends,my juniors dying in that horrifying accident what i saw made me cry in my sleep. What i saw was all blood and everyone in the bus dead. I woke up frightened i went to washroom made wadhu to offer nimaz and pray to ALLAH SWT that please save us and have mercy on us. In this belief i went back to sleep and made my mom listen to in the morning when i woke up for school. I was so much pissed off that i did not want to go to school that day but was thinking if i will tell mom about my dream she will take it negative and will reply with "don't be stupid its you lame excuse to skip your school", So now i came up with lame excuses of skipping the school that day but you know you can't make fool of your mother she finds out every time you try to bluff after that i told the truth about my dream after listening all my story,mom smiled and replied with "okay! Don't wait for school bus,come home early today but don't skip your school". It was a sigh of relief to my soul as i was literally pissed off. So, i did left for school that morning..
After i went to school i interacted with each of my class mate very nicely and humbly with the scenes of dream circulating in my mind. I did all this because i think it was my inner feeling that am meeting them for the last time so i need hug them all "kal ho na ho" (eng. may not be there tomorrow ). In all this mess, i tried to be normal but there is another thing called as 'human behaviour' that has associated human feelings. Going all this in my mind my face has been pale since i woke up and it continues to be like that and seeing me like this my best friend touched my forehead by saying"Are you ok? It feels like you have fever!" I tried to be normal again but the adrenaline rush in my body had already manipulated my behaviour and my expressions, that made my best friend believe that something fishy is going on with me that my behaviour is altogether changed. The scenes from that dream continuously are haunting me and the adrenaline is continuously released that is making me like am not in real world and am somewhere else.
Anyhow, lunch break was about to be announced that rang bells in my brain and reminded me that it is time to leave the school now. A broken smile came to my face when the bell rang , i went to teacher in-charge and made an excuse that am suffering from fever and luckily he did let me go.
---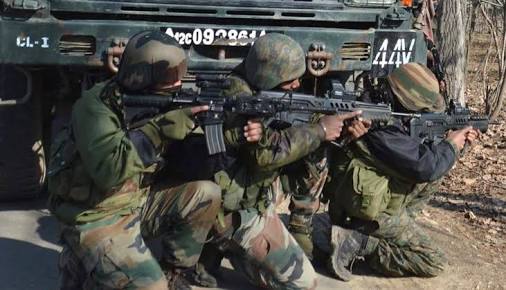 source
---
Now it was a sigh of relief from all that negativity and left the school for private bus-stop. The bus-stop was about 15 mins. Walking distance from the school gate i started walking and as i was in middle of my destination i heard gun shot sounds behind me,not too close neither too far OH MY GOD!! what to do now? Where to go? Now that was the ist time i heard my own heart sounds and my heart beat per minute i think was above 100. I was jammed and my mind was blocked i don't understand what to do now. In the mean time somebody grabbed my school bag and took me along with himself and entered the nearby building ,i still have no idea what is going on and where am i? After a while when i came to my senses what am seeing is horrifying and not less than seeing the angel of death by your own eyes. What i saw was my pents where all wet and saw a group of 3 unknown gunmen along with me in the same room. What the hell is going on? was answered here,on seeing gunmen who are neither police nor army made me believe that these gunmen may have fired upon some police men(the soundsvi heard earlier) and now police is following them and that time i made my mind that am going die now,it is exactly what i had dreamt of i started crying upon seeing myself along with three gunmen in a single room. They started patting on my back by saying hey man! cool down it is gonna be okay, and it was evident from their faces that they were lying to me. I cried cried and cried and they are asking me that leave the building police is going to be anytime here and somehow when i tried to run i saw police and army both were at the spot and now there is nowhere to go what to do now. I started shivering again that now am gonna die with a bullet in my head for sure. That time a thought ran my mind to say Good Bye to my mom for one last time and i asked them if they have any phone i will have a good bye talk with my parents. They denied that they have any cell phones and i think they lied they don't want me to call my parents that time. Coming over this i started whispering prayer and making dua to allah am gonna die now please take me jaanah i don't want to be in jahanum i made alot of dua for myself and my family. Meanwhile what i saw was one among the three gun-men took me to the door of the building and is instructing me how to leave safely , now here came the point were i was ready to die and closing my eyes i opened the door of the building and instantly my hands in air crying and saying "i did nothing,please don't do anything to me please don't open fire" i stopped walking with my hands in air and eyes closed. It was the moment between death and life and i experienced it by coming back from dead.
After i opened my eyes 5 mins later, i was okay unharmed and living. I left the place that time and went back home locked myself in room and slept for 10 hours continously by telling mom that last night i had no good sleep and i want to sleep now. I had not revealed any of this incident to them in ist place but they heard it in news latter and inquired about the incident and i narrated the whole story to them. After that almighty had saved me from such incidents and am living happily my other life.
P.s. At the time of incident i was a teenager studying in class X.
There are no images in this story about that day as i battled for life that day and had no camera to capture it.
Conclusion;
Live every moment of your life as it is your last. Do have faith in supernatural powers,the bad and the good omens . Had i believed in the supernatural power that came as a dream i would not have gone through all that.
Anyway what happens,happens for good, have faith and live your life.
---
Resteem Follow and Upvote @naseerbhat
---
Thanks!!!