Concurso Reggaesteem. Celebración Aniversario en Steemit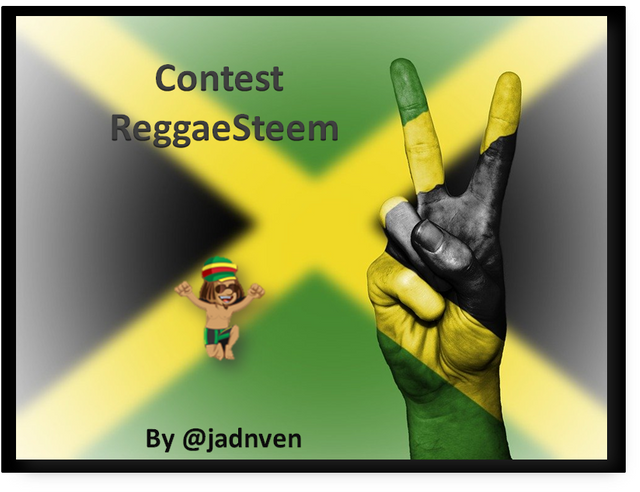 Imagen reto @jadnven Fuente

Me llama la atención el tema, pero debo confesar que no conozco nada sobre el Reggaesteem y todo lo que conlleva. Tal vez aproveche para aprender un poco sobre este tema y de paso corresponder a la invitación de los amigos @josevas217 y @jadnven que realizan el concurso con ánimo de llevar esta cultura a lo largo y ancho de Steemit.
The subject catches my attention, but I must confess that I don't know anything about Reggaesteem and all that entails. Maybe take the opportunity to learn a little about this topic and incidentally correspond to the invitation of the friends @josevas217 and @jadnven who carry out the contest with the aim of bringing this culture across Steemit.
Este es el link para participar en el concurso. No te lo pierdas, hay buenos premios.
This is the link to participate in the contest. Do not miss it, there are good prizes.
*****//////******
Título:
WindSurfing in Negril - Jamaica, while enjoying the JAHMFEST (26-27 JUNE) Post
Autor: @josevas217
Analisis:
La invitación al JAHMFEST de 26-27 DE JUNIO. Nos invita a disfrutar cosas que puedes hacer en Jamaica, los deportes acuáticos, también los turistas pueden disfrutar en este país de grandes campos, lagunas, ríos y otros paisajes naturales. Negril es el lugar con más lugares para practicar cualquier deporte acuático (buceo, vela, esquí acuático, windsurf, kayak o navegación en catamarán). Podría darse que usted no sea experto en estas actividades pero el contacto con el mar fortalecerá tu cuerpo y de paso disfrutaras del primer JahmFest desde el 26, 27 y 28 de junio de 2020.
The invitation to JAHMFEST from JUNE 26-27. It invites us to enjoy things you can do in Jamaica, water sports, tourists can also enjoy in this country large fields, lagoons, rivers and other natural landscapes. Negril is the place with more places to practice any water sport (diving, sailing, water skiing, windsurfing, kayaking or catamaran sailing). You might realize that you are not an expert in these activities but the contact with the sea strengthens your body and the passage enjoys the first JahmFest from June 26, 27 and 28, 2020.
******////////******
Tìtulo:
[ESP//ENG] First production of Reggaesteem in Venezuela: a total success.
post
Autor: @joseacabrerav
Analisis:
Cansados, agotados pero con mucho optimismo para llegar a tiempo a este concierto pautado en Cafetecc en la ciudad de Caracas, el avión no me trajo a la final, tuvimos que agarrar carretera. Llegamos y hubo problemas de sonido que la chicos de bahtawi los solucionaron. Hacer un concierto en Venezuela se ha vuelto muy difícil, con demasiados contratiempos. Una producción en Venezuela requiere de mucha paciencia porque pueden salir muchas cosas mal.
El evento dio inicio pasadas las 3 de la tarde. Tuvimos un stand con música de reggae llevado por @motabafana dónde se podía conseguir variedad de productos musicales del reggae Venezolano. Logramos tener un lleno total y nuestras caras de felicidad y solo desear un feliz cumpleaños Bob.
Tired, exhausted but very optimistic to arrive on time in this concert scheduled in Cafetecc in the city of Caracas, the plane did not bring me to the final, we had to grab the road. We arrived and we had sound problems that the bahtawi boys solve them. Making a concert in Venezuela has become very difficult, with too many setbacks. A production in Venezuela requires a lot of patience because many things can go wrong.
The event started after 3 pm. We had a stand with reggae music led by @motabafana where you can get a variety of musical products from Venezuelan reggae. We managed to have a full and happy faces and just wish a happy birthday Bob.
*****//////////////******
Tìtulo
First ReggaeSteem/STEEM Powered Event in Venezuala - A Bob Marley Tribute Success !!
post
@conradsuperb
Analisis:
Un concierto Homenaje a Bob Marley por su cumpleaños el 6 de febrero. Un día importante en la historia de la cultura del reggae. El impacto que causo este artista todavia transciende a pesar del tiempo. Su presencia en el reggae, la cultura y la historia de Jamaica siempre será recordada a través de la música de este representante. La leyenda de Bob Marley vivirá para siempre.
A tribute to Bob Marley concert for his birthday on February 6. An important day in the history of reggae culture. The impact that this artist caused still transcends despite time. His presence in the reggae, culture and history of Jamaica will always be recorded through the music of this representative. The legend of Bob Marley will live forever.
*****////////******
Tìtulo:
Happy 75th Earth Strong, Bob Nesta Marley
post
Autor:@luca1777
Analisis:
La Casa Museo Bob Marleys en Kingston, Hope Road. Por la fecha de nacimiento de Bob es Acuario y muy acorde con su filosofia universal de la "Era de Acuario", por lo tanto, Bob Marley era un mensajero Universal de amor, difundido a través de su hermosa música reggae. Recomiendo la película "El tiempo dirá", un buen documental sobre la vida de Bob Marleys. Bob dijo ... "ayúdense unos a otros.
The Bob Marleys House Museum in Kingston, Hope Road. By the date of birth of Bob is Aquarius and very consistent with his universal philosophy of the "Age of Aquarius", therefore, Bob Marley was a Universal messenger of love, spread through his beautiful reggae music. I recommend the movie "Time will tell", a good documentary about the life of Bob Marleys. Bob said ... "help each other.
******////////////////////*********
Vaya coincidencia que me he encontrado haciendo este post Bob Marleys y yo nacimos en la misma fecha 6 de febrero. Feliz cumpleaños.