Izlude here with another fun read.
I recently came across an old computer terminal called a Qume. I bought it, but sold it days later ...cries... I REALLY wish I didn't sell it... but that's ok, because now I'm aware of what these things actually are and that people actually collect them! I do plan to keep my eyes peeled for any more like it at the Goodwill.
Apparently it's fun to hook them up to a Raspberry Pi and play text based games or some other projects. I want to do this. Ahem..
But yes, yes, I want to tell you about one I found as a youngster. I was living at my grandpa's apartments, and at the time, enjoying my new Pentium 3 PC. This was about 1999, maybe I was 14 or 15 years old, and I noticed one day that someone put this very strange looking monitor in the dumpster. I fished it out thinking I could use it for my old 286PC, nope.. definitely NOT a monitor. It had parallel ports in the back. Never saw anything like it. I'll tell you what it is. It's a Lear Siegler ADM-2 Terminal, built in 1974! WOW!!!
At the time, I didn't know what it was. I only remember having it sent to storage, but sadly we lost that storage (and with it, my IBM 8086 and dot matrix, DOH!!!) It wasn't till just recently, when I bought my Qume, that I thought to myself, "Hey, I've come across a terminal before!". So I tried to remember. It was big, blue, and quite heavy!!! So thanks to my pals at Neowin, I've identified it as the Lear Siegler ADM-2.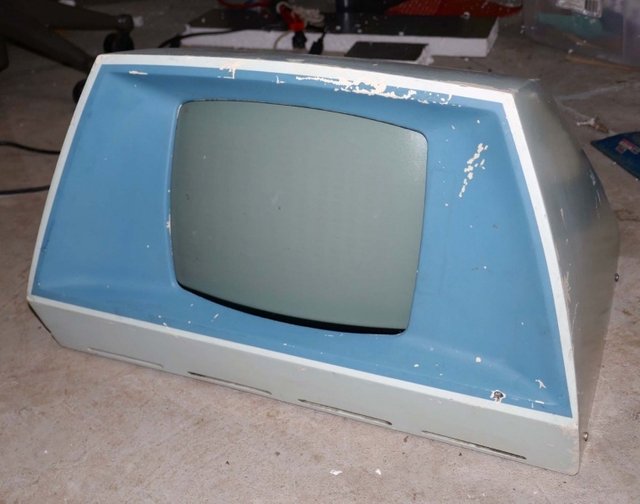 As I write this, there is one for sale on ebay for about $140 + 55 shipping, no keyboard though. Interestingly it comes from Santa Cruz California. I was living in Alhambra California when I found mine. I wonder if this is the exact same one that I found :O losing that storage, it would have ended up in SOMEONE'S hands and stayed in the state? Could this be it??? I would LOVE to buy it >.< but the money I made from my Qume sale went directly to dear old mom..
If anyone feels like... helping a geek out ;) I would consider it one of the coolest forms of donation. If anyone is interested, just reply and I'll give you my details. But otherwise, I just wanted to share my findings. Got a whole new appreciation for old tech now.
Signing off now!