RT reports that Yemen's death toll is expected to top 230,000 by the end of the year. Some amazing Italians made a decision not to be complicit.
Please share this story and resteem since it proves that without our cooperation, these pointless and wholly immoral wars wouldn't be possible!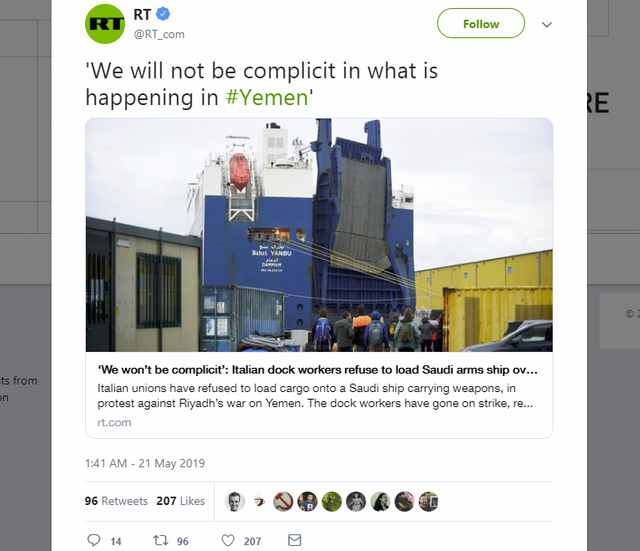 An interesting nugget of information at the end of RT's article ↓
Italy's 5-Star movement, a part of the government's ruling populist-leaning coalition, has fought to end the government's arms deals with the Saudi kingdom for years.
Watch the video to see this amazing story!
Don't Miss The Latest Breaking News!!
Watch On News 4 A Change ↓
→ VIDEO: This Is No Longer Legal In Britain, What's Next?
→ VIDEO: Trump Says He Will End Them! Has He Totally Lost His Mind?
→ VIDEO: After Watching This You WILL LEAVE FACEBOOK!

 
You can support WeAreChange by downloading and using the amazing Brave Browser!


We gratefully accept donations! You keep us going! <3
 
-- Donate On WRC Main Site --
-- Patreon --
-- Bitcoin -- 143d3ec4GFe75zNEiUA2sbU9b6YP9L6c48
-- BCH -- qzhx3ajjpjxt27ts4q90tfem6qesm4dhv5e0ecyll4
-- Dash -- XiZebHViTKxjngJ8U8Gekbz34XDcMjKe29
-- ETH -- 0xe3fe145aa53fda2dbe4b65a8874f027b82d90811
-- Bittube -- bxdigY3LEr3hL2cScYqTJaiafeDxhpt9bK9FcxXbkuFeDyc9sZfF97iAmqSPR6NyfQ8wp34d7PeAU95gsZYQBpib1YEKz5aY4
-- Monero -- 466jSETYBr3R9qWJS15biBbxwZsZwE86wEMT9NogvfZS2tY7v8QsgZZ4ifPesVLr8xgaTCK32dcLoiMXi7DEM25V7t3o3z4