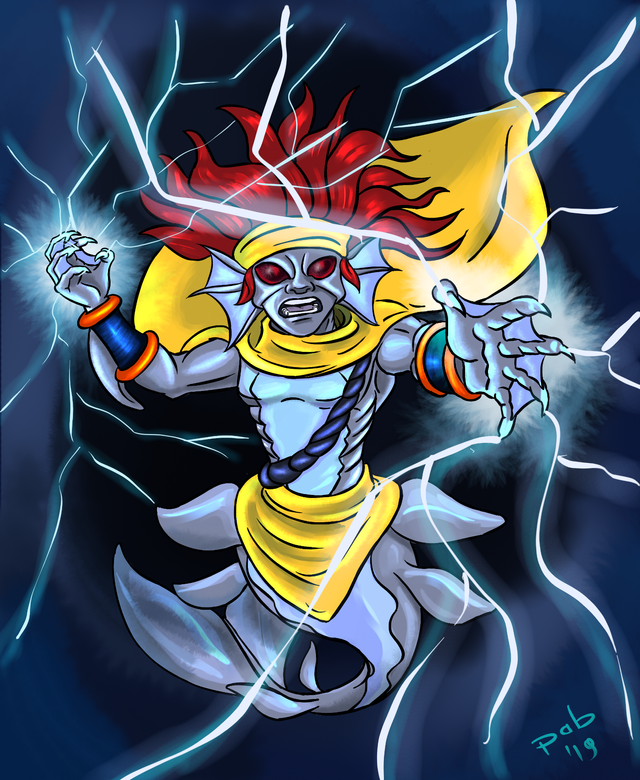 Una mia interpretazione del "Ruler of the Seas" - "Ruler of the Seas" interpreted by me
In attesa del cryptocomics di maggio, che nella migliore tradizione, molto probabilmente, uscirà a giugno: mi cimento in un post nerd-style auto incensandomi per il raggiungimento della Leage Gold III partendo dalla League Bronze I su Steemmonster.
Anche se in passato sono arrivato addirittura alla Leage Diamond III, con il passare del tempo e soprattutto dopo l'entrata nel gioco della community di Tron, scalare le legues è sempre più difficile; soprattutto per chi come me ha acquistato solo lo starter pack.
Tutte le carte in più della mia collezione le ho ottenute grazie alle quest e reward di end season. Ho un solo summoner di livello 2 (Lyanna Natura di Earth Splinter) tutti gli altri sono al primo livello, e sebbene su Water Splinter abbia due leggendarie (Giant frost e Ruler of the seas) che sanno farsi rispettare, battere summoners e mostri di livello 3-4 e superiori, è ancora possibile, ma sempre più difficile.
Tuttavia, come dimostra il raggiungimento della League Gold , con un po' di pazienza e la giusta strategia ci si può togliere qualche soddisfazione anche contro avversari più potenti.


Due parole sulla carta Ruler of the Seas; è uno dei peggiori mostri che potete trovarvi ad affrontare, ha un attacco magico che va sempre a segno ed ha effetto anche sulle carte adiacenti. Quando per regole di gioco gli viene assegnata la snipe ability, con una sberla è capace di farti fuori tre carte.
Se non è nella vostra collezione e avete intenzione di comprare qualche carta, prendete lui.
Anche per oggi è tutto gente alla prossima.