𝐁𝐞𝐥𝐥-𝐀𝐠𝐮𝐬𝐭𝐚 𝐀𝐁 𝟐𝟏𝟐 / 𝐔𝐇 𝟏𝐍
𝐏𝐀𝐑𝐓 𝟓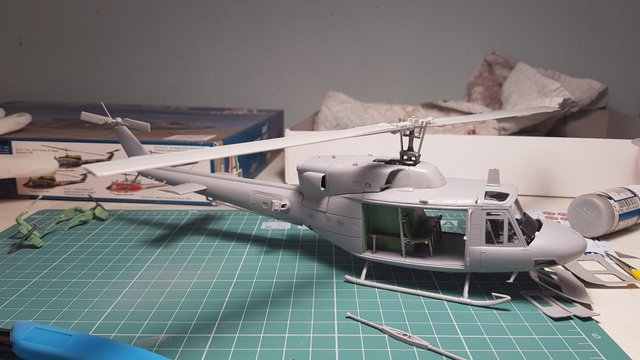 𝐎𝐩𝐞𝐧𝐢𝐧𝐠 𝐢𝐦𝐚𝐠𝐞 - 𝐈𝐦𝐦𝐚𝐠𝐢𝐧𝐞 𝐝𝐢 𝐚𝐩𝐞𝐫𝐭𝐮𝐫𝐚
| ↑ ENGLISH! | ↑ ITALIANO |
| --- | --- |
Hello everyone, today we finish the part of the accessories finishing the day with the colored model with the gray and dark green base.
The other parts of the model can be found here:
Photos, images and videos taken by myself during the construction of the model.
Buongiorno a tutti, oggi concludiamo la parte degli accessori finendo la giornata con il modellino colorato con la base grigia e verde scuro.
Le altre parti del modellino è possibile trovarle qui:
Foto, immagini e video scattate dal sottoscritto durante la realizzazione del modellino.

𝑴𝒚 𝒘𝒐𝒓𝒌 𝒔𝒕𝒆𝒑 𝒃𝒚 𝒔𝒕𝒆𝒑 ~ 𝑰𝒍 𝒎𝒊𝒐 𝒍𝒂𝒗𝒐𝒓𝒐 𝒑𝒂𝒔𝒔𝒐 𝒑𝒆𝒓 𝒑𝒂𝒔𝒔𝒐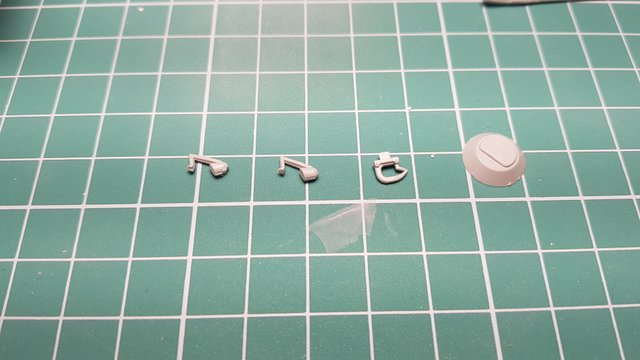 | ↑ ENGLISH! | ↑ ITALIANO |
| --- | --- |
| Two small pins for the final closure of the skates; a hook to be applied under the belly of the AB 212 and a round antenna to be applied always under the model | Due piccoli perni di chiusura finale dei pattini; un gancio che va applicato sotto lala pancia dell' AB 212 e una antenna rotonda da applicare sempre sotto al modellino |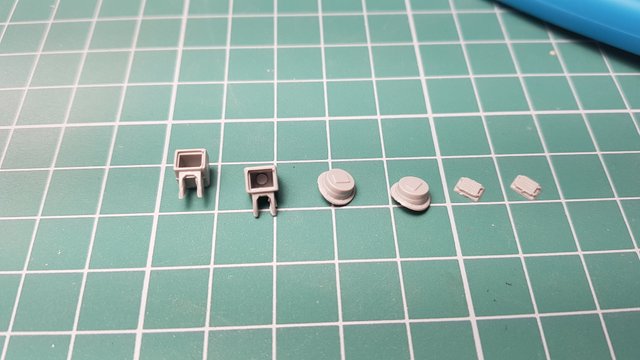 | ↑ ENGLISH! | ↑ ITALIANO |
| --- | --- |
| Side smokes lance divided into body, hook and forehead | Lancia fumogeni laterali divisi in corpo, aggancio e fronte |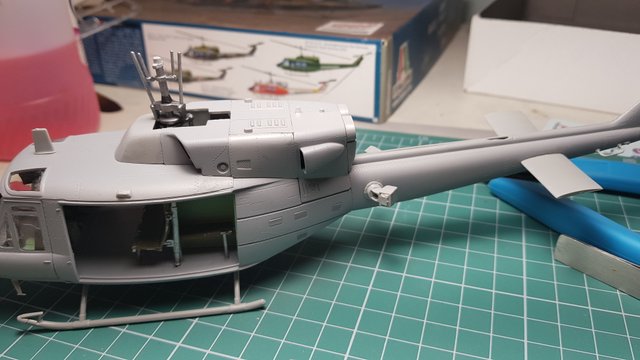 | ↑ ENGLISH! | ↑ ITALIANO |
| --- | --- |
| Smoke gases must be applied behind the engine exhaust along the tail | I fumogeni vanno applicati dietro allo scarico del motore lungo la coda |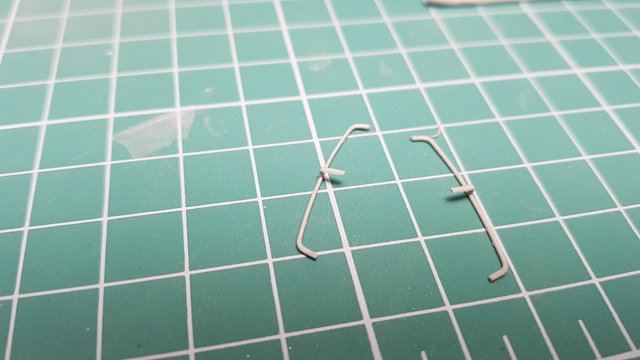 | ↑ ENGLISH! | ↑ ITALIANO |
| --- | --- |
| And now we paste the vertical handles near the doors | E ora incolliamo le maniglie verticali vicino ai portelloni |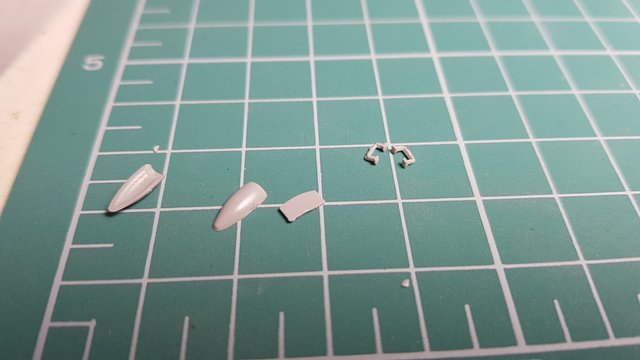 | ↑ ENGLISH! | ↑ ITALIANO |
| --- | --- |
| Then together with two small covers near the engine cover, two handles and a valve cover | Insieme poi a due piccole coperture vicino il coprimotore, due maniglie e un coprivalvole |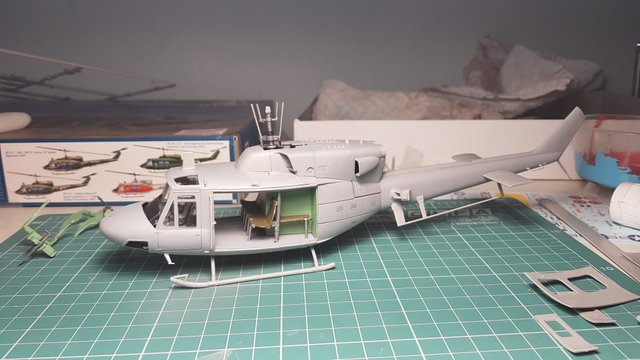 | ↑ ENGLISH! | ↑ ITALIANO |
| --- | --- |
| Here's how it looks like having also inserted the antenna along the tail of the helicopter (the one below) | Ecco come si presenta avendo inserito anche l'antenna lungo la coda dell'elicottero (quella in basso) |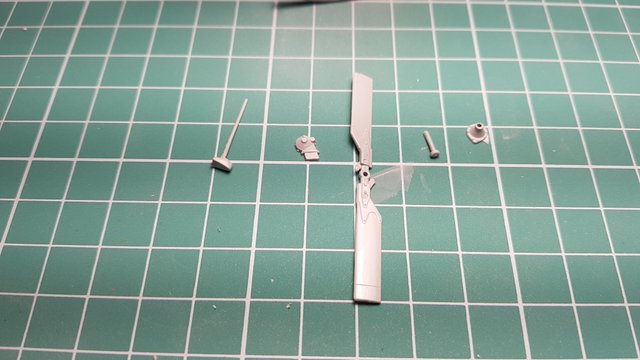 | ↑ ENGLISH! | ↑ ITALIANO |
| --- | --- |
| Tail rotor with antenna and hooks | Rotore di coda con antenna e agganci |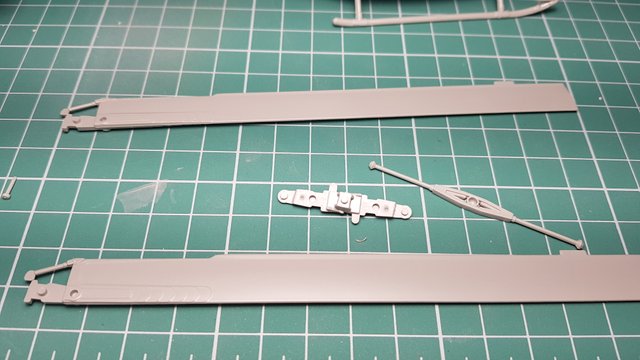 | ↑ ENGLISH! | ↑ ITALIANO |
| --- | --- |
| The two main blades | Le due pale principali |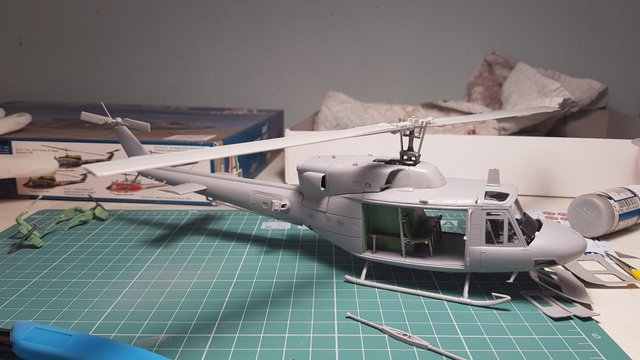 | ↑ ENGLISH! | ↑ ITALIANO |
| --- | --- |
| Inserted all these main accessories we finally have the whole model | Inseriti tutti questi accessori principali finalmente abbiamo l'insieme del modellino |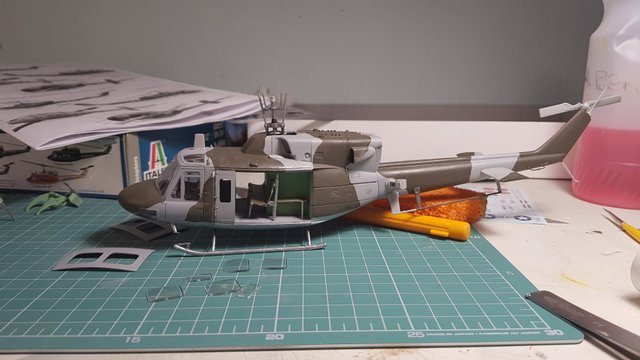 | ↑ ENGLISH! | ↑ ITALIANO |
| --- | --- |
| We remove the main blades to pass a coat of color so that you can glue the glass (in the picture) | Togliamo le pale principali per passare una mano di colore così poi da poter incollare i vetri ( in foto) |
𝐄𝐧𝐝 𝐨𝐟 𝐏𝐚𝐫𝐭 𝟓 ~ 𝐅𝐢𝐧𝐞 𝐝𝐞𝐥𝐥𝐚 𝐏𝐚𝐫𝐭𝐞 𝟓

─────────────────────────────
Follow me!
♠ Youtube: https://bit.ly/2xUHfbp
♣Instagram: https://bit.ly/2sFRMT0
♥Steemit: https://bit.ly/2JBqVRE
─────────────────────────────