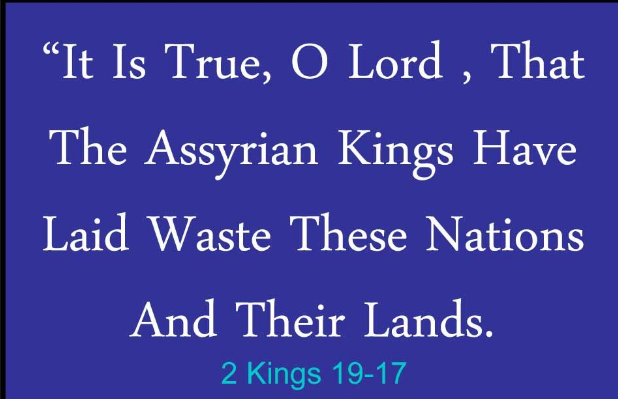 Toinen kuninkaiden kirja 19 * 17-19
17 Totisesti, Herra, Assurin kuninkaat ovat tuhonneet kansat ja heidän maansa,
18 Ja he ovat heittäneet heidän jumalansa tuleen, sillä he eivät olleet jumalia, vaan ihmisten käsien, puun ja kivin työ.
19 Sentähden, Herra, meidän Jumalamme, pyydän sinua, pelasta meidät hänen kädestänsä, että kaikki maan valtakunnat tietäisivät, että sinä olet Herra Jumala, sinä vain.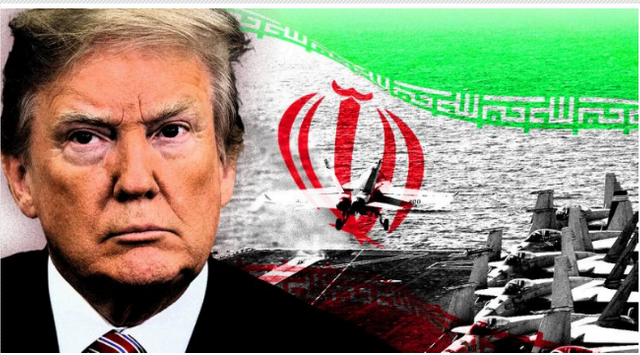 Tällä viikolla, kun presidentti Trumpin päätös irtautua Iranin ydinvoima-sopimuksesta, Washingtonin ja Teheranin väliset suhteet lähestyivät kriisiä, yhdysvaltalaisen lentotukialuksen iskujoukko matkasi Persianlahdelle ja valtiosihteeri Mike Pompeo, joka matkusti Bagdadiin äkillisesti. kuullakseen Irakin virkamiehiä. Kriisin saaminen oli itse asiassa hallinnon strategian kohta; nyt on kysymys siitä, kuinka hyvin he hallitsevat sitä.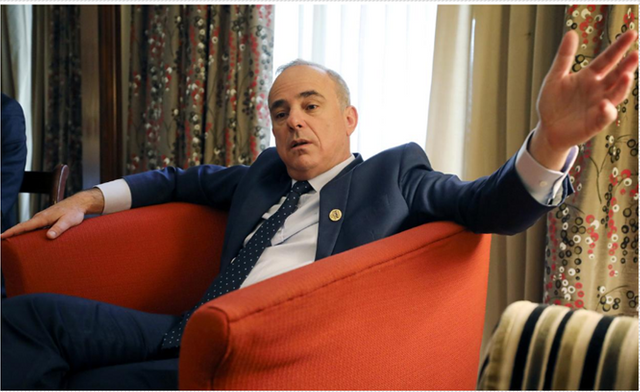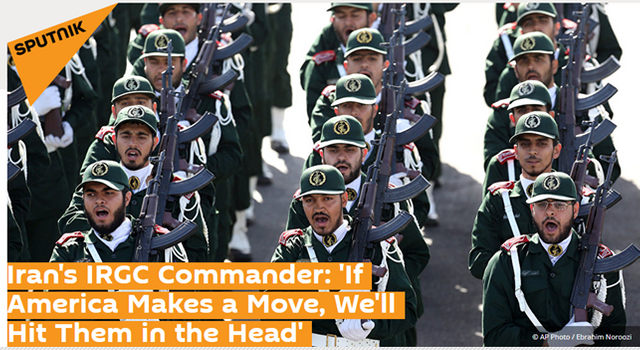 Tämä tapahtuu sen jälkeen, kun Iranin islamilaisen vallankumouskaartin (IRGC) komentaja Hossein Salami väitti, että Yhdysvallat käy Lähi-idässä psykologista sotaa Teheranin ja Washingtonin välisten jännitteiden keskellä.
Yhdysvaltain armeijan läsnäolo Persianlahdella oli aiemmin vakava uhka, mutta nyt se on mahdollisuus Iranin islamilaisen vallankumouskaartin (IRGC) komentajan mukaan.
"Lentotukialus, jolla on vähintään 40–50 lentokonetta ja 6000 siihen kerääntynyttä joukkoa, oli meille vakava uhka aiemmin, mutta nyt […] uhkat ovat siirtyneet mahdollisuuksiin", Amirali Hajizadeh, IRGC: n ilmailu- ja avaruusalueen johtaja Iranin opiskelijoiden uutistoimisto (ISNA) mainitsi sen.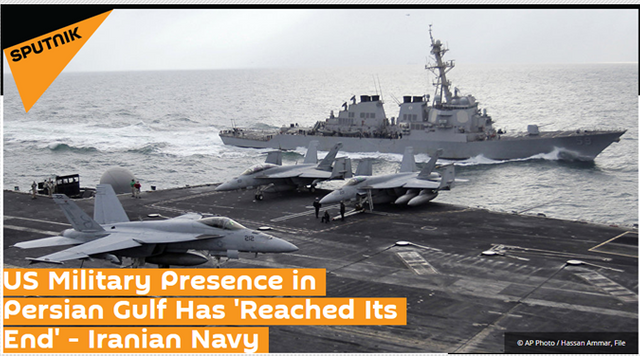 TEHRAN (Sputnik) - Iranin laivaston kontra Admiraali Hossein Khanzadi sanoi sunnuntaina kommentoimalla Washingtonin päätöstä lisätä sotilaallista läsnäoloa Lähi-idässä, että Yhdysvaltojen on jätettävä alue.
"Amerikkalaisten läsnäolo Persianlahden alueella on saavuttanut loppunsa ja heidän on poistuttava alueelta", Khanzadi sanoi kuten Iranin opiskelijoiden uutistoimiston (ISNA) viittasi.
Onko pimeän tunnelin lopussa valoa?Kyllä! Herra Ra-El Palannut Kristus voi lopettaa kaiken tämän hulluuden, jonka Saatana on alkanut maailman kanssa. Olemme melkein ajan lopussa. Päivien loppu on täällä, ja Nibiru on nyt takaovella. Anna itsesi Isälle poikansa Herra Ra-Elin kautta.
ICoLR Facebook congregation
https://www.facebook.com/groups/ICoLR/
With Lord RayEl's Imperial Regent on VK:
https://vk.com/congregation_of_lord_rayel
Donate
Ra-El.org/donations.html
[email protected]
Follow Lord RayEl's Twitter:
https://twitter.com/LORD_RAYEL
Follow me on Twitter: https://twitter.com/moshiachtoday
Subscribe to the Templar Commandery YouTube Channel:
https://www.youtube.com/user/ChristHasReturned
Also, Visit our Website:
https://sanctuaryinterfaith.org/
And the MOST IMPORTANT OF ALL:
http://www.ra-el.org/
(I claim neither credit nor ownership of the above image and or any video content)
https://www.facebook.com/GOD.coin.gold/
https://twitter.com/GodCoinGold
https://plus.google.com/110351809386138038654
https://www.linkedin.com/company/GodCoin/
https://www.youtube.com/channel/UCRmsiytZnbMg-O_b2zBNuTg
https://vk.com/god.coin
https://vk.com/away.php?to=https%3A%2F%2Fwww.youtube.com%2Fwatch%3Fv%3DifLBFzAxlMs%26t%3D125s&post=-135751469_5515&cc_key=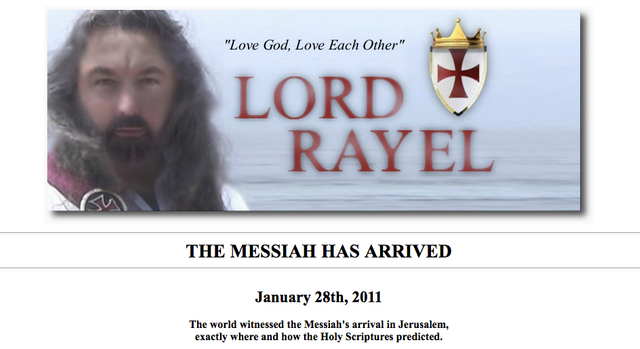 #ChristIsBack #HeIsHere #Christian #Christian #Religion #Katolinen #Gnostic #Abrahamic #Judaismi #Is #Mosiach #Messia #Jesus #Krishna #EndTimes #ReligiousFreedom #Vatikaani #King #Kingdom #God #Faith #GODcoin #RayEl
Kiitos: Sputnik: Reuters; Biblegateway; Yahoo News ..
Tämän artikkelin kirjoitti ensin https://steemit.com/@selenascott