IOTA became the largest ever market cap launch for a cryptocurrency trading on its first day with a valuation of 1.6Billion.
---
Disclaimer: This is not investment or trading advice, always do your own independent research.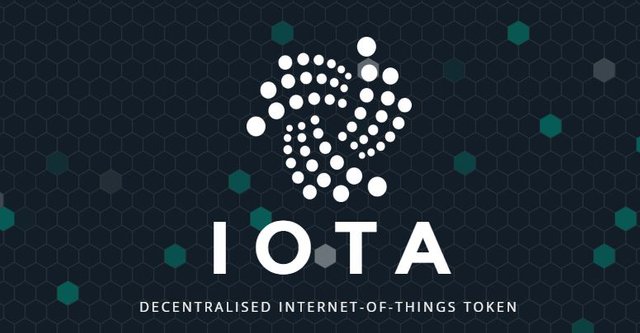 Since trading began on Bitfinex, it has dropped in price while original backers look to secure some early profit. IOTA seems to be a great long-term hold but it could very well continue to be a shaky ride in terms of exchange pricing along the road to development milestones and mass usability and adoption.
If IOTA makes it to the mass adoption stage, then it could obtain a hugely valued market cap as a super effective micro-payment method and an Internet-Of-Things (IOT) economy enabler.
IOTA was the first cryptocurrency in history to effectively solve the secure zero fee transaction problems of previous blockchains. Before I explain any more, let me really blow your mind, it's not even a blockchain.
So what is this new chain that's not a Blockchain?
It's a Tangle
"WTF!"
Yeah that's what I was thinking. It's mindwarping even thinking about what the potential of the term 'tangle' could mean in a blockchain sense…
Then I saw The Picture that said it all… hmmm… clarity…

The Tangle was created by IOTA developers and is an Open Source distributed ledger for transactions across the Internet-of-Things (IOT). The Tangle was created by IOTA developers and addresses the need for fast, free, secure micro transactions in a blockchain-like protocol.
It's a p2p distributed ledger that allows for fast, secure zero fee transactions and is very scalable.
The Tangle actually speeds up and confirms transactions quicker as more transactions are processed. No special miners needed. Everyone who wants to send a transaction simply mines two transactions on their mobile device as the fee to send one. it's a surprisingly simple sounding solution actually, yet I'm sure coding The Tangle was probably a tangle in itself.
What's special about IOTA?
IOTA created the Tangle. This innovative new distributed ledger changes the game for on-chain transactions & the advancement of IOT.
IOT & machine-to-machine economies have a ludicrous amount of use cases. Drones, automation, sensors, data collectors, smart devices will be enabled to operate automatically & transact with each other for free.
How many IOTA tokens exist?
There are a huge but limited number of IOTA..
2,779,530,283,277,761 IOTA
or
2,779,530,283 MIOTA (mega or million IOTA)
No more will ever be made, meaning it is a deflationary token. I very much like that the number of IOTAs is so large, as a project with such epic ambition needs a shitload of shitcoin to make it feasible.
For example, when IP addresses were invented I'm sure using a number system that contains hundreds of billions of combinations was unanimously agreed as being generous to future needs. The exponentially increasing number of internet connected devices has meant that the original IP addresses (now IPv4) should've been formulated with a few extra digits added to the 000.000.000.000 format. Now we have IPv6 to try patch up the problem with running out of enough IPv4 addresses. IOTAs will represent transacting value so the number of tokens to cater for global IOT use would have to be many magnitudes higher than the IP4 amount of 999.99 billion.
I think IOTA has somewhat succeeded with their chosen number of tokens.
Price of IOTA
Note: All online quoted IOTA pricing is per MIOTA not per IOTA
IOTA has lost much of its opening day record breaking value. The juicy profits have been quite tempting for many early acquirers, and the downward trend seemed to find more and more sellers wanting to bank some of their declining IOTA profit. When this thing turns around and an upward trends begins to form, we could see a rapid movement back to day 1 trade prices and beyond.
The price as of writing is at US$0.29 per MIOTA
There was some confusion as the price was original published by marketcap aggregators as price per IOTA. This lead to scammers and exploiters selling many single IOTAS for the price of a Mega IOTA or MIOTA. IOTA be purchased via BTC, ETH or USD at Bitfinex Exchange.
Speaking of price. I just had a peek at the very interesting looking Bitfinex IOTA/BTC chart…
IOTA may be experiencing an eagerly awaited price trend reversal. This could be a great time to take a closer look at IOTA.

Now that looks like an amazing entry to me! I'm down a bit so far on my IOTA holding but after seeing today's chart I might just pick up some more very soon.
The last few lows have been rising in price and it's definitely one that traders would be watching for the definitive break out confirmation moment.
IOT Progress & Future
The speed of progress will accelerate in the Internet-Of-Things (IOT) space. As the idea of IOTA gains recognition we should see faster development & adoption.
But for now, I'd say if you dabble in ICO tokens or early-stage ambitious dev projects like IOTA… you better have patience.
To keep up to date with ongoing progress, join the IOTA mailing list or slack channel via their official website https://iota.org
Until next IOTA update, I'll be holding on for dear life.
---
Disclaimer: This is not investment or trading advice, always do your own independent research.
Written by Stephen @ https://Dapp.Tech Decentralized Apps, Blockchain & Crypto News | Originally Published on the Dapp.Tech Blog, 8th July. 2017.