Hello Steemit,
This post is about the commodity silver and why I feel it's a great buy and definitely not too late to jump on. I will cover the supply and demand side of silver and include some charts from The Silver Institute.
Disclaimer: This is my personal interpretation of where the commodity silver is going and by no means investment advice please do your own research before investing.
Supply and Demand
Investors who have money to undertake this business or investments need to understand an important fundamental reason why the silver price will get much higher than gold. During the time that many experts and analysts state several reasons why the demand and value of demand will shoot up. The most viable factor for the uneven and price unpredictability is based upon the supply versus demand component of the gold and silver markets.
Outlined below are reasons proving that demand for silver is higher than supply and the commodity is a good buy for future investment:
1.) Huge Margin Between the Demand of Silver Relative to its Recycled Supply: With reference to the silver scrap report of the metal focus of 2015, approximately 551 metric tons ((MT)) of silver jewelry was recycled. When considered it seems like a large amount but in relative comparison with the total world silver jewelry demand of 7,045 (MT), recycled silver jewelry supply of 551 (MT) accounted for only 8% of global silver jewelry demand. The obvious reason being that very few people will go to a scrap shop or a precious metal dealer and sell pieces of silver jewelry. The recycling of silver from old pieces of jewelry makes up the second smallest category of silver scrap supply. The limited scale in comparison to gold is explained by; silver jewelry scrap is less than half of gold's but its fabrication may be more than double gold by weight.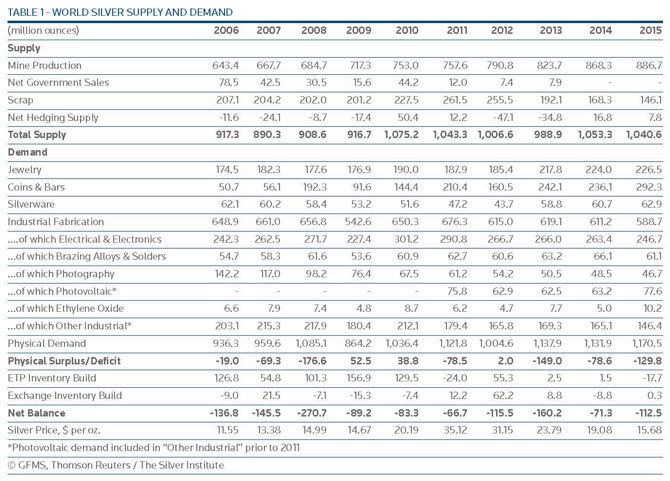 (Image Source World Silver Survey 2016)
2.) Large Portion of Silver Demanded for Industrial Use Is Not Retainable: Due to the huge use of silver in the industries, close to half of the amount demanded is usually lost forever. Following the 2016's World Silver Survey and Metals Focus: Silver Scrap Reported that global industrial silver scrap was approximately 3,266 (MT) in 2015 compared to the massive 18,311 (MT) of world industrial silver demand. Invariably, the only valid interpretation is that, global industrial scrap supply accounted for 18% of world silver industrial demand in 2015. Much more than the reported figures above, the amount of lost silver are way higher. 4,665 (MT) of silver was recycled around the world, while total demand was an extremely great 36,423 (MT). Hence, making the total world silver demand recycled in 2015 only 13%. Comparatively, this is a lot less than the 50% figure repeated by the precious metals community.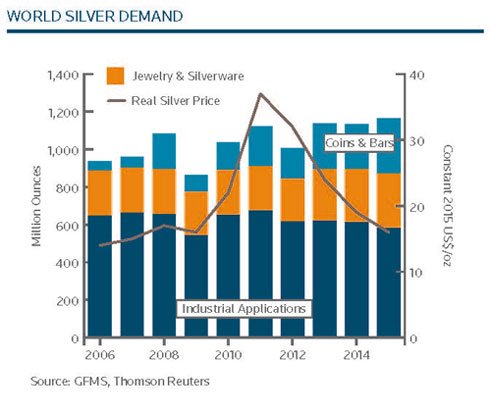 Conclusion:
Conclusively, if all the silver jewelry produced for the past decade is added together, it equals 60,500 (MT) or 1.95 billion (OZ). In reality, the entire silver jewelry production in the world for the last ten years cannot even supply 2 ounces of physical silver to the people of China and India alone. That suggests one thing, the amount of silver with the populace in the system, whether for industrial use or recycling purposes doesn't appreciate, rather it reduces based on processing and other factors. Silver is a standard commodity, the monetary implication is always standard too; the price elasticity of demand is relative and the price keeps going up because the available supply is very much limited. For all these reasons, it is very okay to assert that silver is a good buy for future investment. Stay tuned for the next article that will cover different ways to acquire silver and other commodities and how to store them for safe keeping against thieves and damage.
Feel free to let me know what you think!
@dking7334
Sources:
http://www.silverinstitute.org/site/wp-content/uploads/2011/06/WSS2016Summary.pdf
http://www.silverinstitute.org/site/wp-content/uploads/2011/06/SilverScrapReport2015.pdf
Tags: @investment @silver @commodity @supply @demand @preciousmetals