Innovative Industrial Properties…An Interesting Play In The Marijuana Sector

Legal marijuana has started gaining traction worldwide due to very high demand among consumers and increasing legalization of recreational or medical marijuana in various countries.  According to a report by Grand View Research, Inc., the global legal marijuana market is expected to reach USD 146.4 billion by end of 2025.
REITs, or real estate investment trusts, are companies that own or finance income-producing real estate in a range of property sectors ad most of them trade on major stock exchanges, REITs lease space and collect rent on its real estate and generates income which is then paid out to shareholders in the form of dividends. But get this…REITs must pay out at least 90 percent of their taxable income to shareholders.
Innovative Industrial is a marijuana-based REIT that acquires cannabis-related properties. Innovative Industrial went public in 2016 on the New York Stock Exchange (NYSE).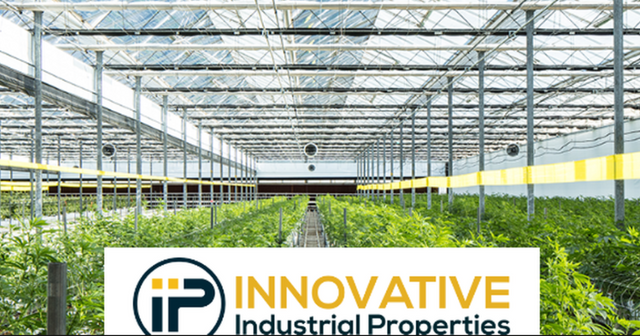 Not only did Innovative Industrial Properties beat other pure-play pot stocks to the listing punch, it's also the only pure-play marijuana stock to pay out a regular quarterly dividend. The company has made eight quarterly dividend payments since July 2017, with three separate $0.10/quarter increases over that span, from an initial payout of $0.15 per share to $0.45 per share in April 2019.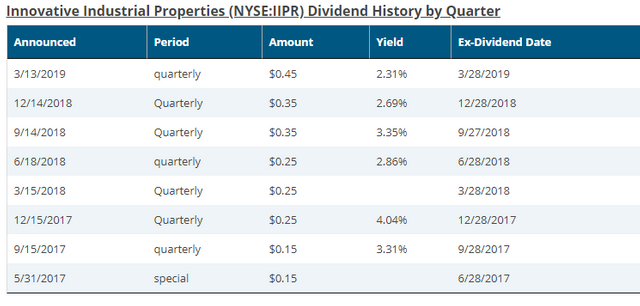 According to analyst estimates, IIP is slated to generate as much as $36.3 million in revenue this year and potentially up to $63 million in 2020. This will boost is consensus earnings per share (a metric that isn't as useful for REITs as "funds from operations," which often determines dividend payouts) from $1.92 this year to $3.21 in 2020. Assuming it maintains its $0.45/quarter payout in 2019, it wouldn't be out of the question for its payout ratio to remain consistent and grow to $0.75 in 2020 (again, assuming Wall Street's only consensus earnings per share estimate is accurate). This would represent 67% year-over-year growth, putting more money into income investors' pockets.
One of the best ways to grow worth is to get in early on a growth stock and when they mature continue to reap the benefits through dividends. Industrial Properties offers the best of both worlds right now.
The stock price is too rich at this point, up 360% since the IPO and up 90% in 2019 alone.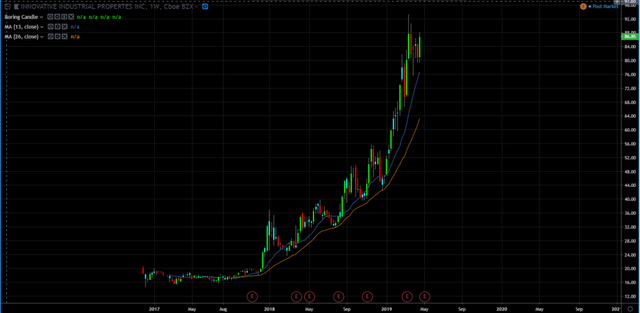 But I wouldn't buy at these prices, I would wait for a pull back..the chart suggests to go long at one of the two daily demand zones.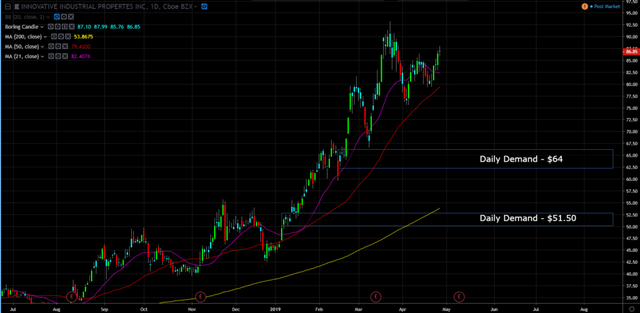 This post is my personal opinion. I'm not a financial advisor, this isn't financial advise. Do your own research before making investment decisions.

---
Published by Rolland Thomas
on

with SteemPress
https://mentormarket.io/stocks/rollandthomas/innovative-industrial-propertiesan-interesting-play-in-the-marijuana-sector/
---