SteemLeo Huh? I Get To Show Off The Money I Lose And Become One Of Those "How To Get Rich Quick" Gurus That You See On Ads Everywhere
So, I'll be starting this off by stating that I'm not a professional investor, nor a financial advisor so when reading any of my posts, remember I'm no professional. Be careful when you are investing and only invest what you can lose.
What I'll be using steemleo for?
It'll be just explaining my investment, why I chose to invest in them and how they are doing from time to time. And if I find a promotion that I think others will enjoy as well, I'll share it with you guys, cuz hey? Who doesn't like free money?
Lets start off with my stock investments
The traditional investment. Probably what most people think of when they hear investment. I use robinhood as my stock trading platform of choice(stock holding more accurately). It's easy to use, has a great mobile app, and best of all, they don't charge commissions on the trades. It's perfect for a beginner like me because I don't invest much, and my trades are small so I won't be paying so much in fees. I made a post about it in the past, but STEEMLEO seems like a much better place to talk about it where people would care, so I might do one again in the future.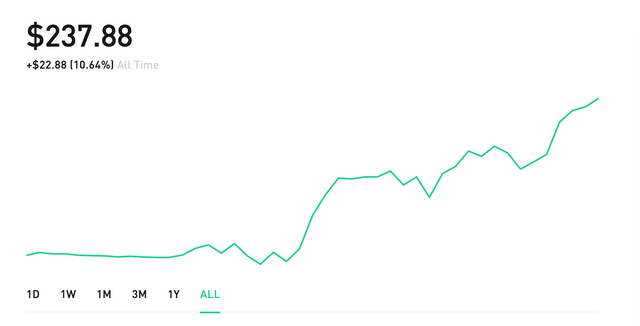 Not bad right? Nice little earnings right there. Up 10% or $22.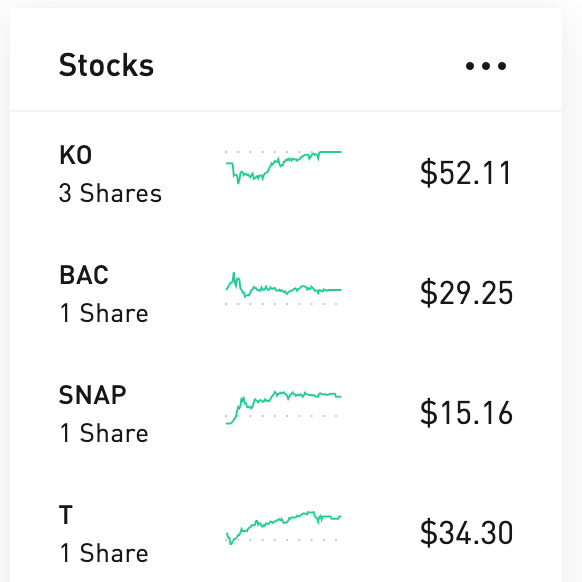 Here's what I own. Coke because who doesn't like a nice cold refreshing glass of coca cola? Plus the stock has risen nicely over the last couple of years and I like that.
Bank of America was just on a whim. It started out going bad for me, falling but now it's come back up and is doing well.
Snap has been the stock I've been sorta actively trading. I initially bought it at $11, sold it when it reached around $13, bought back and then sold again for profit a second time and I just recently bought it back around $14.75 and will sell it once it nears $16.
ATT was also bought on a whim. No clue why, I don't even like them that much. But eh, they are doing well for me.
I've also got some invested with Acorns, but eh, they manage that for me so I don't look at it too often other than for found money(they've actually got good stuff in there, dollar shave club is a nice one as well as WSJ) and to make manual one time investments from time to time.
And my crypto?
I don't diversify much in crypto(I really should). I own the 3 big DAN LARIMER coins, STEEM EOS BTS and other than that, I barely hold anything. I prefer coins with a real use rather than just holding on for speculation purposes so thats stopped me from being involved in a lot of other coins.
So yea, welcome to my blog and you will see me slowly lose more and more money.
STEEMLEO
I look forward to reading more about this from other people(read: more experienced people) and hopefully find some strategies that I too can use and grow from.