NEW!!! Minnowhelper investors ROI Calculator
Dear Investors and Steemians,
we have improved the ROI Calculator for the Minnowhelper investors, to give a more approximate result to the actual Payments. In this new version of the calculator, the values of Steem and Steem Dollar are considered for the calculation of profits. Since in recent weeks its price variation in the market has positively affected the profit performance of the robot.
Link to the calculator: http://minnowhelper.com/delegatecalc.php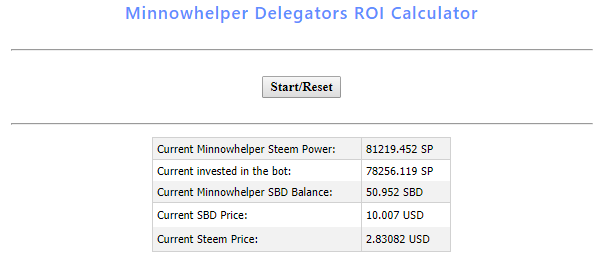 The first part of the calculator shows how much Steem Power has the robot, how many profits it has made since the last payment and the current values of Steem and SBD.
Pressing "Start / Reset" starts the calculator routine.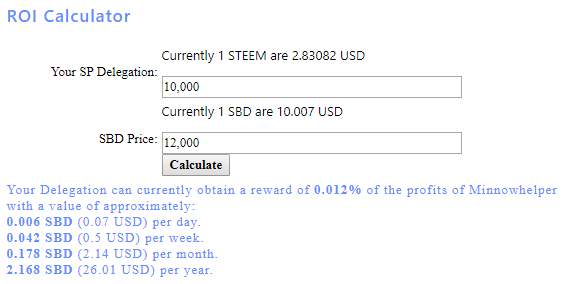 Changing the values in the SP delegation field and the SBD price field. Then pressing "Calculate" gives an approximate result to the profits, either with the current values or with variations of the market in the future.
---
If you have not invested in Minnowhelper and want to get passive profits from your Steem Power. You can do it with our delegation tool. (http://minnowhelper.com/delegate.php).
Happy Investing & Have fun!
The @minnowhelper team.