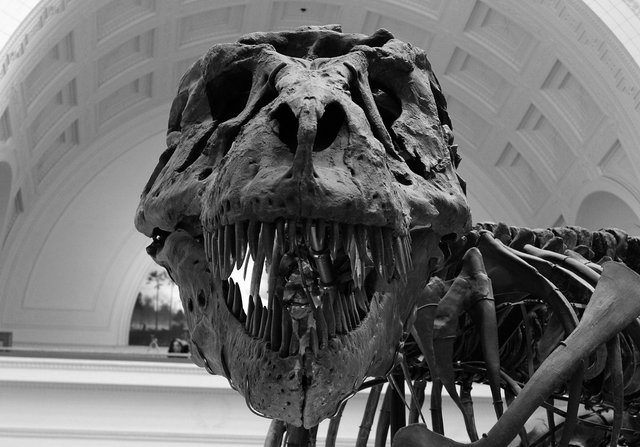 Cryptocurrencies are supposed to disrupt traditional financial industries. But I think many old "dinosaurs", big banks from the 20th, 19th or 18th century are struggling already without cryptos. Not the cryptocurrencies, but cheap internet banking and new financial technologies (fintech), like mobile applications are eating their earnings.
Zirp, the bank killer
Besides these competitors, low economic growth is limiting the earnings potential in Europe. After the Lehman-crash new regulations and limitations required changes in the business and caused high expenses. Also, bad loans remain from times of crisis. The zero-interest-rate-politics (zirp), pardon, negative rates of the European Central Bank also reduces the margins of the credit institutions on the European continent.
A good example, a real dinosaur is Deutsche Bank, the biggest bank in Germany, founded in 1870, 149 years ago. The bank is struggling to remain profitable over many years. Earlier, restructuring and employee layoffs were announced.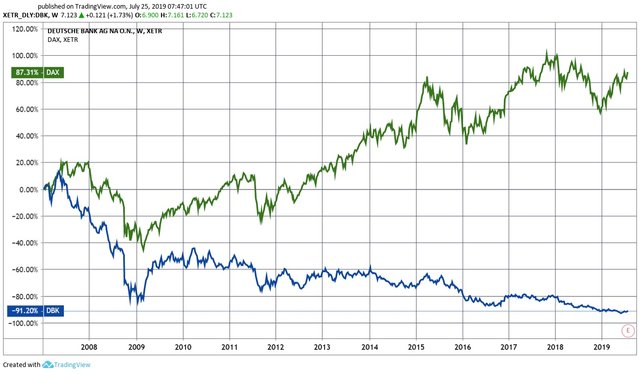 (Click to view in higher resolution. Chart courtesy of Tradingview)
Lower than the Lehman-bottom
The price of the Deutsche Bank shares fell more than 90 percent in the last 12.5 years. (Measured from the beginning of 2007, times before the crisis, but not even from the all-time-high.) The price is lower now than it was at the bottom of the Lehman-crash. The leading German stock market index DAX surged 87 percent in the same period.
Yesterday, the bank reported a quarterly loss of more than 3 billion euros. "Significant restructuring costs", "rise in expenses", "lower revenues and higher provisions" are the keywords.
Deutsche Bank's restructuring efforts aimed to boost revenues and drive improvement across all the business segments look encouraging. However, it is really difficult to determine how much the bank will gain, considering the lingering headwinds. Moreover, dismal revenue performance is a concern. (Zacks in Investing.com)
Maybe that's a good thing. May cryptocurrency applications and young fintech companies win. Small, fast, smart, young mammals defeat the big, ugly, slow, old dinosaur. Do you agree?
The series
I started a series with the title "Chart Of The Day" because I see every day interesting things on the markets or in the news. Other parts here:
(Cover picture: Pixabay.com)