Markets have become very nervous with big swings from day to day and within a day on the smallest whiff of bad news. Working through my portfolios to reduce exposure to losers and taking some profits on winners. I hate selling on down days but it sometimes has to be done. Margin calls never help.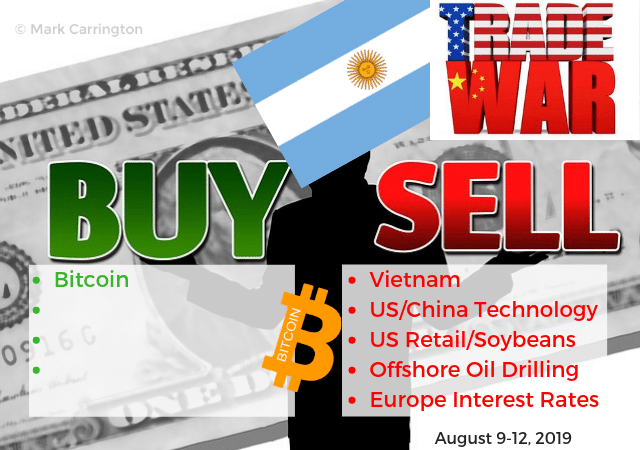 Portfolio News
Market Selloff
European markets opened in buoyant mood - at one stage only 30 stocks in Stoxx 600 were down. That mood did not last with fears of trade war escalation plus Hong Kong airport closure hurting sentiment when US markets opened.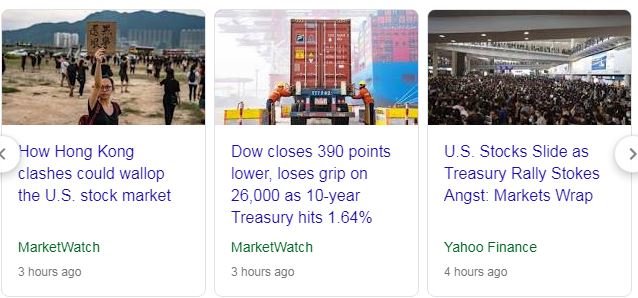 I caught the tail end of interview with former Treasury Secretary Larry Summers where he talked about what he called a "sadomasochistic and foolish trade conflict" the U.S. has engaged with China under President Donald Trump.
Strong words - but a whole lot tamer words than I use each time I see those tweets.
We are losing very substantial amounts in terms of uncertainty, reduced investment, reduced job creation, for the sake of benefits that are very unlikely to be of substantial magnitude. I don't think there's any question that American workers are going to be poorer, American companies are going to be less profitable, and the American economy is going to be worse off because of the course we're on
https://www.bloomberg.com/news/articles/2019-08-11/economy-at-riskiest-point-in-a-decade-lawrence-summers-says
Argentina Election
Surprise primary election result in the lead up to October elections smashes Argentinian Peso by 15% on fears of a shift away from the reformist agenda being pursued by incumbent president, Mauricio Macri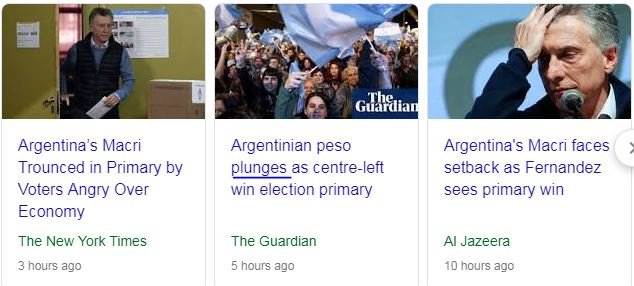 Agriculture
Corn futures collapse 6% in one one hour session on the release of acreage planting data which was higher than analysts expected.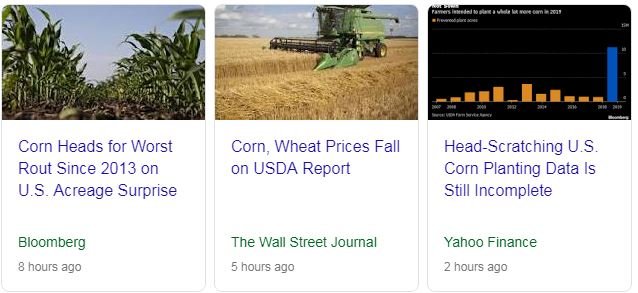 The detail of the report shows also that soybean plantings were down on the prior year - no surprise really will soybeans prices reacting to China tariffs and China demand.
https://www.wsj.com/articles/corn-wheat-prices-fall-on-usda-report-11565636279
There is an anomaly in the data with unplanted acreage also increasing = as the agencies continue revising data the true picture will become clear. What is not mentioned is a 15% drop in the Argentine Peso makes agricultural exports from Argentina a whole lot more competitive. US farmers have already lost substantial volume to China taken over by Argentinian suppliers.
https://finance.yahoo.com/news/head-scratching-u-corn-planting-214751141.html
Sold
Soybean Futures (SOYB): One trade closed in Friday trade on bounce in prices for $14.70 (1.7%) per contract profit
VanEck Vectors Vietnam ETF (VNM): Vietnam Index. 6.5% profit since June 2016. Reducing holding size to bank some profits.
Invesco China Technology ETF (CQQQ): China Technology. Reducing holding size for 8% blended loss since February/June 2017 and August 2018. First tranche bought in February is profitable.
Shopify Inc (SHOP): Taking profits - will buy back when the selloff is over. 40% profit since may 2019.
Tidewater was Gulfmark Offshore, Inc (TDW): Offshore Oil Drilling. Another oil and gas explorer (Sanchez Energy (SOG)) files for Chapter 11 bankruptcy proceedings = time to reduce exposure to the sector before they all go.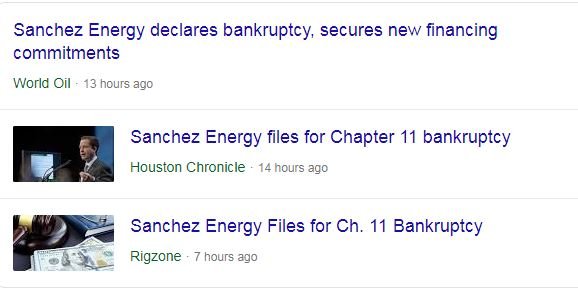 Oil drillers are heavily capitalised and very vulnerable to dropping oil prices and dropping demand. 36% loss since November 2018
Walmart Inc (WMT): US Retail. Walmart is facing increasing cost pressures from major suppliers (like Coca Cola and Pepsico and Procter & Gamble) in addition to a raft of new tariffs coming in on consumer goods imported from China.

To date they have been absorbing the cost rises in reducing margin - this does not feel sustainable. With price opening at $107.29 I felt it prudent to take the profits. Closed out January 2020 95/115 bull call spread for 56% profit since February 2018. Majority of profit came from buying back sold call
https://www.cnbc.com/2019/08/12/top-technician-walmart-could-get-slashed-on-earnings-this-week.html
Shorts
Euribor 3 Month Interest Rate Futures (IZ): Europe Interest rates. Closed one short contract for 8 basis points loss to release margin pressure in IG Markets account driven by collapsing corn prices.
Cryptocurency
Bitcoin (BTCUSD): Price range for the 4 days was $960 (8% of the open). Price headed into the weekend holding above the support level of $11,730 but could not hold on and drifted each day to test below. It makes an inside bar day in Monday trade - which surprised me a little given what is going on in Hong Kong. No panic there yet.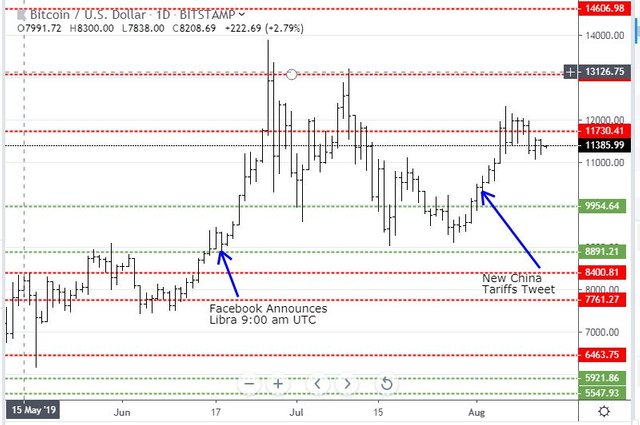 One contract closed for $193.40 (-1.6%) per contract loss to release margin overnight.
Added two new contracts at weekend
Ethereum (ETHUSD): Price range for the 4 days was $20 (9% of the open). Price dropped away from resistance below $220 and tested down to support at $201 and held and reversed making a higher low. This $201 level is building strength.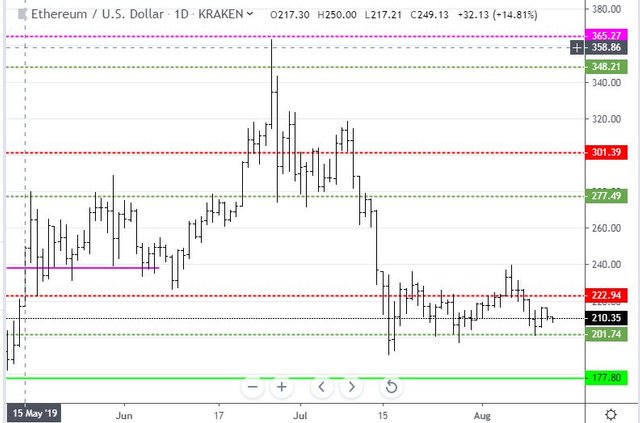 Ripple (XRPUSD): Price range for the 4 days was $0.001896 (6% of the high). Friday's price range covers all the price moves for the whole 4 days = 3 inside bars. This does not happen very often and suggests a big price move when price does break out. It will be anybody's guess as to which way it goes. The commentators are suggesting that Bitcoin has become the preferred investing vehicle. Add in the strong level above current price = suggests to me a price break lower could be more likely.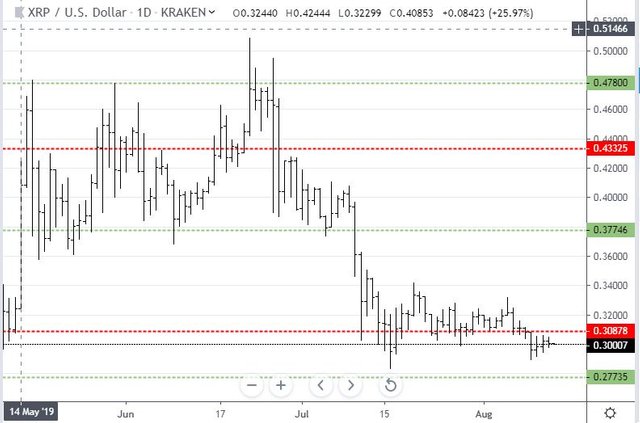 CryptoBots
Profit Trailer Bot No closed trades
New Trading Bot Trading out using Crypto Prophecy. No closed trades
Currency Trades
Outsourced MAM account Actions to Wealth closed out 9 trades over 3 days for 0.1% profits. No trades open
Cautions: This is not financial advice. You need to consider your own financial position and take your own advice before you follow any of my ideas
Images: I own the rights to use and edit the Buy Sell image. News headlines come from Google Search. All other images are created using my various trading and charting platforms. They are all my own work
Tickers: I monitor my portfolios using Yahoo Finance. The ticker symbols used are Yahoo Finance tickers
Charts: http://mymark.mx/TradingView - this is a free charting package. I have a Pro subscription to get access to real time forex prices
August 8-12, 2019