US Markets get tired. Europe is my theme for the day switching from index investing to specific stocks. Trying my hand at old dog, Nokia on 5G thoughts.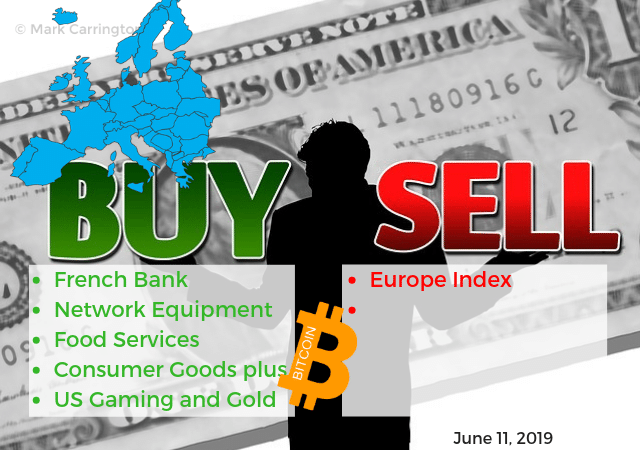 Portfolio News
Market Rally
The headlines tell it all - up to start the day and then drifting down.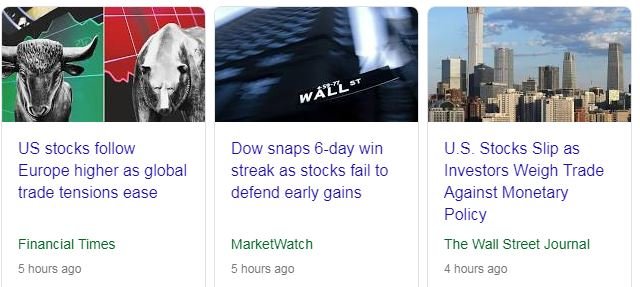 I watched US markets open in a sea of green. The talking heads seemed happy that the Federal Reserve was in its box. Somewhere along the day's story the market got the feeling the Fed was not in its box and the green disappeared. Then this comes along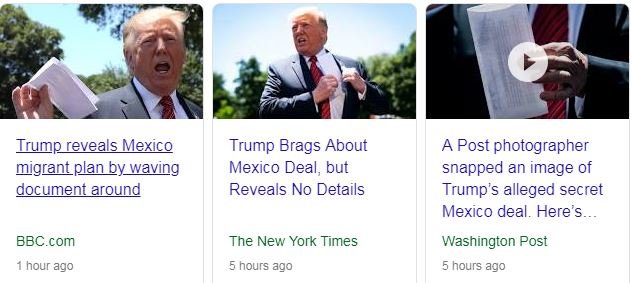 I wrote yesterday
Donald Trump cannot be trusted to stand behind his negotiating teams before he .....
Well it seems a whole lot worse than that. Today he is bragging about having a secret Mexico deal. He also said he was now the person holding up the China deal. Who knows what is truth and what is not. Mexico denies such a deal exists. Last week he said it was China dragging their heals. What is becoming very clear - his negotiating teams cannot rely on him holding solid ground while they work. Deals do not work well in that sort of shifting sands environment. Markets hate it too.
Yields did much the same thing as stocks - sagged and then rose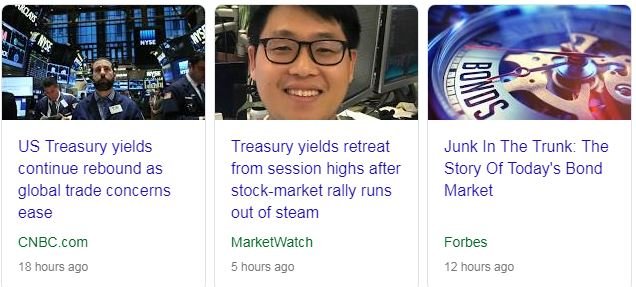 Bought
Added a few European positions after closing out some Eurostoxx50 call options
Société Générale S.A (GLE.PA): French Bank. Averaged down entry price in one portfolio.
Nokia Corporation (NOAA.DE): Europe Network Equipment. Nokia CEO was talking about how Nokia was positioned in 5G. The Huawei story can only be good for Nokia, which is one of two European suppliers (alongside LM Ericsson (ERIC)). The chart is a classic beaten up stock showing signs of life. The weekly downtrend was broken in late 2018 and price has pulled back to retest the trend line and a horizontal level around $5. I bought some stock on the Germany listing (i.e., in Euros)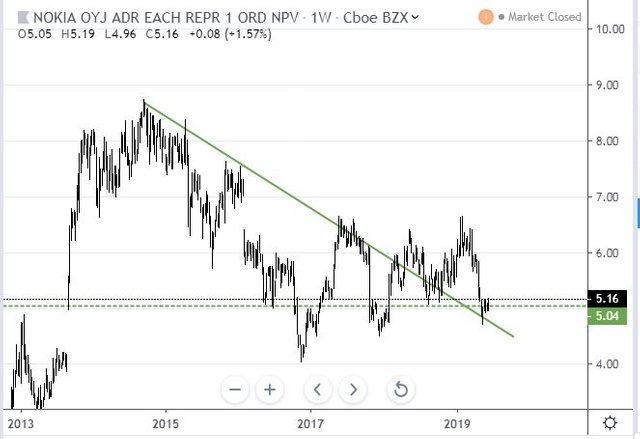 Price has also made two higher lows since the 2016 lows. Note: this chart is for US ADR listing.
Nokia Corporation (NOK): Europe Network Equipment. In one portfolio I bought a January 2021 5/7 bull call spread for a net premium of $0.55 offering maximum profit potential of 263% if price closes at or above $7 by expiry. Let's look at the chart which shows the bought call (5) and 100% profit as blue rays and the sold call (7) as a red ray with the expiry date the dotted green line on the right margin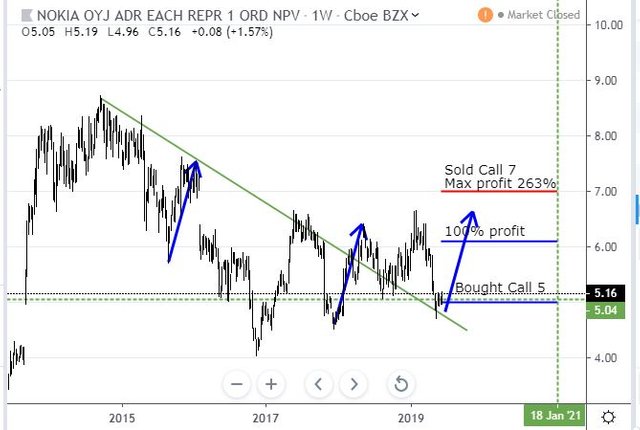 Price does have to pass 2017 and 2018 highs to make maximum profit. I have modelled one of the previous runs (middle blue arrow). Get a repeat of that and trade will make 100% easily. If 5G is indeed a changing dynamic for the industry and Nokia, this trade can make the maximum.
Looking at this chart one would not be unhappy buying the stock at $4 (i.e., below the 2016 low). It is possible to sell a January 2021 strike 4 put option for $0.35 which would bring net premium down to $0.20 and ramp up profit potential to 900%. I am going to do that tonight
Compass Group PLC (CPG.L): Europe Food Services. Compass Group made a major food services acquisition in Scandinavia, their first major one since 2001.

I added a small parcel of stock as this acquisition increases their Pound hedging position. Dividend yield of 2.15%
Unilever PLC (ULVR.L): Europe Consumer Goods. Unilever announced an acquisition in plant based foods and committed to keep following food trends. With all the hoopla around Beyond Meat (BYND), I joined a more rounded player in the space. Dividend yield of 3.05%. Looks like I am not along in my thinking.

Unilever has acquired four popular food and beauty start-up brands including supplements seller Olly Nutrition, French derma-cosmetic company Garancia, online snack retailer Graze and home cleaning brand The Laundress, as it looks to a "strategic shift into faster growth segments and channels".
https://www.cmcmarkets.com/en-gb/opto/why-unilevers-share-price-is-hitting-all-time-highs
ABB Ltd (ABBN.SW): Europe Industrials. US Industrials have shown some resilience in the last few weeks. ABB should continue to follow. Averaged down entry price in one portfolio. Dividend yield of 3.81%
VanEck Vectors Gold Miners ETF (GDX): Gold Mining. Averaged down entry price on September 2019 strike 22.5 call options bought earlier this week. Trade now in-the-money with price closing up at $22.59 (see TIB432)
Las Vegas Sands Corp. (LVS): Gaming/Casinos. Taking action on a trade idea that was not working out the right way. Bought July 2019 60/65 bull call spread for net premium of $1.43 offering maximum profit potential of 249% if price closes at or above $65 by expiry. Quick update on the chart which shows the new trade as pink rays with new expiry the pink dotted line on the right margin.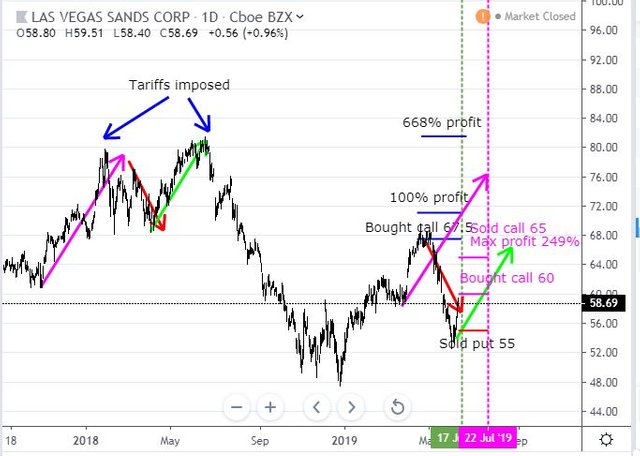 The chart contains the remnants of the last trade (bought call 67.5) and the changed sold put (60 moved to 55 and one more month - the red ray). Price did not complete the pink arrow price scenario but it did play out the red arrow price scenario. The bounce off the lows looks something like what happened in early/mid 2017 (this business is seasonal) (the new green arrow). Get a repeat of that and the new trade has a chance of success - it might need to be steeper which is what it is currently doing.
Sold
Eurostoxx 50 Index (ESTX50): Closing index level of 3401 is highest it has been for a little while. Closed out two in-the money December 2024 call options. Strike 2700 for 2.5% blended loss since March and November 2016. Strike 2900 for 7.4% blended profit since April and June 2016. Overall trades total was profitable. These holdings were bought as part of an income strategy. Buy a long dated in-the-money call option on the index and then write short dated covered calls against them. Unfortunately Interactive Brokers stopped supporting that ability in this account some time back. The overall strategy lost 3.8% mostly driven by one buy back of the written calls.
Why sell now? The strategy cannot work. No dividend yield from holding index options. Run out of patience with Europe.
Separate note: when I set up the trades my brokerage account was showing these holdings as profitable. The accounting has got messed up somewhere as one holding was not profitable.
Cryptocurency
Bitcoin (BTCUSD): Price range for the day was $344 (4.3% of the high). Price pulled back from the prior close and tested down to support at $7761 and held above.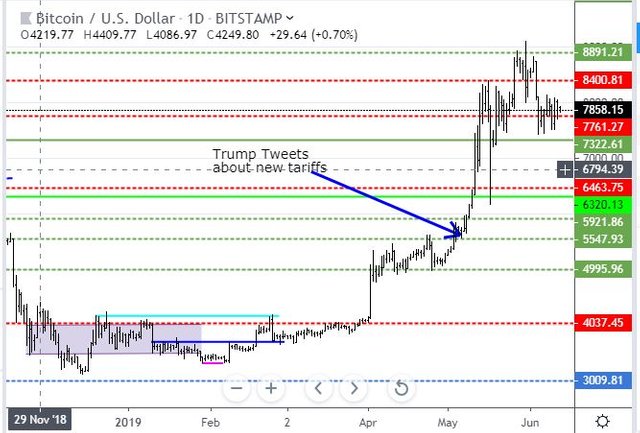 This support level looks a bit strange as it lies in the middle of the consolidation range.
Ethereum (ETHUSD): Price range for the day was $12 (4.8% of the high). Price pulled back from prior high, tested a little higher and then tested the short term support level (the pink ray) almost exactly. Not quite time to extend that pink ray - maybe tomorrow.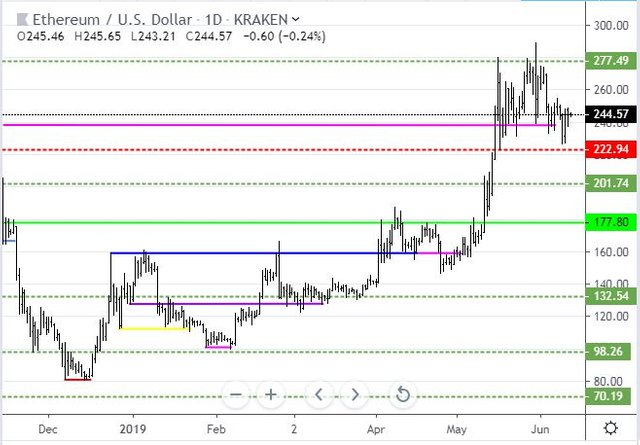 Ripple (XRPUSD): Added one new contract in IG Markets account on a 1 hour reversal. This is a hedging trade (see TIB432)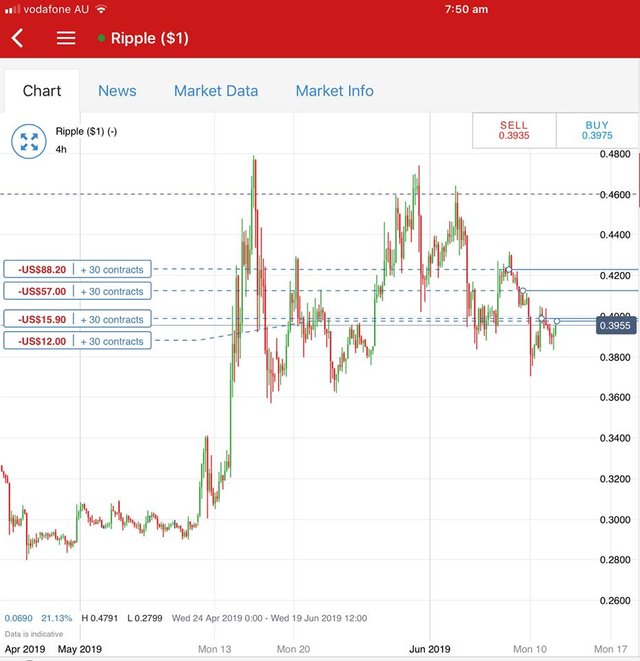 CryptoBots
Profit Trailer Bot One closed trade (1.49% profit) bringing the position on the account to 8.76% profit (was 8.74%) (not accounting for open trades).

PT Defender now defending 12 coins with TRX added back to the list.
New Trading Bot Trading out using Crypto Prophecy. No closed trades
Currency Trades
Outsourced MAM account Actions to Wealth closed out 3 trades on AUDUSD, AUDCAD and EURUSD for 0.11% losses for the day. Trades open on EURUSD, EURGBP and AUDCAD (0.11% negative). There remain trades open in both directions on EUR
Cautions: This is not financial advice. You need to consider your own financial position and take your own advice before you follow any of my ideas
Images: I own the rights to use and edit the Buy Sell image. News headlines come from Google Search. Europe image from OpenClipart-Vectors (pixabay.com). All other images are created using my various trading and charting platforms. They are all my own work
Tickers: I monitor my portfolios using Yahoo Finance. The ticker symbols used are Yahoo Finance tickers
Charts: http://mymark.mx/TradingView - this is a free charting package. I have a Pro subscription to get access to real time forex prices
Bitcoin: Get started with mining Bitcoin for as little as $25 http://mymark.mx/Galaxy
June 11, 2019