Markets are smashed as China retaliates. Flip a coin trades on the direction of yields - I am picking down some more. Short term trade short on Cisco and more momentum profits on cryptocurrency.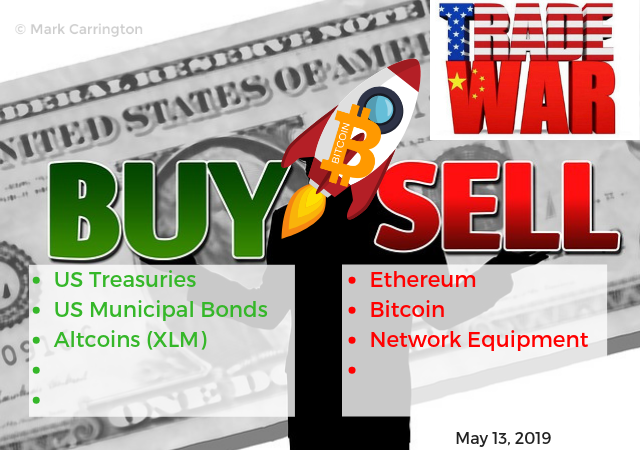 Portfolio News
Trade War
China retaliates and markets are smashed. Words like bloodbath are flowing.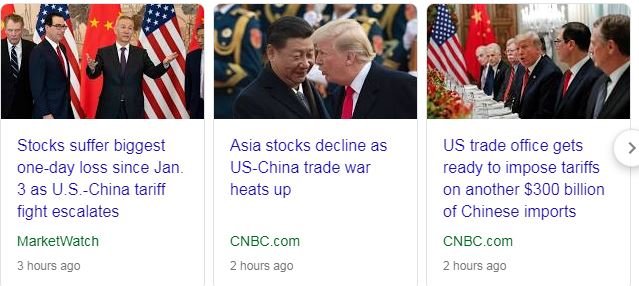 I watched the markets open - it started ugly and it got worse. The most telling interview was with Jim Cramer. His view is that this is part of the Donald Trump plan. When the pain is enough (i.e., the Dow Jones index has dropped to a level he thinks is low enough), he will close the deal. My view (not what Jim Cramer said) is he is in cahoots with the big money to make a killing on the rebound. Who said that word conspiracy?
Where this whole things unravels is in the unexpected. China takes aim at Boeing is already happening. I doubt Trump expected that. This is the one I think nobody is looking at - tariffs at 25% will be passed onto US consumers and not absorbed. That pushes inflation up. That gets the Federal Reserve bothered and we go back to having all 3 problems again in play 1. The Fed. 2. China 3. Slowing growth.
One thing that did get me bothered was the offer by Donald Trump to protect US farmers. Yet he is always complaining that China uses subsidies to effect their economic goals. What is good for the goose!! I do know that it did help the corn price (see the gap on the right).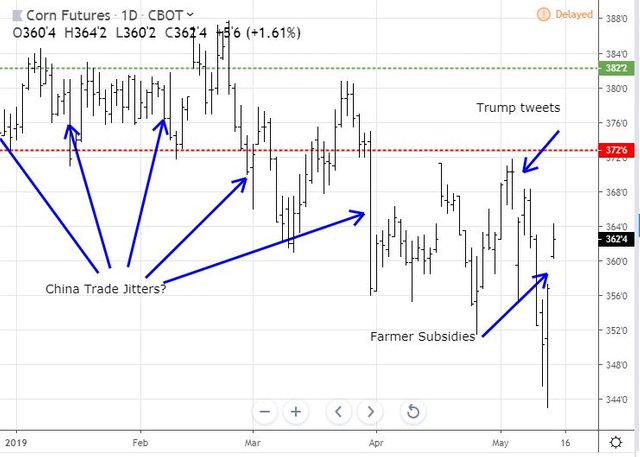 Treasury yields slide as markets rush to safe havens. Gold rises too.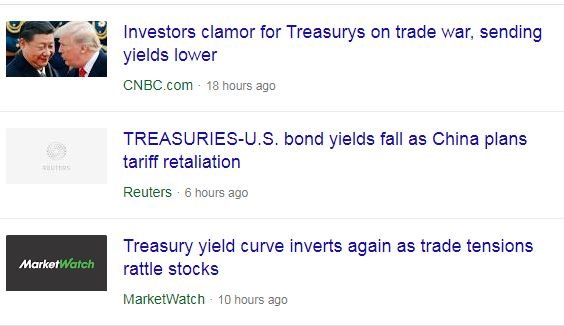 Hedges keep losses in hedged portfolios below 1.5% but not in the harder to hedge one which goes 2% down.
Crypto Craze
Crypto prices continue to race ahead led by another 20% jump in Bitcoin.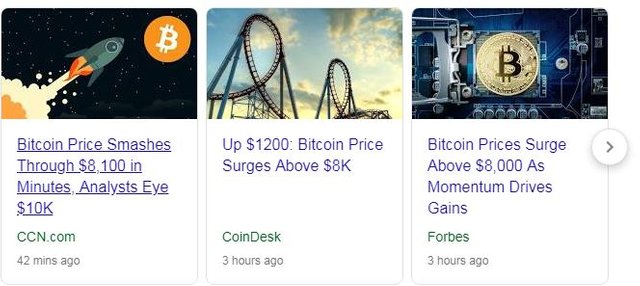 There is a lot of speculation about the catalyst. I shared my view yesterday that a lot of the demand comes from China. There may be truth in the story about problems in Tether and Bitfinex dumping out of Tether into BTC.
To me, this feels like a market event - a few buyers and no sellers as all the weak hands have been shaken out in 2017/18 selloff. Here is the update on the Chinese currency chart.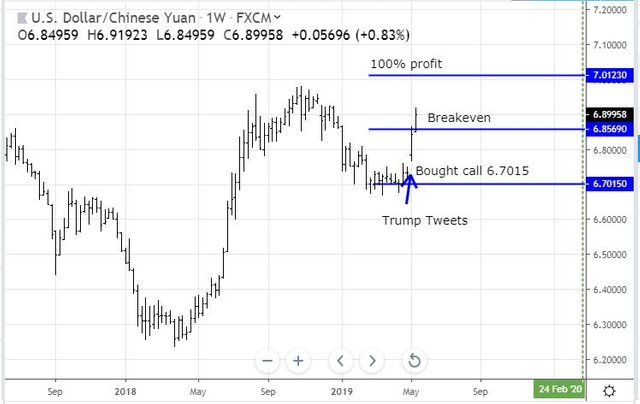 Bought
iShares 20+ Year Treasury Bond ETF (TLT): US Treasuries. CNBC Options Action team discussed an idea from bond king, Jeff Gundlach to consider a straddle on this Treasury ETF. The logic is that implied volatility on 3 month at-the-money options has got to an all time low. This makes being on both side of the trade cheap enough. The suggestion was a 125 strike given Friday closing price of $124.75. The team did suggest that Gundlach had a directional bias BUT they were not prepared to give their view. One of the team members expressed a view that a 2% yield (versus current 2.32%) on the 10 year was possible by December = go long TLT.
[Means: Straddle is used when one does not know which way a stock is going to move but one is expecting some volatility. The trade is to buy a put option and a call option at the same strike price, same expiry]
I watched markets open. The directional bias was quite clear (yields down and price up) and I was humming and hahing about whether to put on the trade. In the one portfolio where I am still short interest rates I bought more municipal bonds to increase my holding there (currently profitable). In another I decided to go with the directional bias (up) and bought August 2019 Strike 126 call options. Price had already passed through the 125 strike. Premium was $2.09 = 1.7% of strike. Price moved up 0.79% for the day and closed at $125.73.
Let's look at the chart which shows the bought call (126), breakeven and 100% profit as blue rays with the expiry date the dotted green line on the right margin.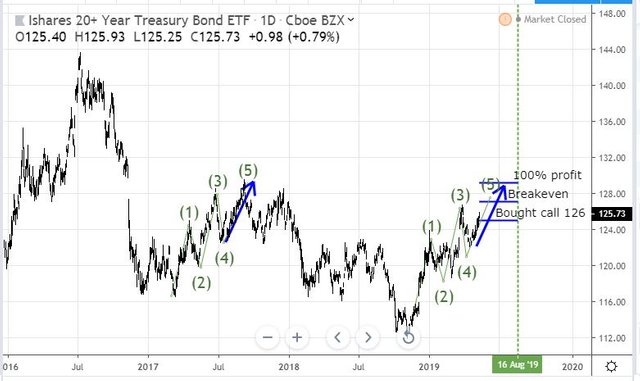 I have modelled an Elliot Wave from the last consolidation (left hand zig zag) and cloned it across to now by matching the peak of leg 1. I have also modelled the length of the left hand leg 5 (blue arrow) and placed that where price is currently moving. That sort of price move will take the trade comfortably to 100% profit.
BlackRock MuniYield Quality Fund III, Inc (MYI): US Municipal Bonds. Adding to my position in one portfolio bringing this to one standard position. Note: yields on these bonds are tax free in US citizen hands and no withholding tax for foreign investors (i.e., I pay tax on them at home).
Shorts
Cisco Systems, Inc. (CSCO): Network Management. CNBC Options Action team discussed the possible market reactions to upcoming earnings for Cisco. Context is the last earnings saw a 10% drop. Intel (INTC) dropped 10% on each of its last two earnings calls. View was a strong chance the same could happen to Cisco as their businesses are closely tied and Cisco is already priced close to a 10 year high on price to earnings. Friday closing price was $53.36 and the idea was to buy a May 2019 53/49 bear put spread with Friday's premium around $1. Price was dropping hard at market open - I bought a 51.5/48 bear put spread for net premium of $0.9175 offering maximum profit potential of 281%. Price has to drop a further 6.8% from the Monday close of $51.30 to make the maximum.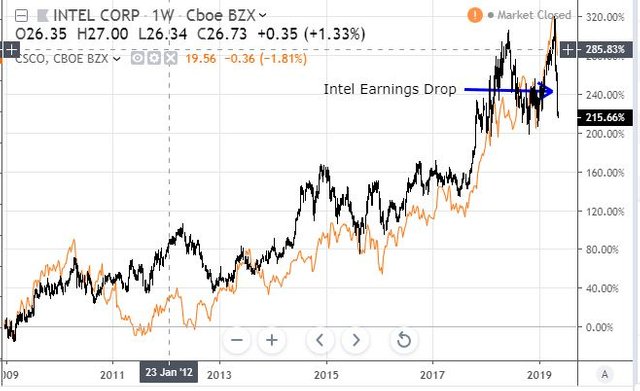 The chart shows Intel (INTC - black bars) compared with Cisco (orange line) since the 2009 lows. The key part of the chart is the way Intel dropped after its last earnings (on the right). Trade thesis is Cisco will follow suit. Note the trade expiry is this Friday, directly after earnings.
I remain exposed to Cisco through June expiry sold strike 50 puts (in two portfolios - i.e., happy to buy the stock at $50) and long January 2020 strike 45 call options (in another portfolio). I do not own the stock other than through SPDR Technology Select ETF (XLK)
Cryptocurency
Bitcoin (BTCUSD): Price range for the day was $1304 (19% of the low). Price simply raced through the next resistance level (solid green line) at $7322 and is pausing above the next one (dotted red line 2nd from top) at $7761. I did suggest yesterday that price history would not be that helpful when the market is in this mood.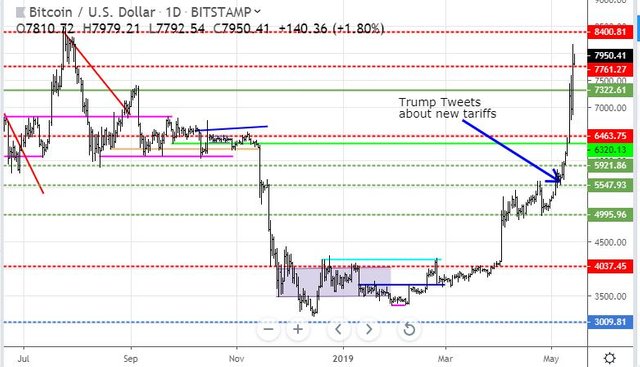 One contract hit profit target for $388.68 per contract profit (5.4%)
Ethereum (ETHUSD): Price range for the day was $24 (13% of the low). Price spends a third day testing resistance around $201 level and makes a higher high. Next levels up are around $213 and $220. This chart feels a lot less heady than Bitcoin. I took the unusual step (for me on Ethereum) and trailed stop losses on two of my contracts.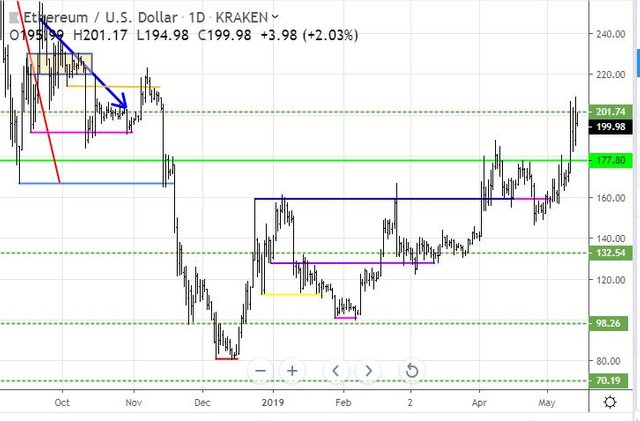 Both contracts hit stop losses for $5.70 (2.9%) and $17.75 (9.9%) per contract profit
CryptoBots
Profit Trailer Bot Three closed trades (2.14% profit) bringing the position on the account to 7.41% profit (was 7.32%) (not accounting for open trades).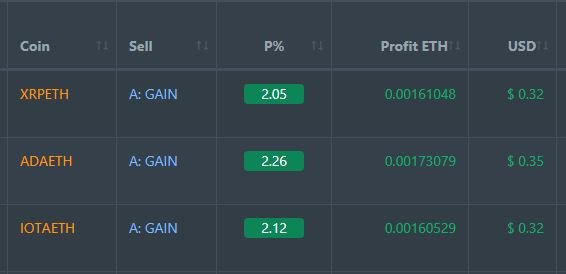 Got the PT defender status working with one sale (XRP) - defending 13 coins.
New Trading Bot Trading out using Crypto Prophecy. No closed trades. Opened DCA trade on XLM - not quite fitting the rules but it is oversold. With such a high Bitcoin price, was able to get a DCA level at twice the size of the previous contract. This will take some time to come back.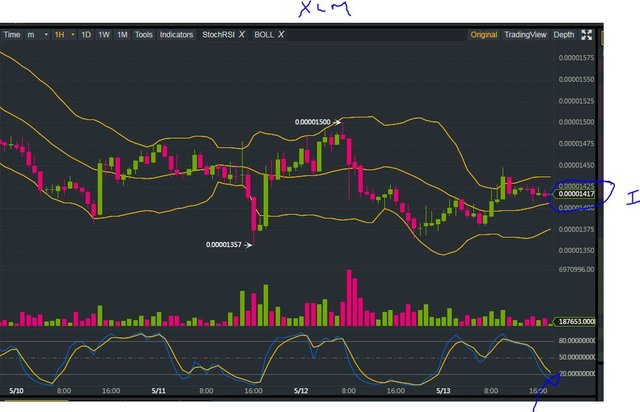 Currency Trades
Outsourced MAM account Actions to Wealth closed out 2 trades on USDCHF and EURUSD for 0.09% losses for the day. Trades open long on GBPUSD (0.13% negative). Brexit news is not helping this trade just yet
Cautions: This is not financial advice. You need to consider your own financial position and take your own advice before you follow any of my ideas
Images: I own the rights to use and edit the Buy Sell image. News headlines come from Google Search. All other images are created using my various trading and charting platforms. They are all my own work
Tickers: I monitor my portfolios using Yahoo Finance. The ticker symbols used are Yahoo Finance tickers
Charts: http://mymark.mx/TradingView - this is a free charting package. I have a Pro subscription to get access to real time forex and crypto prices
Bitcoin: Get started with mining Bitcoin for as little as $25 http://mymark.mx/Galaxy
May 13, 2019