Markets stay happy - even Boeing recovers. Adding to oil is a bit contrarian. Reducing more in Europe indices and adjusting and adding to shorts in banking. More work on hedge trades in US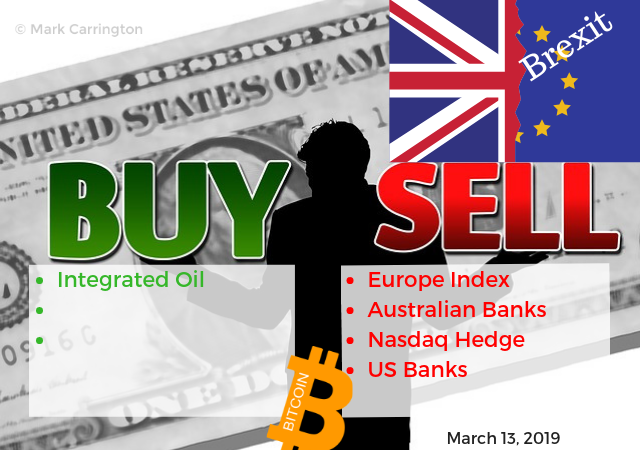 Portfolio News
Market Rally
World markets continued to advance with S&P 500 making a new 2019 high.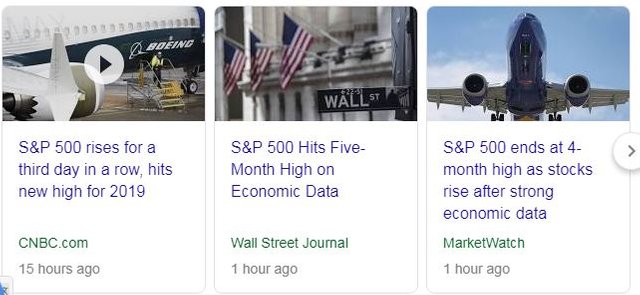 The main thrust came from technology stocks with sentiment improving about a US-China trade deal. Boeing (BA) found some buyers with uncertainty cleared with Donald Trump announcing the grounding of all Boeing 737 Max-8 and Max-9 aircraft in US. That just had to happen. Ground. Analyse. Fix. Fly again.
Corn price seems to think there is a better chance of a trade deal coming.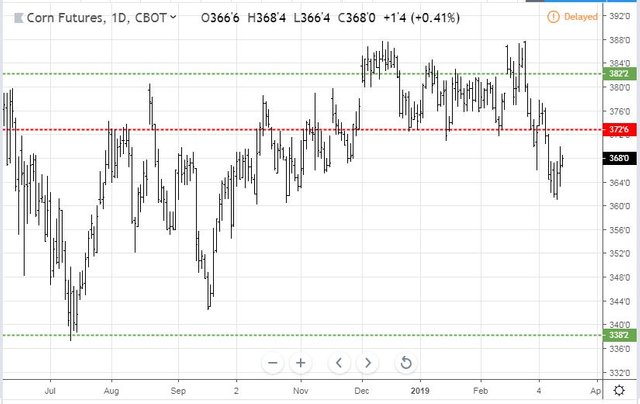 Brexit Bumbles
The can got kicked down the road with UK Parliament voting to reject a no-deal Brexit.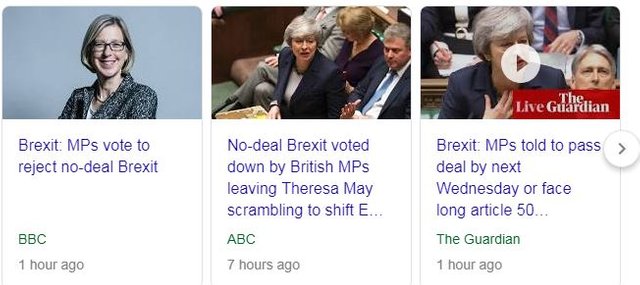 The next step is a vote for postponement of exit. And then there will possibly be a vote on a 2nd referendum. How long to postpone is a bit complicated as European Parliament elections are due to be held between May 23 and 26. Somehow, I do not see anything being resolved and the elections will have to be run. The whole episode looks like the best of "Britain Bumbles" led by a weak Prime Minister and a fractured Conservative Party-led coalition. The markets liked it with a 2% jump in the British Pound. Good for me as I have Pounds I need to sell for Australian Dollars.
Cannabis Carnival
Aurora Cannabis continues the carnival by appointing Nelson Peltz as an adviser.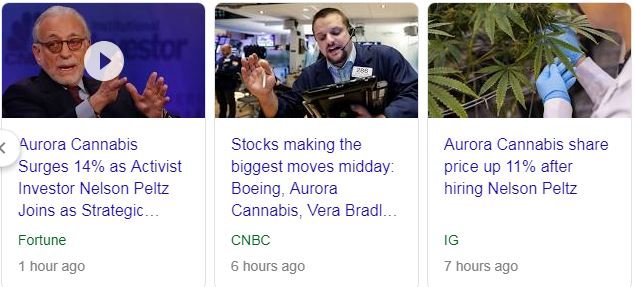 Who is he anyway? Most businesses worry when Peltz comes along as he is an activist shareholder. This is different - he has a huge track record in consumer products - think Procter & Gamble, Mondelez, Kraft Heinz, Wendy's - and consumer branding on a national scale will be one of the key success factors in the fledgling cannabis industry. He has been granted 19.96 million options which would make him 2nd largest shareholder if they are exercised. These vest over a graduated timeline in 4 years with graduated strike prices - price needs to triple for the final exercise.
Bought
BP PLC (BP.L): Oil Producer. Watched a segment on CNBC about the lag between oil producer stocks and oil prices. Oil price has been rising and oil stocks have not risen as fast. The suggestion was to add Chevron (CVX) as the most disciplined of the major integrated producers. Rather than add a new stock to my portfolios, I increased my holdings in BP, originally a Jim Cramer idea. Why pick that one? I am invested already, I had spare British Pounds in the portfolio and dividend yield is 5.95% vs CVX's 3.9%
The chart the talking head showed was Brent oil price vs Chevron. Here is one using United States Brent Oil ETN (BPO - black bars) for the last 12 months. Chevron (CVX- red line) has indeed lagged and its recovery slope is not as steep.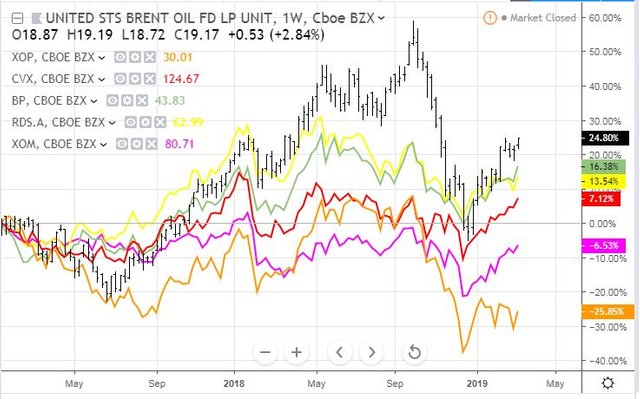 Now I have put in a few more lines. BP US listing (BP - green line) and Royal Dutch Shell US lisitng (RDS - yellow line) look much the same - also not as steep (all in US Dollars). Big laggards are Exxon Mobil (XOM - pink line) and SPDR S&P Oil & Gas Exploration & Production ETF (XOP - orange line). I am not invested in Chevron but I am in all the others. Lessons for me is laggard XOP (an equal weighted ETF) - being dragged down by smaller operators. Will the smaller operators close the gap especially if interest rates rise any further? The talking head did not like the idea. He also preferred Chevron management to Exxon Mobil. I quite like the bigger gap 30% vs 17% right there for XOM
Now the thesis is fine - lagging the oil price. I will show one more chart and show it relative to US oil prices - not Brent - using United States Oil Fund (USO).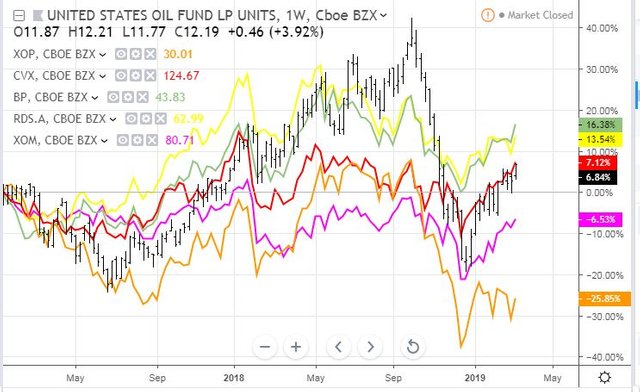 Now this looks quite different with CVX exactly in line with the oil price - and Chevron produces more of its oil in US than in Brent markets and more compared to BP. Check the maps below
https://www.chevron.com/projects
https://www.bp.com/en/global/corporate/what-we-do/bp-at-a-glance.html
Sold
SPDR Stoxx 50 Europe (FEU): Europe Index. I continue reducing my exposure to Europe with prices edging higher. Booked a 1.38% profit since November 2012 which is a disappointing return.
Shorts
Westpac Banking Corporation (WBK): Australian Bank. Added to my short position. This trade was supposed to be a long:short with Citigroup (C). Too bad I put it in the wrong portfolio - now it is a long:short with ComStage STOXX Europe 600 Banks ETF (CBBANK.SW). This works a little better than Citigroup as the dividend yield is a little higher at 4.13% vs Citigroup's 2.91%. I will set the trade up in the correct portfolio when markets open tonight. See TIB377 for the initial rationale for the long:short.
Invesco QQQ Trust (QQQ): Nasdaq Index. When I initially set up the hedge trades on Nasdaq, I did not do ratio spreads (i.e., sell 2 puts for each 1 I bought). I did that today by selling one additional May 2019 strike 154 put options to match the bought 163 strikes. I have still not got it right. I initially bought 2 put contracts - so I should have sold 2 more - I only sold 1. Tonight. Of note - in February the sold put premium was $1.81 - down to $0.65 now
Citigroup Inc (C): US Bank. Last month I set up an April 2019 60/50 bear put spread on Citigroup. On trade day closing price was $61.61. Since then price has improved and traded quite a bit higher to close at $63.65 today. CNBC Options Action team suggested that it was possible to squeeze some more out of the trade by covering the 50 strike put option (i.e., buy it back) and selling a higher strike, say 55. The logic is price has proved that it does not really want to go down as far as $50 - in fact it does not really want to go down. So there is plenty of margin to trade at the higher strike and one gets a chance to collect more premium.
So I did that - bought back the 50 strike for $0.06 premium (77% profit in one month) and sold the 55 strike for $0.17 - this takes off $0.11 to the net premium paid on the original trade. Net premium of the trade is now $1.59 which brings the maximum profit potential to 214% (was 488%) if price falls 15.7% from current level (was 19%). Now it seems a bit weird to change a trade to reduce maximum profit - this is trade management to reduce the impact of what is now looking like a less good (maybe even bad) trade. That said, there is still a month to go.
Of course, there is one other avenue. One could just hold onto the 50 strike put and hope it expires worthless. I thought about that but I have quite a few naked puts out there following the Call Spread Risk Reversals I have traded.
I have updated the chart showing the new sold put (55) as a dotted blue ray and adjusting the 100% profit line and showing the breakeven as the dotted red ray ($0.11 higher than it was).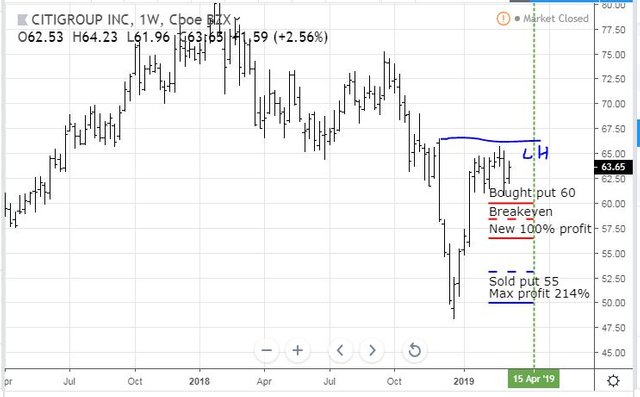 The trade problem is price chose to go up and not down and is tracking in a range above the bought put (60) level. It is of course totally possible that price will reverse - last high was lower than the high on the cycle before
Cryptocurency
Bitcoin (BTCUSD): Price range for the day was $54 (1.4% of the high low). Price makes another inside bar - good news is the higher low gives the chance to confirm a reversal to go higher today or tomorrow.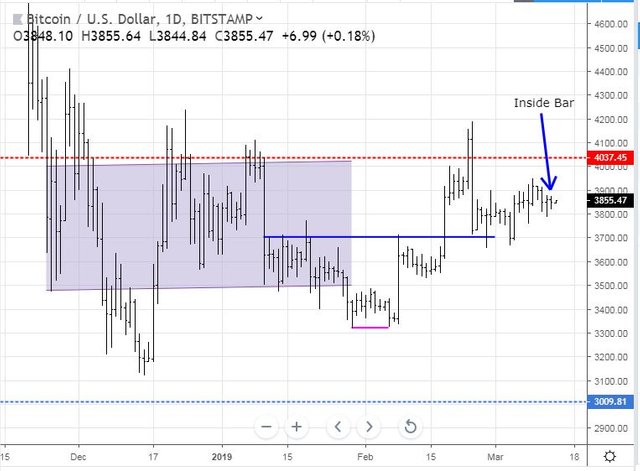 Ethereum (ETHUSD): Price range for the day was $2 (1.5% of the high low). Price too makes an inside bar but fails to hold above the longer term resistance level of $132. That feels like a save as price did not want to go lower to test $127 or $124 levels.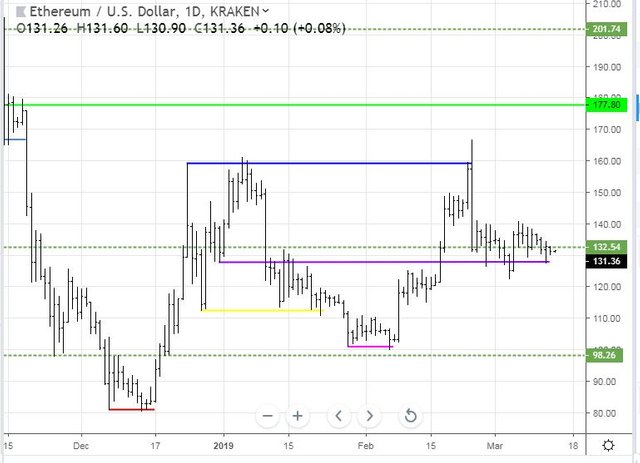 CryptoBots
Profit Trailer Bot No closed trades.
Dollar Cost Average (DCA) list drops to 4 coins with ZEC moved off to PT Defender duties after I fixed the average cost calculations. KNC and ICX are proving to be quite volatile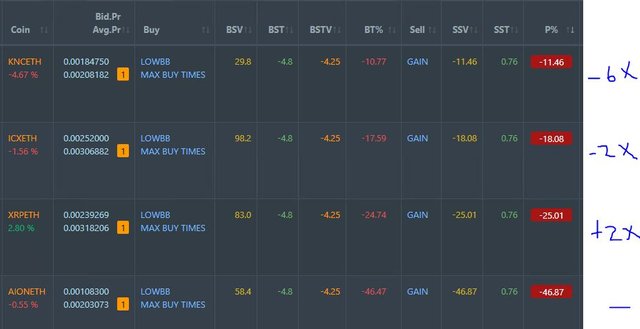 Pending list goes to 10 with ZEC added back. Of the rest 3 coins improving, 2 coins trading flat and 4 worse.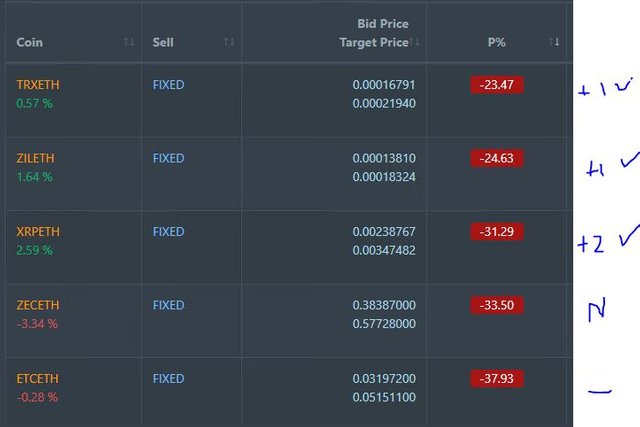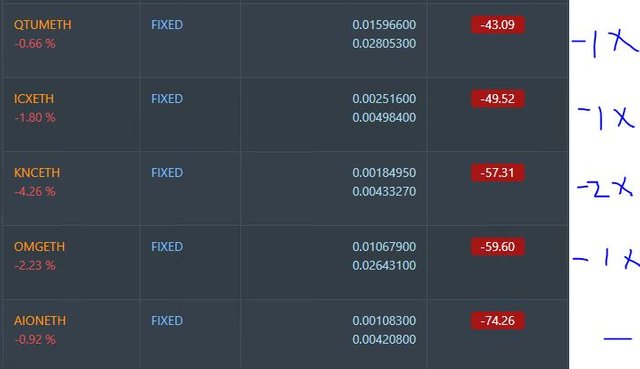 PT Defender continues defending 10 coins with ZEC coming back. Otherwise no change.
New Trading Bot Trading out using Crypto Prophecy. No closed trades. Added a new trade on BNB - it is trading below lower Bollinger Bands and has had several RSI reversal signals - one of them will be valid. I will DCA this one down one level if it drops further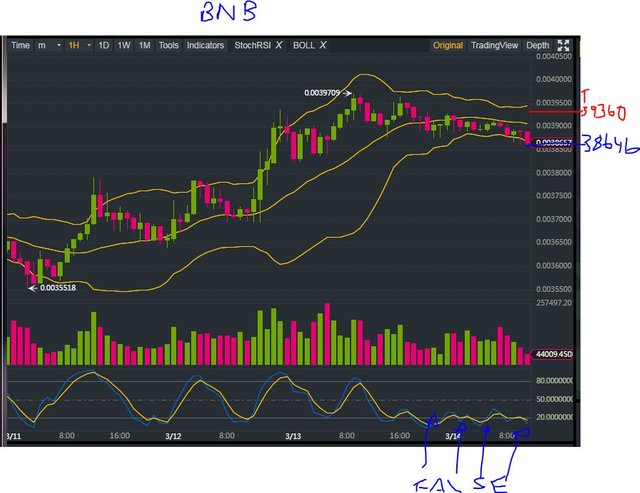 Currency Trades
Outsourced MAM account No closed trades. Trades open on AUDCAD (0.11% negative - improving)
Cautions: This is not financial advice. You need to consider your own financial position and take your own advice before you follow any of my ideas
Images: I own the rights to use and edit the Buy Sell image. News headlines come from Google Search. All other images are created using my various trading and charting platforms. They are all my own work
Tickers: I monitor my portfolios using Yahoo Finance. The ticker symbols used are Yahoo Finance tickers
Charts: http://mymark.mx/TradingView - this is a free charting package. I have a Pro subscription to get access to real time forex prices
Bitcoin: Get started with mining Bitcoin for as little as $25 http://mymark.mx/Galaxy
Crypto Prophecy provides a useful tool to identify oversold and overbought coins - https://mymark.mx/CryptoProphecy
March 13, 2019