Markets drift in low volume. Some complex options trades in Tesla, Facebook and disk drives. More bottom fishing in US healthcare and semiconductors. And rolling out in Russia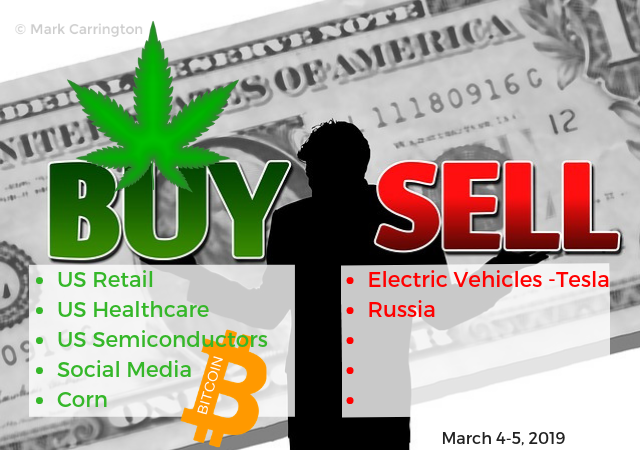 Portfolio News
Market Jitters Return
Investors are getting wobbly again with no new news coming out of the US-China trade discussions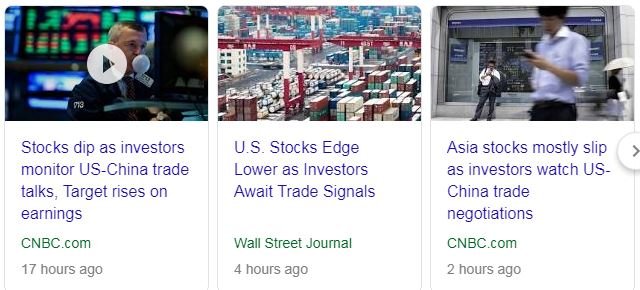 Investors are a fickle bunch - weekend news on the trade talks did not translate into a trade deal within two days and they start to drift to the exits. A bit like the last 10 minutes of a football game when the result is known and the visiting spectators go home early. Low volumes gives a clue that this is the same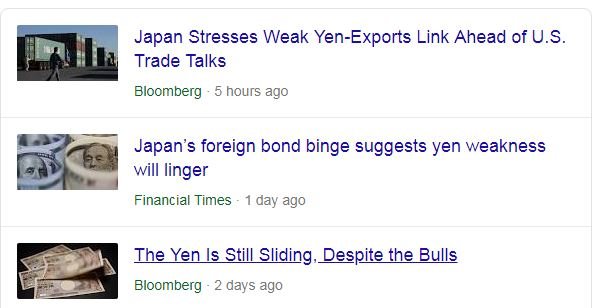 There are signs of movement elsewhere with a strong slide in the Japanese Yen. This is good news in my portfolios which leans to Japanese exporters and for my USDJPY hedge trade. What is driving that? It seems to be a splurge of foreign bond buying by Japanese investors
https://www.ft.com/content/217ccf32-3e69-11e9-9bee-efab61506f44
Cannabis Carnival
Harvest One (HVT.V) lights up Canadian cannabis stocks with its purchase of speciality biotech company, Delivra. This diversifies Harvest One further in medicinal marijuana product delivery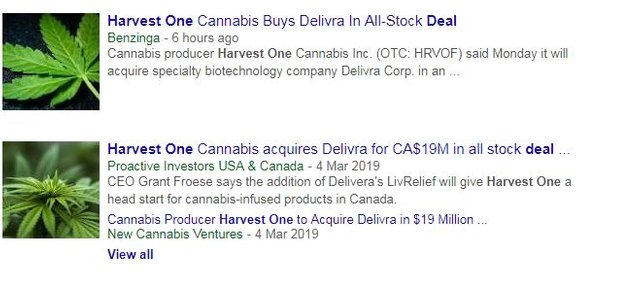 https://www.proactiveinvestors.com/companies/news/215733/harvest-one-cannabis-acquires-delivra-for-ca19m-in-all-stock-deal-to-strengthen-its-medical-and-wellness-division-215733.html
Harvest one has lagged its Canadian competitors in the last 12 months - fully 50 percentage points behind Aurora Cannabis (ACB.TO - red line) and Aphria (APHA.TO - orange line). It might not be too late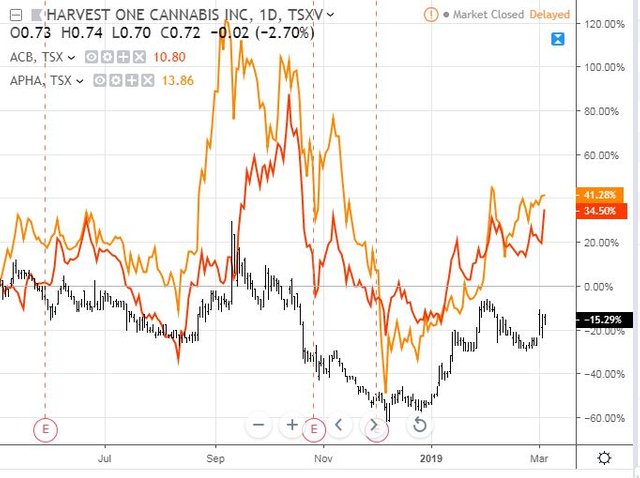 I am invested directly in Harvest One and indirectly via ASX listed MMJ Group Holdings (MMJ.AX) who own a sizeable stake.
Bought
The Home Depot, Inc (HD): US Home Improvement Retail. Jim Cramer added this to his Action Plus Portfolio. What caught my eye was 40% return on capital invested. It is no wonder Home Depot has out performed S&P500 by 80 percentage points over the last years. Key factors coming out of the recent earnings were softer sales than expected last quarter driven mostly by weather events in what is a quiet home improvement quarter anyway. Dividend yield 2.96%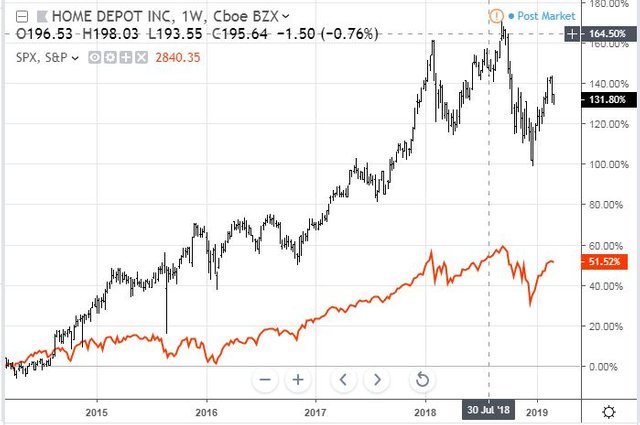 Here is the chart over 5 years compared to S&P500 (orange line). The key element in the chart is price pulled back 26% from the September highs. If the economy continues to grow, price could well pass those highs again.
CVS Health Corporation (CVS): US Healthcare. Markets continue to pummel healthcare stocks on the back of the "Medicare for All" bill. Jim Cramer keeps adding - I follow suit across my portfolios so they will all land up with a standard position
LAM Research Corporation (LRCX): US Semiconductors. Price is consolidating. Jim Cramer adds to his Action Plus portfolio on down days to reduce his average entry price - I continue nibbling away - 10 shares at a time.
Facebook, Inc (FB): Social Media. CNBC Options Action team discussed Facebook relative to S&P500. During the selloff and the recovery Facebook has outperformed. The chart shows this clearly (S&P500 - orange line).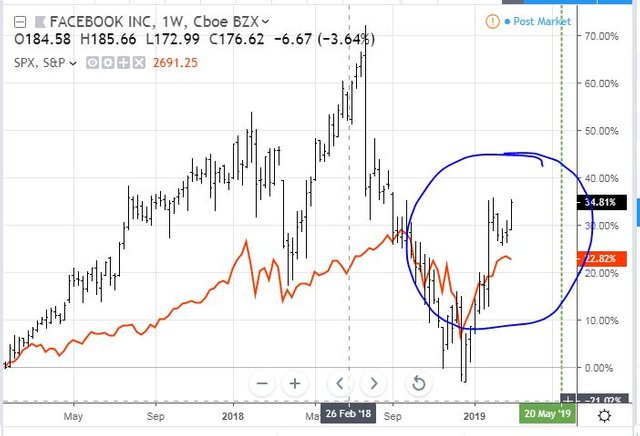 This suggests that Facebook has overcome the difficulties in the market's eyes. As the biggest player on the block with massive cash flows, it cannot be ignored. With closing price on Friday of $162.29 they set up a Call Spread Risk Reversal for May expiry (after next earnings) of 165/175 bull call spread coupled with a short 150 put option. With price moving up $5 during Monday to a close of $167.37, I pushed my numbers up by $5 on each leg.
Details of the trade - bought May 2019 170/180 bull call spread for net premium of $3.84 (2.2% of strike). On its own, this offers profit potential of 160% if price passes 180 (7.5% from close). Sold May 2019 strike 155 put for premium of $4.05 which brings overall net premium to -$0.21 - i.e., I got paid. Best outcome for me is if trade closes above $180. Worst outcome is if price collapses well below $155 with my effective entry point at $154.79.
Moving the $5 on each of the legs was necessary to construct a cost neutral trade. It does however bring the lower entry point a little higher than I would have liked. Let's look at the chart which shows the bought call (170) as a blue ray and the sold call (180) as a red ray and the sold put (155) as a dotted red ray with the expiry date the dotted green line on the right margin. Note: this chart is drawn based on Tuesday prices - it did not look like this on Friday.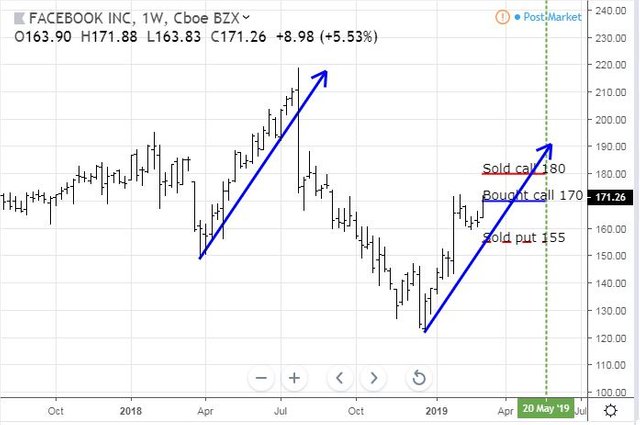 Key things to note: The sold put is nicely below the last reversal though 150 would have been better. The sold call (180) is below the recovery high from August. The price scenario from the last run up after earnings in March 2018 would comfortably take this trade past maximum profit before expiry.
Western Digital Corporation (WDC): US Technology. Western Digital has had a rocky ride but have been improving steadily under new management team. The CNBC Options Action team especially liked the way price did not fall over following the earnings call where guidance was less than analysts expected. The market senses that the management team are doing the right things. Add in a resolution to China trade issues and there is strong upside potential. Their trade idea was to buy a May expiry 50/65 bull call spread based on a closing price on Friday of $51.66 (i.e., buy in-the-money). My idea was to go out-the-money ($52.50). Price was around that level when I looked just before the close, closing at $52.61. I bought a May 2019 52.5/65 bull call spread for a net premium of $3.575 offering a maximum profit potential of 249%.
Let's look at the chart which shows which shows the bought call (52.5)as a blue ray and the sold call (65) as a red ray with the expiry date the dotted green line on the right margin.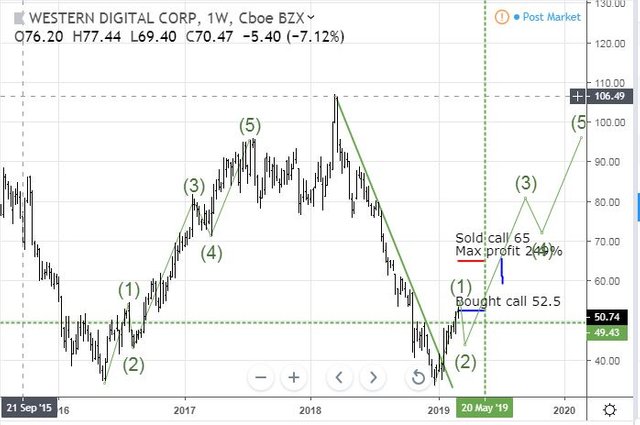 First thing I like about the chart is the break out from the downtrend line and passing through the horizontal resistance. At first glance, the maximum profit target is well within 2018 highs (not even half way up). When I look at the past price move off the 2016 lows, I have modelled an Elliot Wave (left hand green zigzag) and copied that across to now. That suggests to me that the trade might not make $65 before expiry if there is any form of consolidation - i.e., trade needs more time. I will be watching this closely and will take off the trade if it gets halfway to target. I will also look at a longer timeframe trade - July looks better BUT I am taken with the longer term potential of getting to the top of the chart. Example July 2019 50/65 bull call spread has a net premium of $3.98 = 276% profit.
ETFS Corn ETC (CORN.L): Corn Futures. As I have been reporting, corn prices have been bouncing around with the ebb and flow of US-China trade talks. I added to my ETF holdings on one of the reversals - this is very much part of the longer term trade idea predicated on China demand.
Shorts
Tesla, Inc (TSLA): Electric Vehicles. CNBC Options Action team previewed Tesla's price action - chart is pretty choppy with a downward bias. The main concern was about the growing competition which they felt would overcome the Elon Musk caché. They were also concerned with the SEC issues that Musk is facing and the possibility of a capital raise. With price closing at $294.79 on Friday, their trade idea was a bear put calendar spread selling April 250 put option and buying June 250 put option which gave them a break even of $238.75 - i.e., price needed to be below that level after next earnings.
When I looked at the trade setup before Monday close, price had already dropped over 3% to $285.36 (just before the close). I was able to buy the same spread for a net premium of $11.11 with breakeven at $238.89 - a little higher than the Options Action team. The key difference is the market was confirming the direction.
Let's look at the chart which shows the sold put (April 250) as a dotted red ray and its expiry the dotted red vertical line, and the bought put (June 250) as red ray and a green vertical line for its expiry. Breakeven ($238.89) is the blue ray. Earnings dates are also marked. The arrow shows where price was on Monday before the close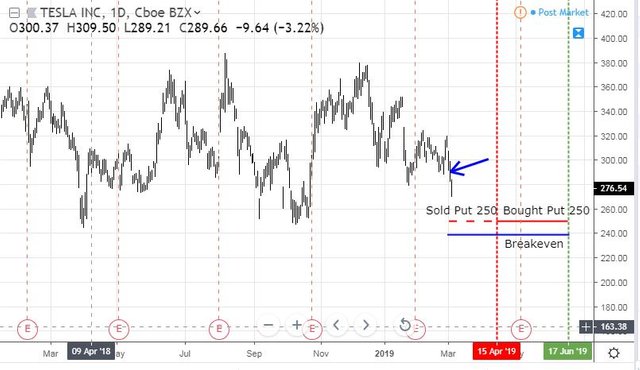 The best outcome for the trade is for price to stay above $250 until April expiry and then to drop below breakeven after earnings. Looking back at the earnings events, price has dropped 2 out of 5 times BUT not as hard as this trade needs. The next chart shows the larger of those earnings drops as a red arrow. I have copied it across to the next earnings date.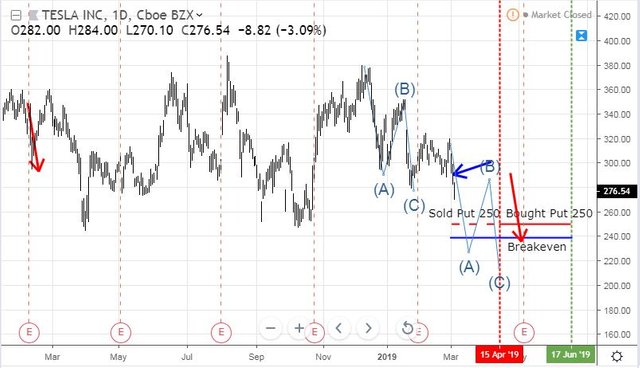 If price consolidates around the current level, a similar earnings drop will take this trade past breakeven. I have also modelled an Elliot Correction Wave from the highs after the late 2018 consolidation (left hand ABC zigzag). A repeat of that from the early 2019 consolidation could work just fine - dropping below the $250 level and correcting above before April expiry and then dropping (less steeply than it did last time)
Expiring Options
VanEck Vectors Russia ETF (RSX): Russia Index. Rolled up March 21 strike call options to April strike 22 call options for an additional $0.026 premium (34% of sold premium). While the trade value was only $8 the percentages do not look pretty. I have rolled this trade out a few times and each time I kick myself - it is like a drug. I am not wanting to take the medicine and walk away. I was not going to update the chart BUT I will as it brings lessons. The new chart shows the revised breakeven lines for each roll up.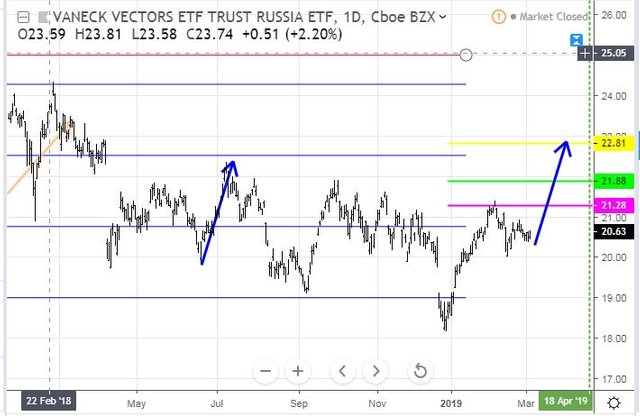 Breakeven is now $22.81 (yellow ray) on 22 strike calls expiring in April (the green vertical line). Price needs to make a repeat of one of the smaller runs to reach breakeven and more to make a profit. Now a commitment from Saudi Arabia to cut oil production which is being matched by Russia will keep oil prices up - that helps.
Cryptocurency
Bitcoin (BTCUSD): Price range for the two days was $207 (5.5% of the open). Price pushed down to test the short term level at $3700 and pushed back into the middle of the new trading range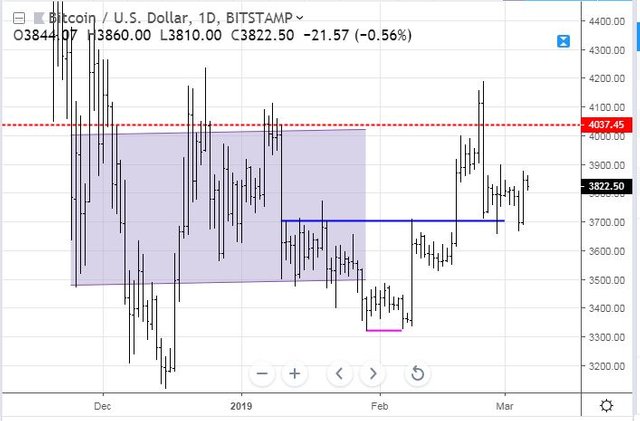 I added one new long contract on my IG markets account with a target set at recent highs just below $3900 - I since moved it to just below $4000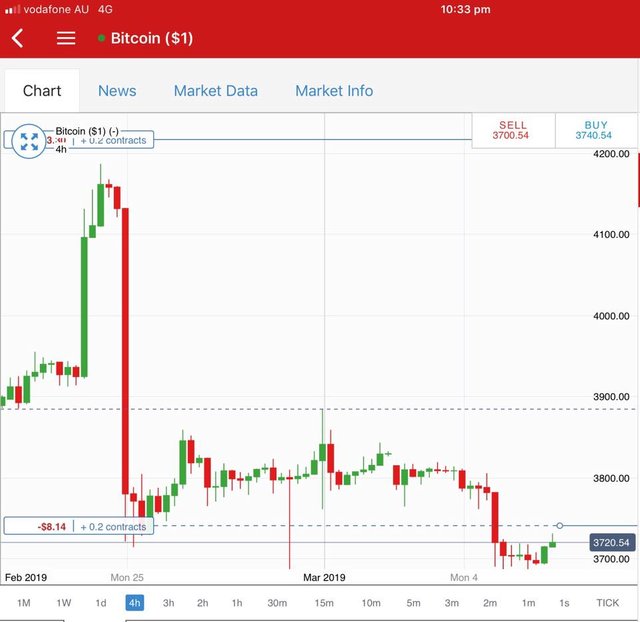 Ethereum (ETHUSD): Price range for the two days was $15 (12% of the open). Price pushed down to test below the short term level at $128 and pushed back above the longer term resistance at $132. The encouraging part is this reversal is a higher low on this cycle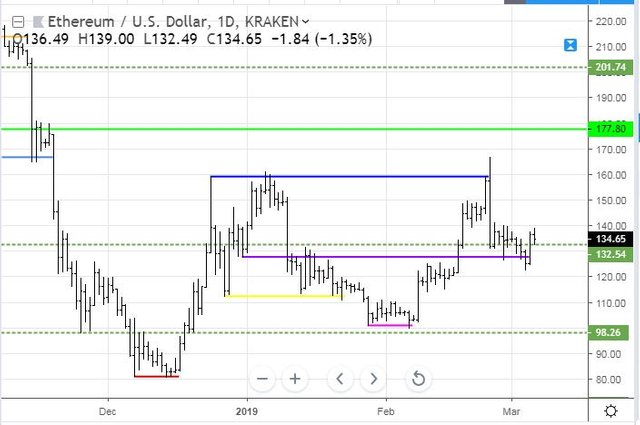 CryptoBots
Profit Trailer Bot One closed trade (2.14% profit) bringing the position on the account to 6.23% profit (was 6.20%) (not accounting for open trades).

Dollar Cost Average (DCA) list remains at 3 coins with all coins trading worse on an up day for ETH

Pending list remains at 11 coins with 0 coins improving, 1 coin trading flat and 10 worse.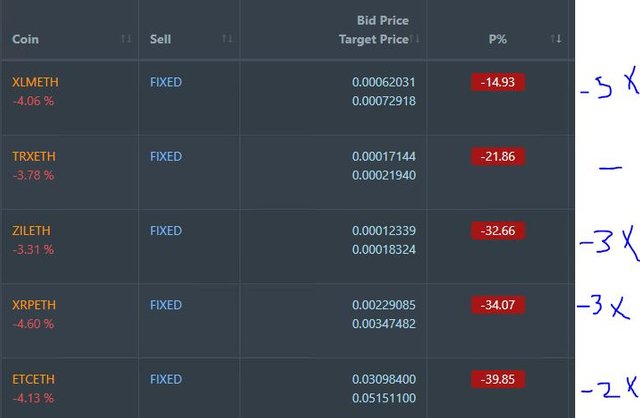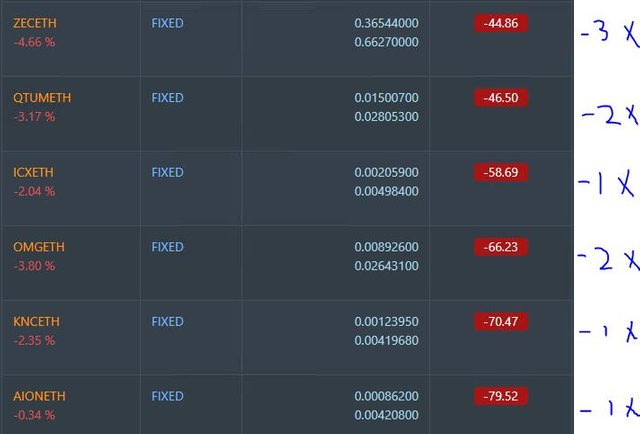 PT Defender continues defending 11 coins with new defence trade started on XLM.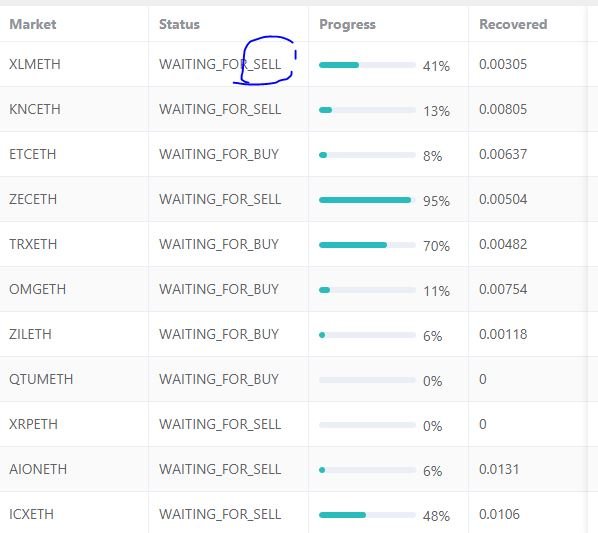 New Trading Bot Trading out using Crypto Prophecy. No closed trades.
Currency Trades
Outsourced MAM account Actions to Wealth closed out 4 trades for 0.01% profits for the day. Trades open on CHFJPY are currently profitable
Cautions: This is not financial advice. You need to consider your own financial position and take your own advice before you follow any of my ideas
Images: I own the rights to use and edit the Buy Sell image. News headlines come from Google Search. All other images are created using my various trading and charting platforms. They are all my own work
Tickers: I monitor my portfolios using Yahoo Finance. The ticker symbols used are Yahoo Finance tickers
Charts: http://mymark.mx/TradingView - this is a free charting package. I have a Pro subscription to get access to real time forex prices
Bitcoin: Get started with mining Bitcoin for as little as $25 http://mymark.mx/Galaxy
March 4-5, 2019