The first story occurred on March 7, 1997.
In early childhood, for some reason, I grew up slowly. I was on my head, or even more, below my peers. Perhaps if I were a little higher, this story did not happen.
It was a sunny spring day. About 12 o'clock in the afternoon I went to the street to walk. Going out into the street and not finding any of my friends went to play a pile of snow, which was heated by a neighbor who lived below us on the floor. We lived on the third floor.
As a child I loved playing in all kinds of war. For these cases, I built a shelter on a pile, which was something that looked like a trench, only deeper and expanded as it deepened. On the edges of the pit were prepared shells in the event of a sudden attack of the enemy. These were simple clumps, molded from snow, but I tried to make them with jewelry precision, so that they were as round and of the same shape as possible.
First of all, entering the fortress, I decided to remove all the snow that had been attacked during my absence. After I decided to expand my possessions a little more and began to dump snow walls and floor. Success did not keep itself waiting. Now I had another munitions compartment, which should have been completed. "I go for the shells."
He climbed out of the pit and went to the nearest snowdrift to make new komeneas for his lair. But it was a fiasco, the quality of the snow was not suitable for making such products.
In complete disappointment, I climbed to the very top of the mountain where my citadel was located, looked up ... "What a beautiful sky," I thought. I could not take my eyes off of him, it was somehow special on that day. With my head raised up, mesmerized by the beauty of the blue, I descended from the snow hill and slowly moved in one direction, not taking my eyes off the heavenly splendor for a second.
Making the next step felt the emptiness under his foot and in a moment found himself at the bottom of a water well. All my euphoria has sunk into oblivion and has been replaced by a panic.
The well was a concrete cylinder, in the middle of which there were large gates. The walls were without potholes and there was nothing to catch on. I started jumping, hoping to get hold of the edge and get out. In the same well, I found a piece of the board, leaning it against the wall, again tried to reach the top edge, standing on it. Nothing came of it. There was a hole in the wall from which the pipes came out, it was much larger than necessary and I could easily climb into it. Having made my way, I got into the same well, only its bottom was slightly covered with water (apparently from a pipe with warm water). I realized that here I definitely will not be able to get out, returned to the first place of detention.
I knew that the kitchen window, our apartment, was open, and the house was about fifty meters away. I tried to scream and make a noise in the hope that someone will hear me. No one came to the rescue. After some time, I was tired of bawling and decided to shout only when I heard people's voices. Very close to the well there was a road, along which people from nearby houses walked. Every time I heard a voice or footsteps, I started yelling, hoping that they would hear me: "HELP! SAVE! I HAVE COME TO THE WELL, MOTHER, HELP!" - Voices immediately ceased, and the steps were removed. No one responded to my cries for help.
The weather on this day was sunny, the temperature was not lower than -10 ° C, but I still started to freeze. Trying to warm up, I tried to do as many moves as possible, which was difficult in this situation. The pipes in the well were slightly warm and were of little use to them.
Some time passed. I decided to add a visual component. Use through a hole in a nearby well, there from the ground stuck out thin branches (in my opinion it was a maple). I took the longest of them, I wanted to do something like a flag. But there was nothing there that at least somehow resembled a rag. Returning to the first well the same way, I started waving what I could get (that is, a twig), but the length was not enough to be noticed at least somehow. Then, I continued to shout at every opportunity and beat the bar on the walls, in the hope that they would hear me. All attempts were futile.
I was tired, I wanted to eat, drink, I was scared and lonely. It seemed that time had stopped. Various thoughts crept into my head, which were interrupted by cries for help. I cursed myself for my inattention, but I did not realize all the scale of the tragedy.
So he went all day. The beginning is getting dark. I began to think how to spend this night, so as not to freeze. At some point, I heard the sound of a UAZ passing by. The sound of his engine and the squeaking of brakes, I was familiar at that age (It's hard to mix up with something else). Hearing that the car stopped, I realized that this is my only chance not to spend this night in the well. I started yelling more than ever, and a miracle happened. The driver heard me, went to the well, politely asked how I got there, gave a hand and easily pulled me out of the concrete trap.
Words do not convey my delight. It's nice to be free again. Stumbling and confusing words, I repeated: "Thank you very much!", "Many thanks!" And other words of gratitude. The driver asked where I live and wanted to take me home. I waved my hand towards my house (50 meters, remember?) And replied that I live very close. I said that I would get on my own and rushed home.
A minute later, already at home, I told this story to my mother. She, in turn, listened attentively to me, warmed up to me the frozen fingers and toes in water at room temperature. I did not freeze anything and I did not even catch cold. I'm glad that this story ended as it ended.
I am grateful to the person who saved my life. But I do not even know his name. Maybe he did not understand what he did. If it were not for him, I could either die in that very well, or become an invalid. At that age I could not appreciate all the touchingness of that moment, but now I understand everything. I will never see this person and will not be able to repay, and if I see I do not recognize him. I do not remember him at all, but I remember one thing, he saved my life and for that I thank him. Thank you!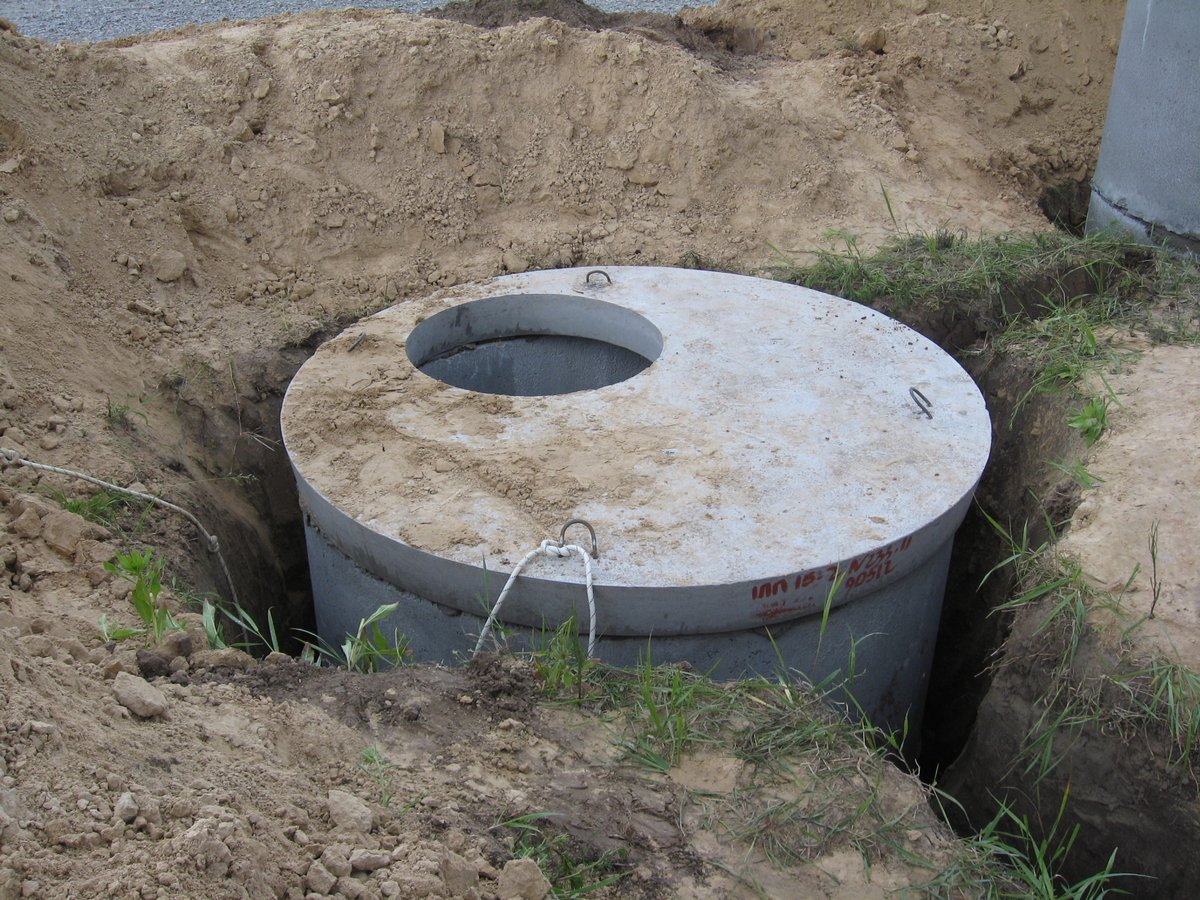 Now I live in another city, and that very well I can not photograph. To understand how they looked like, I attached a photo taken from the Internet, most reminiscent of that well. Imagine 2 such wells next to each other. They had one lid that did not completely cover any of them. The lid lay strictly in the middle, between them.