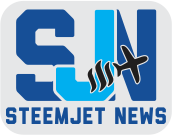 Designed by @solomon507
INTRODUCTION
---
Steemjet News is a Decentralized News platform on the Steem Blockchain. Its purpose is to give an update on the activities of Steemjet Community and the Steem Blockchain. It covers all activities of the Steemjet Community.
AIM/PURPOSE
---
Steemjet News was created by @solomon507 to make it easy for the Steemjet community member to know what going on in the community. Steemjet has a lot of department and some many activities are going on in each department. Daily there are new ideas and innovations coming up. It is stressful to keep update with each department and all activities going on in the community.
Imagine the stress of checking @steemjet, @steemjetceleb, @steemjetrecords, @steemjetuntalent, @steemjetfanpage, @steemjetmedia, to mention a few and finally keeping up with activities regarding @dimimp.
@steemjetnews will bring all this activities together and compile it. This also include list of newly employed SpaceForce members, contests & results, proposal, music post, videos and other activities of members.
Sample
---
Quality will definitely improve if all equipment need for the job is available. The video was recorded with a phone and no too much edit was done.
---
Steemjet News