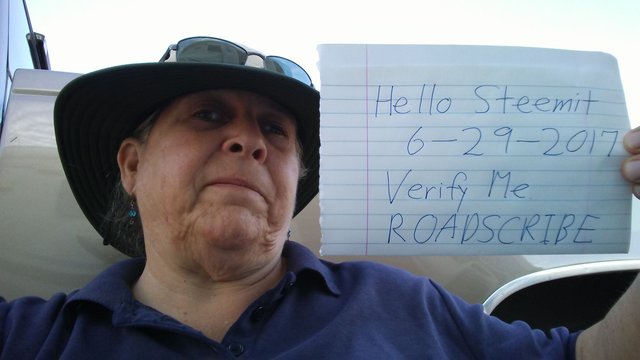 GREETINGS STEEMIT FROM A FIFTH WHEEL RV IN SOUTHEAST NEW MEXICO
by D.M. Simonds aka roadscribe
This initial posting is to let you know I am who I claim to be and that what Steemit is asking you do is a very good idea. Keeping this short, so I don't floor you with too much information, it all comes down to this. Since I have had issues in the past with what I call "Internet coyotes," I have taken the time to do research with lawyers and cyber security investigators kind enough to share with me the art and science of protecting myself in a cyber kind of way.
Well, how does this apply to Steemit, you might ask?
By posting your photo and a simple hand written note, you are knocking on the Steemit community door, saying, "This is who I am and I can prove it."
Yes my friend. In the long road of learning the writer's trade I can tell you first hand that fixing an identity theft or even shaking an Internet predator can require a lawyer and private investigator, and it's expensive. But there is light at the end of the tunnel. Learn how to protect yourself and you will be the last man standing, so to speak. Knowledge is power. If you stand defiant we all win.
With this said, you will see the sunhat and sunglasses in my photo.
In my future postings you will find them placed on a laptop in, who knows where, for my lifestyle is mobile as well as my RV office also known as The Cave. This is my insignia, even if some of my imaginary reporters chime in, giving you a different prospective, in this land of an ever Changing America.
Take Care
Be Happy
Live Life
For You Have Been RoadScribed