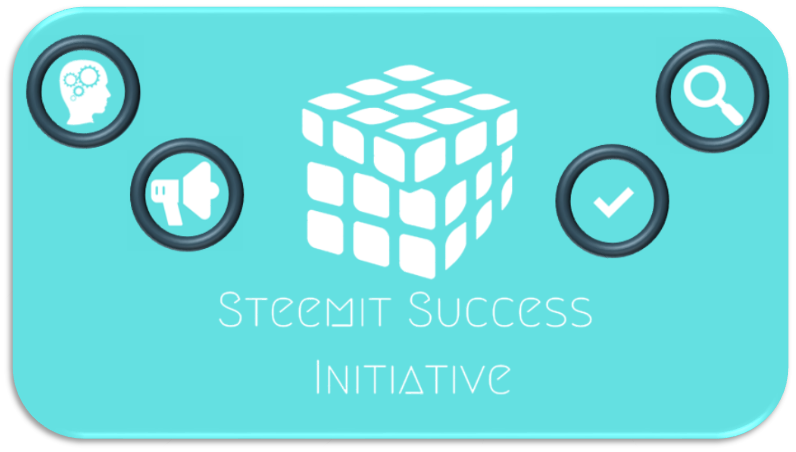 The Steemit Success Initiative!
---
Today, I am proud to announce the launch of the Steemit Success Initiative (SSI). The SSI is a project dedicated to the growth of Steemit as a platform, as well as the growth of beginners on the platform worldwide. There is a huge disconnect on Steemit; only roughly 8% of Steemit accounts are daily active users. We aim to increase this ratio by providing users with the tools necessary to grow on Steemit, so that they can grow.
The Problem
---
I find that there is a problem that doesn't seem to have been addressed on Steemit – there are multiple advertising campaigns that urge people to sign up for the platform by talking about how much money you can make from simply liking a post, or posting a blog. This gives people unrealistic expectations, and when they come to the platform and find that they aren't making any money, they give up posting because they think that it is impossible to earn any money on the platform. Below is what I believe to be the process that causes so many unactive Steemit accounts: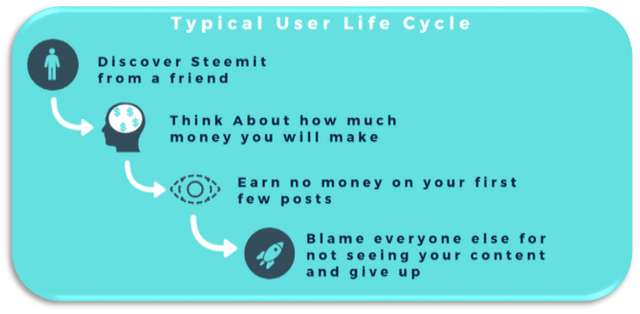 The Solution
---
There is a very clear fix to this issue: show users how to grow and do well on the platform, and provide them with the tools that they need in order to grow. We will do this by providing the following supports and growth mechanisms:

Through all of the above processes are implemented, the idea is that the user life cycle of Steemit will drastically change, so that it follows the following model: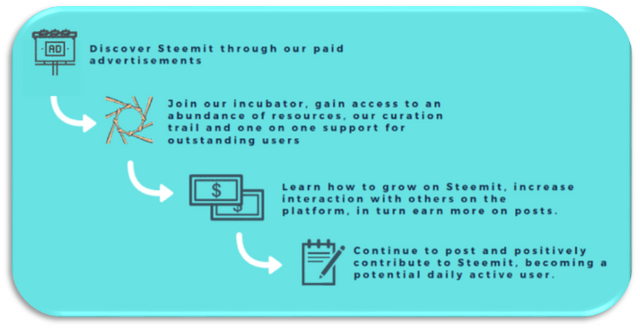 In a Nutshell
For those of you who are wondering what our exact ethos is, it is to drive and support the growth of Steemit and its users, and to allow those who create quality content to be seen on the platform.
As the project grows, we will start to expand by bringing on more team members, hosting in person meetups around Ireland and hopefully other cities around Europe as the project grows (although this is definitely a long-term goal!). We will also start hosting workshops around Dublin, with a particular focus on schools and colleges to begin with – again this will be expanded as the project and the team behind it grows.

What's the Plan?
---
The plan is quite simple to be completely honest. The project is going to build influence on Steemit, and continuously upvote and comment on undervalued posts. We are going to begin advertising Steemit across different platforms through paid advertising, and provide an incubator space in Discord for all beginners, where we will provide guides to success on Steemit, graphics that users can use in their posts, and monthly competitions for beginners, where the prizes will be paid in STEEM, or in services such as gaining access to a graphic designer to create a custom post thumbnail etc. Competitions won't run for the first month or so, as we will spend the majority of it growing our network and upvoting new users' quality posts.
What do we Need and Why?
---
What the project mainly needs is delegated Steem Power. We are building a project that needs monetary support to create advertisements, pay for graphic design work for our competitions etc., and also plans to provide undervalued beginners with upvotes of a good value. In order to make both of these a reality, we are looking for delegated Steem Power from anyone who wishes to contribute to the growth of the community! So far, we have received the following delegations:
@Steevc
– 488 SP
@g-dubs
– 988 SP A huge thank you to the two of you for helping to get the project started, and hopefully this list will continue to grow as the project grows.
@taskmaster4450
will also be helping out with the project, in terms of creating content for the project, so another big thank you for the help there!
The Future for SSI
---
Going forward, we will be providing a lot of content for both beginners and experienced Steemians. We will post a weekly update of our favourite curated posts, competitions and more. 3-4 times a week, we will also be posting cryptocurrency overview posts for those who are interested.
For those interested, our Discord server will go live during the week, and we are currently working on getting a website up and running. If you are really interested and want to be notified as soon as our server goes live, you can sign up for notifications here.
Thank you to everyone for reading this post, I am excited to get SSI up and running at a full time capacity over the coming weeks. Let me know your thoughts and suggestions about the project in the comments!