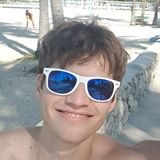 I'm an aspiring musician, gaming comedian, blockchain enthusiast, Deutschsprachiger, and fitness fiend.
Just started taking music seriously at 22. Trying to write/record/produce my own stuff, but also do covers. Right now I'm really into Tame Impala and Jimi Hendrix but love all kinds of music
A link to my Soundcloud:
https://soundcloud.com/user-42697973
Here's a short wacky music video I made for my channel intro and my most recent gaming video

I've been a crypto investor since late 2017. I'm inspired by the idea of decentralized internet money and fed up with "the system man". Jokes aside central banking, astronomical debt, and economic recessions every 10 years aren't my cup of tea.
Ich verbrachte zwei Semester in Köln als Ausserschuler in der zehnte Klasse, habe meine C1 Goethe Zertifikat letztes Jahr bekommen (nicht unbedingt mit Bravour), und zocke gern mit Freunden aus Deutschland mit denen ich noch Kontakt habe. Wir waren vor kurzem in Miami zusammen und es war mir ein Vergnügen ihnen Amerika vorzustellen. (einige bilder nach unten)