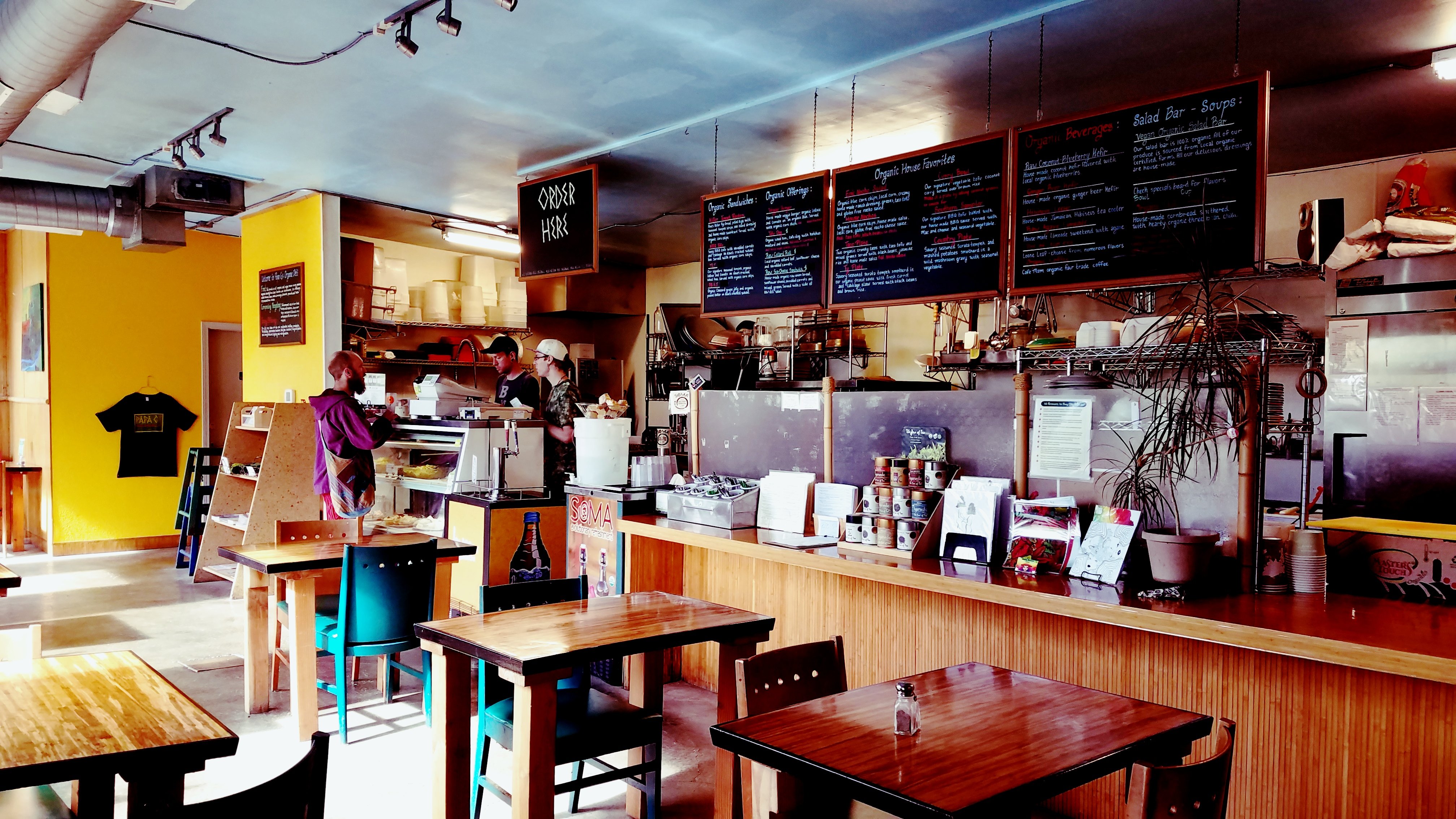 Happy Saturday Steemit!
Welcome to the inaugural edition of "The Mindful Eater's Guide To...", a Steemit-exclusive series featuring restaurants, groceries, farmers' markets, and other options for people to find mindful eats wherever they are. The first season of "The Mindful Eater's Guide To..." will focus on Portland, Oregon, as it is one of the most vegan & organic-friendly cities in North America. Just the other day, I was creating this veggie burger when the idea to start this came to me :-)
What is mindful eating?
Mindful eating is my philosophy making a truly conscious choice about everything that you eat. This means being aware of ingredients, being aware of where the money is going that you spend on food, being in gratitude for the food you consume, and listening to your body to know what you "should" eat. Removing animals from your diet, getting things as locally as possible, making sure that the money you spend on food is not financially supporting companies & practices that you do not morally support are all a great start. When deciding what foods to buy/eat, I often refer to my 6 facets of the Paradigm Shift to help see where something falls. Just because you're buying the organic, vegan cereal doesn't mean it's actually better, if you're still buying the General Mills brand from a Safeway.
What do I mean by Steemit-exclusive?
Not only will The Mindful Eater's Guide To... feature 100% totally new, original content, but that content will be posted ONLY to Steemit, and we will be sharing links to that Steemit content on Facebook, Twitter, Reddit, and a variety of other places, driving lots of folks interested in travel, mindfulness, food, and more to get a look at our beautiful platform. I am going to share this content in a lot of places that I don't normally share my Steemit articles. I will also be getting business cards made specifically for this project, which will distributed to people in the food industry, featuring a link to all of these posts on Steemit.
Now, on to the first stop for "The Mindful Eater's Guide To... Portland": Papa G's Vegan Organic Deli!
Photography by @kerrismiles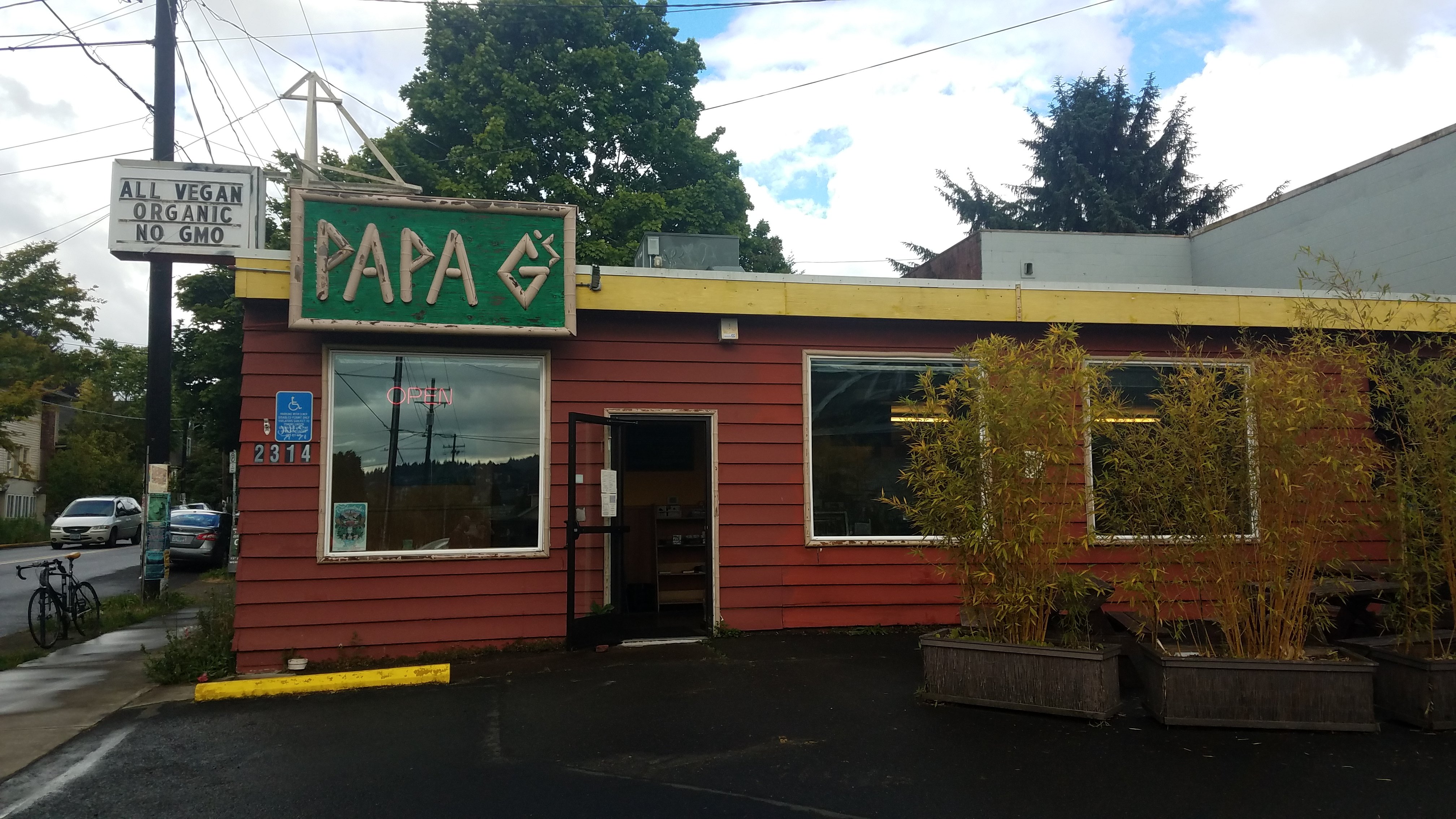 Basic Information
"The most organic restaurant in Portland"
Papa G's is open daily 11am - 9pm
They offer a full menu, pay-by-the-pound salad bar, and catering services
Papa G's Tofu is available at co-ops & groceries around Portland
Portland's Only Bitcoin Restaurant!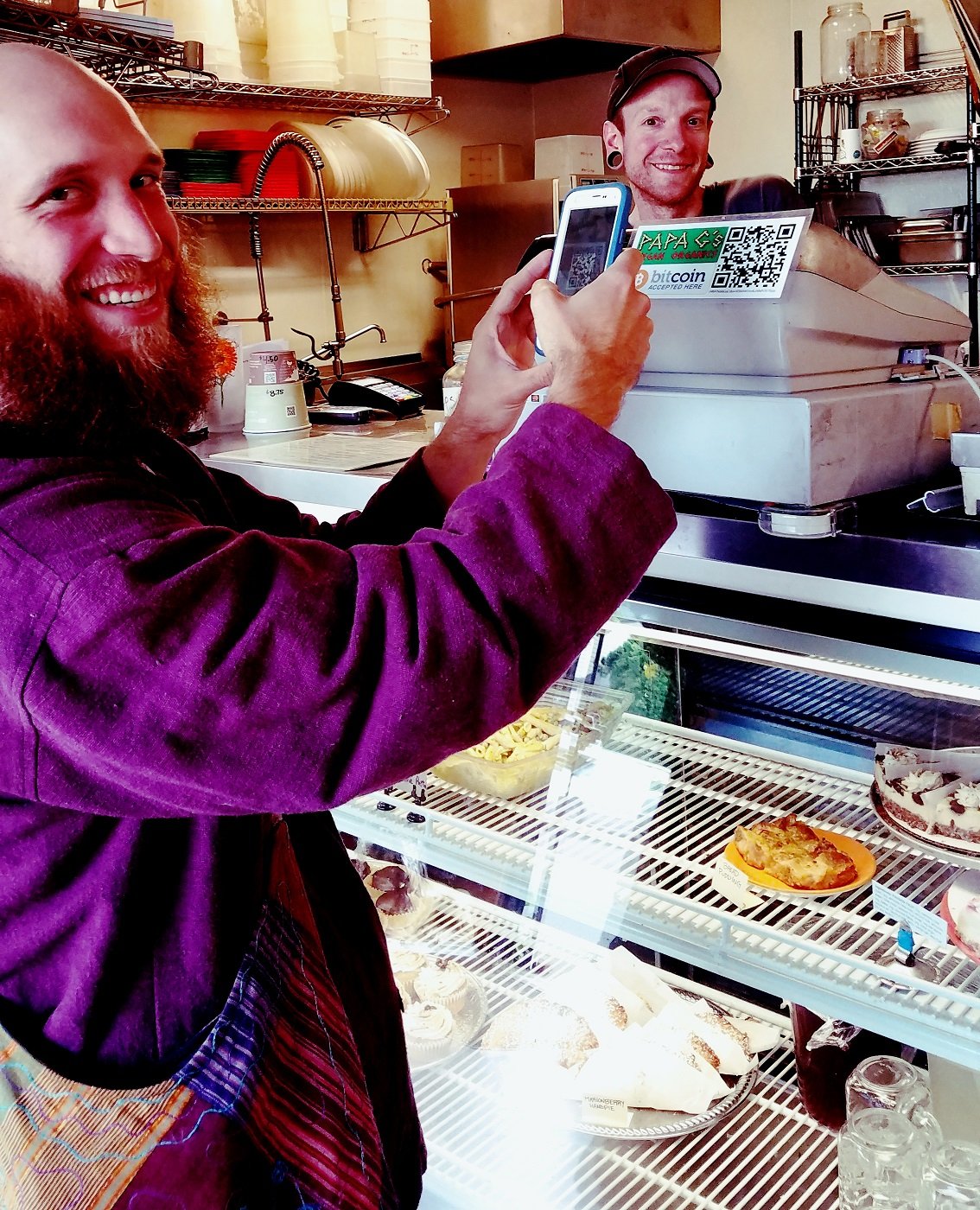 Company Standards
Papa G's has some of the highest restaurant standards I've seen anywhere, using only 100% organic ingredients, keeping everything totally vegan, composting all food scraps, using only compostable to-go containers, etc. They also use as much local produce and as many local brands as possible for things they don't create in-house.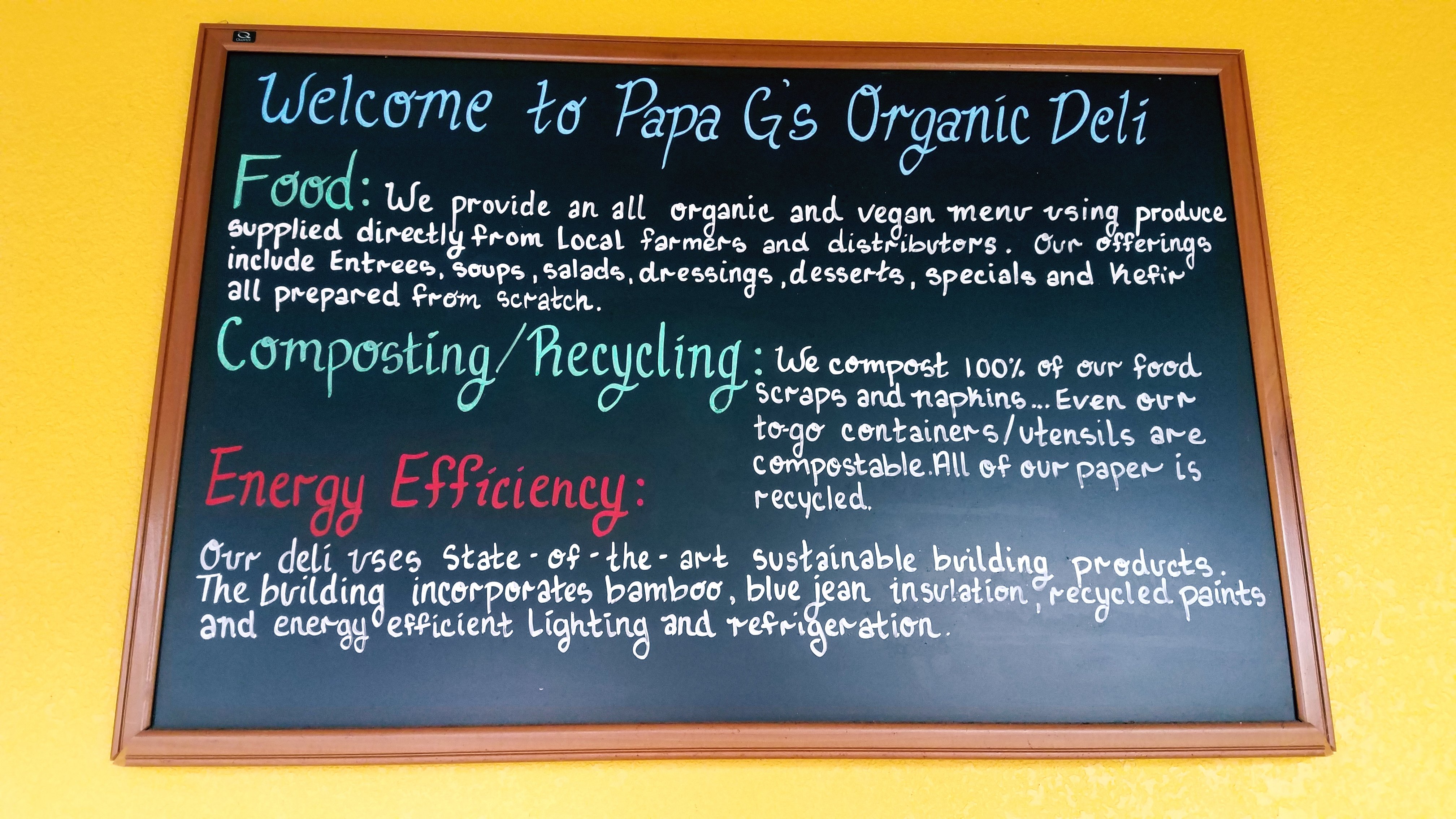 The Menu
Papa G's menu has some amazing variety, including things like a tempeh reuben, nacho salad, chili & cornbread, raw sun-cheeze sandwiches & wraps, mac & cheese, and much more. Obviously everything is organic & vegan, and most of dishes are gluten-free and soy-free as well. While it's not the cheapest place around, it's certainly easy to get in & out for less than $15/person.
What to Drink
Papa G's offers a variety of locally-crafted organic kombuchas (Humm & Soma on tap), sodas, and juices, as well as a couple of house-brewed Kefirs as well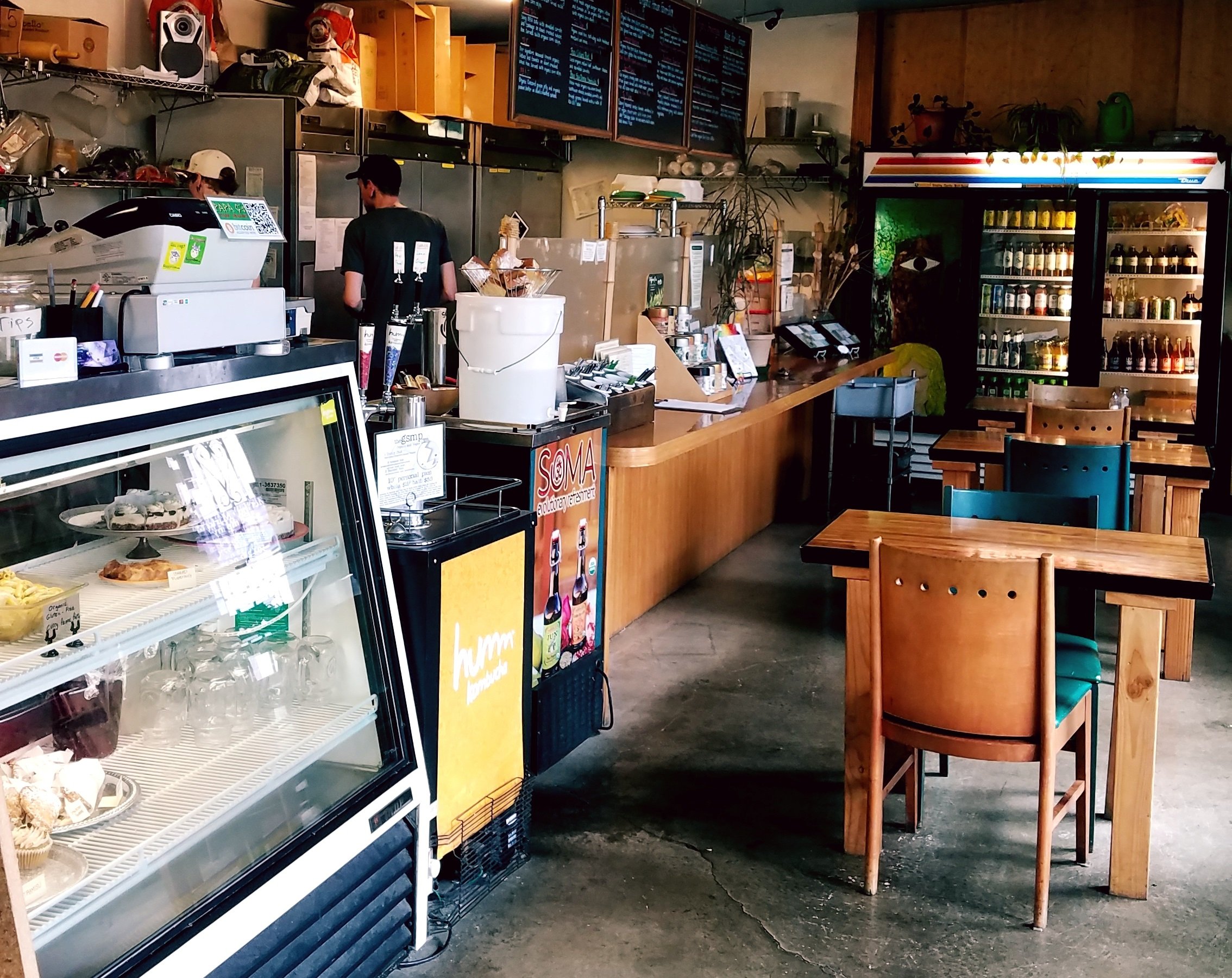 Coconut Blueberry Kefir: Amazing Color, a beautiful combination of blueberry and coconut, very creamy and refreshing.
Ginger Beer: Fizzy & delicious, with a great balance of sour/spicy/sweet flavor, super fresh and full of fresh raw ginger floating around


The Salad Bar

For those who really want to keep it simple, or who are in a big hurry to get their food and get back to what they're doing, Papa G's also offers a pay-by-the-pound salad bar. Like everything else in the restaurant, the salad bar is 100% organic, and features house-made dressings and house-prepared veggies (this stuff is not showing up in a plastic bag!


Yesterday's Visit

Yesterday, @kerrismiles and I visited Papa G's during a nice peaceful, slow period in their day. I'll let Kerri describe our meal for you :-)

Nacho Salad: House made, oh so fresh and colorful! Best nachos I have ever had, amazing vegan nacho cheese that will set your standards high. When the dish arrived I couldn't help but melt into the smell, the cilantro made it so fresh, the spices dancing in my nose. When you get the salad vs. just the nachos you get a bunch of earthy greens, cabbage, carrots, corn and their amazing ranch dressing that will make your taste buds dance.

"I like it saucy mate" - a friendly employee talking about their ranch, which he loves


Veggie Burger: Due to the veggie burger and its bun both being handmade, they are not always available, so today was our lucky day! Their grain & veggie burger and sprouted bun were super fresh and tasty. We subbed the side of tortilla chips it comes with for their raw zucchini pesto ($3), and scooped that onto the burger, making each bite even more refreshing.

After our very satisfying main course we were brought out a wonderful tart and sweet treat to end out meal.


Marionberry Hand Pie: It was so beautiful, and smelled amazing as we gently tore it in half to share. Berries bursting bright with color and tart aroma, nestled inside of dough dusted with powdered sugar, reminiscent to funnel cake.

"The Marionberry is an Oregon favorite, and was originally known as the Marion County Blackberry, until folks decided to start selling them nationally/internationally, and decided the name was too obscure." -Kenny

Conclusion

Papa G's is one of the first two places that I visit every time I arrive in Portland (the other is The People's Food Co-op, which will be featured soon), and I'm never let down :-) Next time you're in Portland, it's DEFINITELY worth a stop, especially if you like being able to spend your Bitcoin at brick & mortars! If you've already been, hop over to some social-food-media and leave them a review! By raising the rankings of businesses who are in alignment with your philosophy and way of life, you help them to reach more new people. Just think of how amazing it would be if tourists visiting a city and looking for the "best" food around, always found businesses that are organic, vegan, local, employee-owned, crypto-accepting, et al.

Papa G's on Social Media:

My favorite things to get here:

Nacho Salad (subbing Chili for Tofu, as I'm soy-free)
Raw Sun-Cheeze Sandwich
Side Dish Pick-3 (Mac & Cheeze, Mashed Potatoes & Gravy, Coconut Stewed Collards)

---

If you enjoy my content, please up-vote & re-steem this post, and follow me here on Steemit.




I'm always open to and grateful for any & all gifts and support from the universe, and it all goes towards my many projects to make the world a more peaceful, loving, free, and well-fed place :-)

Bitcoin: 1FhTQQB7QD9xh4t3VqeenZFfCtf5uZAzMt
ETH: 0xf350af8bd751d10b8ed43d97a9a05a26b6d83005
DASH: XqrFJtPDdkFJtN2iamYfWZxDvGVunQWuEX
ETC: 0xd2f7a6e2b87d78b0d65e6b3da7b8461ec0d3b6fc
Augur: 0xf350af8bd751d10b8ed43d97a9a05a26b6d83005