Good morning,
My name is Jeff and this is my first official Steemit post!
I learned about Steemit after I invested in Bitshares and joined the Telegram forums in July. So, I am new to crypto investing and still have a lot to learn. I am a strong supporter of the Bitshares Decentralized Exchange and excited about the developments and possibilities of the platform. I believe Bitshares as a whole is significantly undervalued and has great potential as a platform for business development and individual investors. Many people find it surprising that such a powerful platform that is one of the oldest blockchains is so undervalued and that businesses are just now adopting and understanding the potential for growing their brands. My opinion is that blockchain, in general, is a disruptive technology and still in its infancy. It takes time for people and businesses to adapt and understand how blockchain fits into the ecosystem. Those that do are the pioneers who will bring blockchain to the masses.
Anyway, a little about me. I am a School Psychologist and have almost 20 years of experience working with students from 3 to 21 years of age. I work with many great teachers, Guidance Counselors, School Social Workers, Speech Language Pathologists, parents and students. I entered this profession because I wanted to work with and help students who struggle with learning difficulties and other disabilities. I entered fresh and optimistic. Working in education is a challenging and stressful career. I still try and find those bright moments that make it all worth the effort. A smile from a student who is learning to read a book for the first time or overcomes that challenging math problem. The look of relief when a student feels there is someone in their corner and understands they are not just lazy or unmotivated.
Exercise is my go to stress reliever. I enjoy running and I am training for my first sprint triathlon next summer. My goal is to simply finish and not drown during the swimming leg! Swimming is my weak link. This is an early morning picture I took this summer from one of my favorite routes along a canal where I live.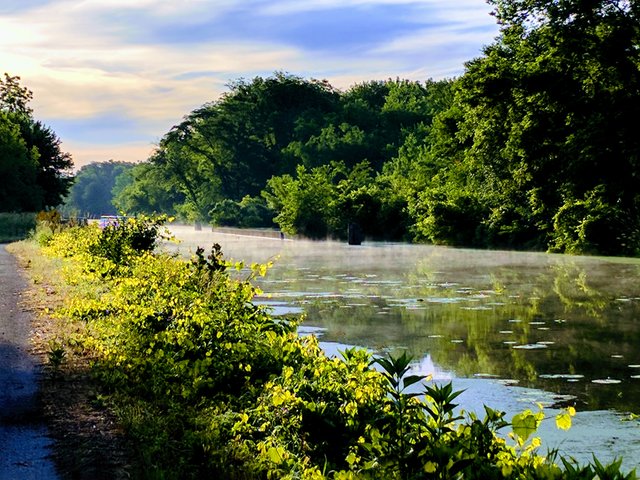 When I am not working or running I enjoy spending time with friends and my two daughters. I love good black coffee, reading and listening to music. I have pretty eclectic taste in music but prefer blues, jazz and classic rock.
I intend to use Steemit to write about crypto in general and Bitshares specifically. I will also be posting articles related to education. I hope you all enjoy what I have to offer and I enjoy a good debate so feel free to let it all out.
Thanks for reading!
Jeff
Written with StackEdit.