Hi Steemit, my Name is Nick Thompson (@honusurf), and here is the X-Ray of the B.B. that was lodged in my neck all this time!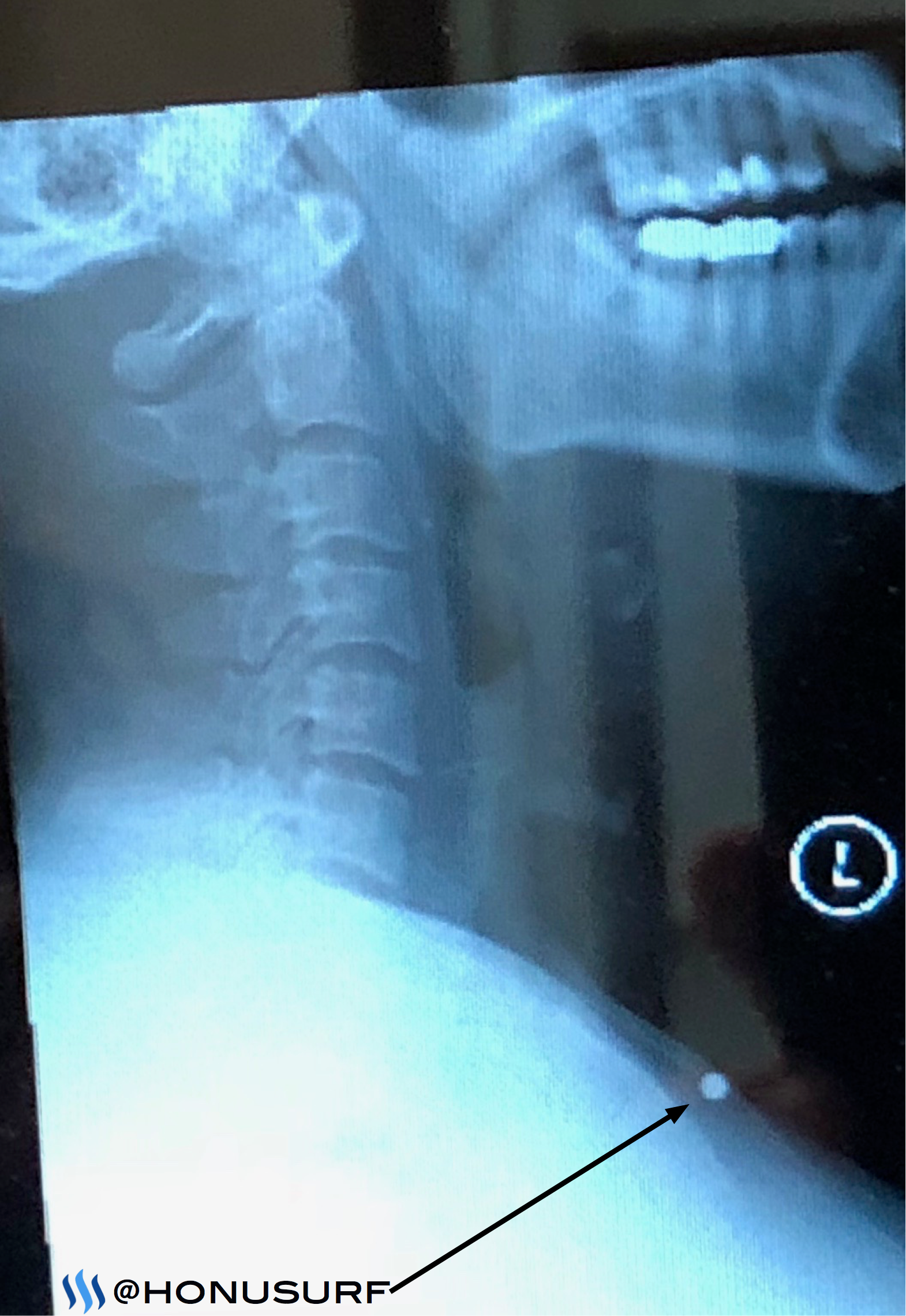 X-ray Photo: Nick Thompson (@honusurf)
It is not every day that one gets a B.B. stuck in the neck!!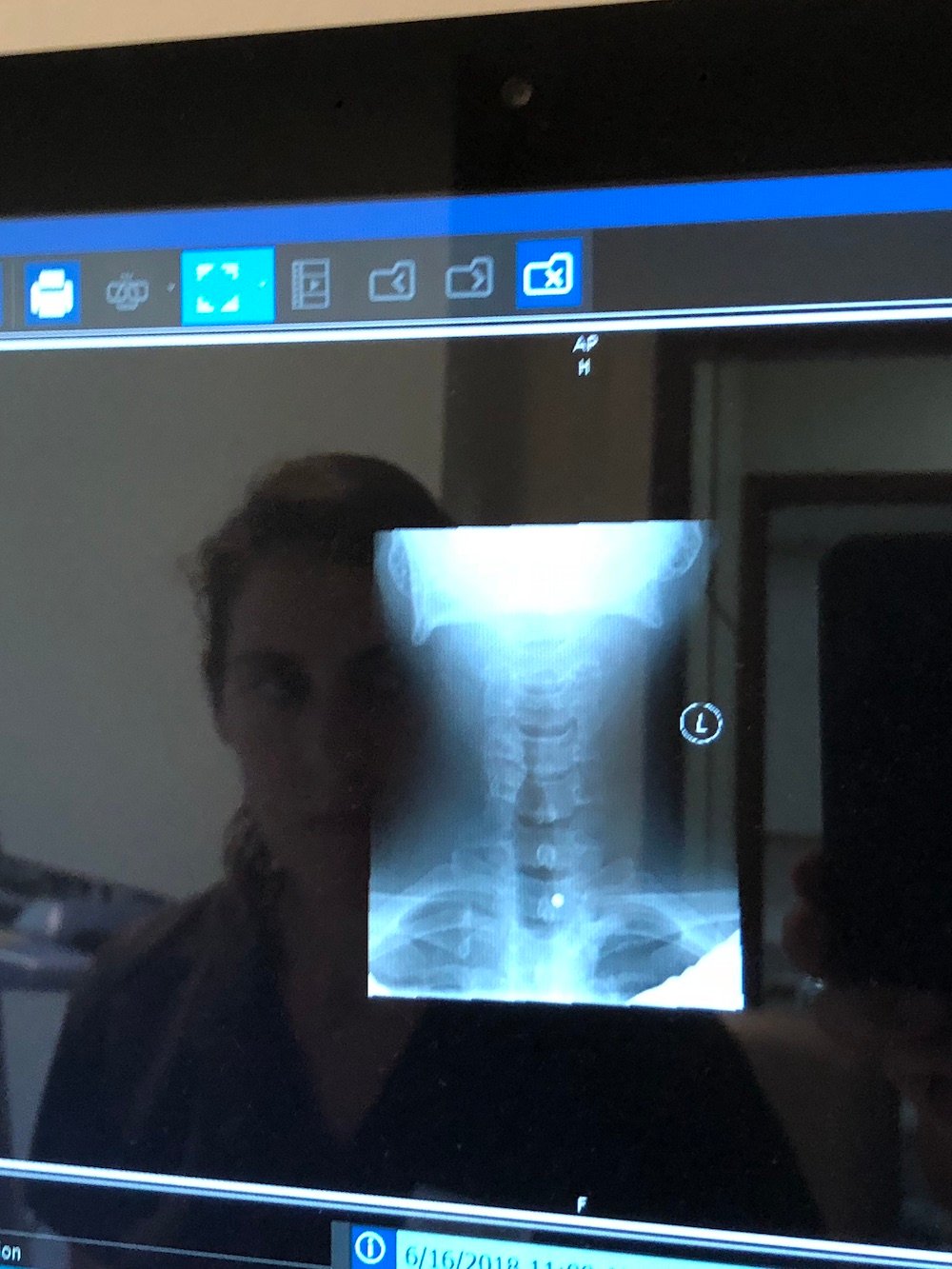 It all started out from an innocent game of paintball gun with my friends that went awry.
Paintball gun can be a lot of fun as long as you play by the rules and know what you are getting yourself into before you play. It was my first time playing, I had no idea what I was doing and I even ended up winning this particular match, but not without a casualty. To win the game I shot my friend in the neck with the paintball gun, it must have hurt him really badly because his eyes teared up as he nearly cried! I felt bad afterward, but he made a full recovery within 15 minutes, except for the big black "paintball hickey" that remained on his neck for the rest of the month - LOL!
Months later I was hanging out at my friends house as usual, that night we were horsing around with his new B.B. gun!
I remember that evening like it was only yesterday, my friend gave the gun one pump and to my surprise shot me in the back of the leg and the bullet bounced off my calf. We both laughed, but mine was a kinda hesitant laugh, at the same time wondering where all this B.B. gun shooting was going to lead. At that moment my friend tried to assure me and said
" See, one or two pumps and the B.B. won't penetrate the skin, it will just bounce off!"
Everything was chill, we finished some pizza and some beers in the kitchen when out of the corner of my eye I saw my friend pointing the B.B. gun right at my neck. Before I could blink I felt a sharp sting in my neck, however at the same time I thought I heard the BB ricochet and assumed it just bounced off. It left a little welt and had a drop of blood but I had no idea the B.B. actually went in! Years went by and I totally forgot about the incident until...
About a month ago I had a pain in my shoulder and as I was trying to figure out where the pain was coming from.
I was feeling around my shoulder and neck when I felt the bump. Immediately the B.B. gunshot memory from years back hit me like a ton of bricks! What if that bump in my neck is indeed a B.B. and not just scar tissue? After a quick google search and found out that a lot if people have B.B.s stuck in them. One Redditor even suggested a solution for diagnosos which was to get a strong magnet amd see if it sticks! So I tested it out and the magnet stuck right to my neck, now I knew for sure and decided to have it removed.
To get the B.B. removed first I had to get an ultrasound, however that was not conclusive enough for the surgeon so he requested an x-ray too! Finally with the X-Ray disk in hand I had all I needed to get this little B.B. removed!
Luckily for me the B.B. was just right under the skin, and was just a minor surgical procedure that took about half an hour! Here is a photo of the actual bullet!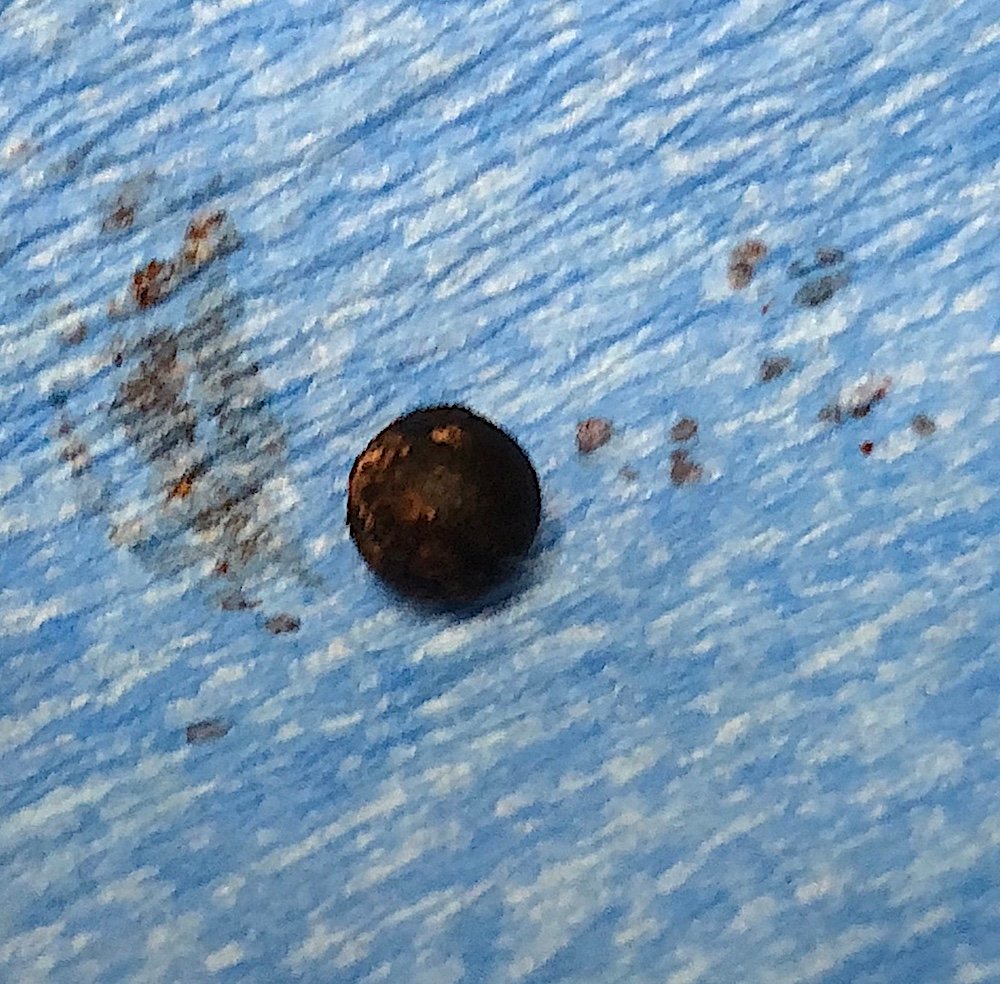 Photo by Nick Thompson 07/02/18