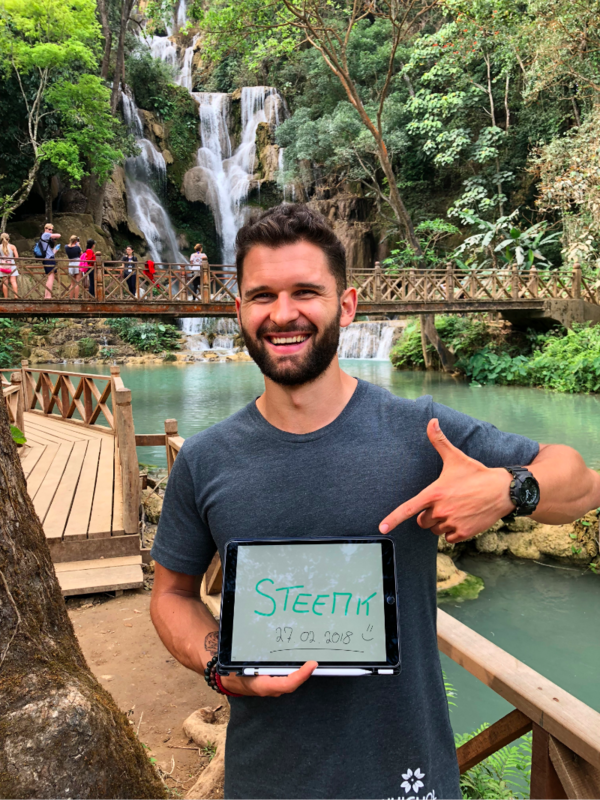 Hi Steemit community! You guys are awesome.
You guys are super smart, driven by the right values and ad Or are you? In fact, I have no idea. 
How could I? 
I just joined this awesome-sounding platform and this is my first post. I've done some research, I've read some posts - but to be very honest, I just don't know if this community is as awesome as people telling me it is. And I am really skeptical about many newcomers here posting about how awesome and inspiring and world-changing this platform is. I mean, can you tell after browsing around a bit? After reading a few posts out of hundreds of thousands? 
Like, really?
Personally, I simply know too little about you guys. And about how all of this works. And I don't understand too little of what the exact incentives driving the most popular creators here are.
But here's the thing: 
From what I do understand, this community has amazing potential. Potential to be a real positive influence on how people interact. On how information spreads. On what we care about. On how we navigate the bullshit-laden world around us - especially the digital one that's becoming bigger and bigger.
That's why I decided to be a part of Steemit. And I am extremely committed to contributing as much as I can to help Steemit become this loud and positive voice. To actually being part of this voice.
MY PART IN THIS
I will do my best and play my part in sharing good ideas. And separating them from bad ideas. Or at least, suggesting my views on how to separate good from bad ideas. Because ideas spawn action. And good ideas spawn good action. And good action leads to good lives. It's that simple (at least I like to think so).
I view it as a major problem that we, by default, are neither skeptical enough nor curious enough. Not skeptical enough in that we tend to believe too much of what sounds or, worse yet, makes us feel good in the moment. Not curious enough in that we tend to only follow the well-trodden path that's right in front of us. Both physically and mentally. And thereby missing all of the amazing opportunities life has in store for us, being blind to the non-obvious that requires some conscious effort.
And I think that communicating good ideas, as well as motivating people to search for, interact with and act on good ideas, can help overcome this problem. It sounds very simple. And I think it is very simple. It's just not easy, in fact, it's really hard. But Steemit could be a powerful new tool in communicating good ideas effectively. That's why I'm here.
WHO THE HELL IS THIS GUY?
I'm Phil. 28 years old, living in Munich, Germany. Currently, though, I'm traveling the world (yes, I quit my job to do just that). 
As I'm writing this, I'm overlooking a beautiful garden in the front of my guesthouse in Luang Prabang, Laos.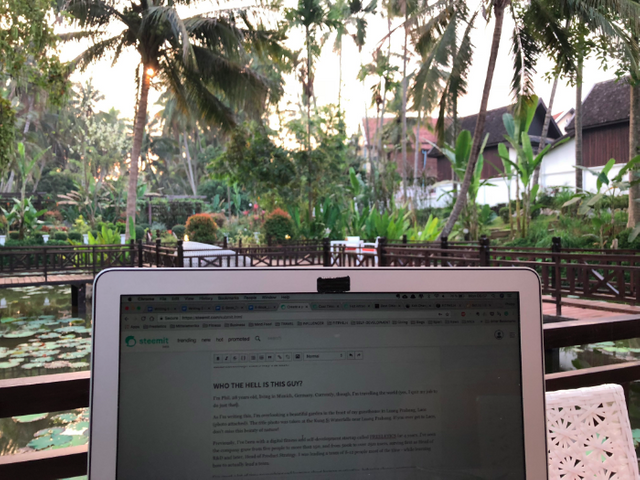 The title photo was taken at the Kung Si Waterfalls near Luang Prabang. If you ever get to Laos, don't miss this beauty of nature!
Previously, I've been with a digital fitness and self-development startup called FREELETICS for 4 years. I've seen the company grow from five people to more than 150, and from 500k to over 25m users, serving first as Head of R&D and later, Head of Product Strategy. I was leading a team of 8-12 people most of the time - while learning how to actually lead a team.
I've spent a lot of time researching and learning about human motivation, behavior change, persuasive communication, mental development, personal growth, as well as about fitness and nutrition in a broader sense. That is why, most likely, you will see me post on all of these topics.
Before that, I studied Business Administration, majoring in finance. I wanted to become an investment banker. I know, not quite the same direction. Hell, I even went to New York City to take part in seminars and trainings in trading. Here's a photo of me being a cute 21-year old kid with a baby face who dreams of working at Wall Street one day.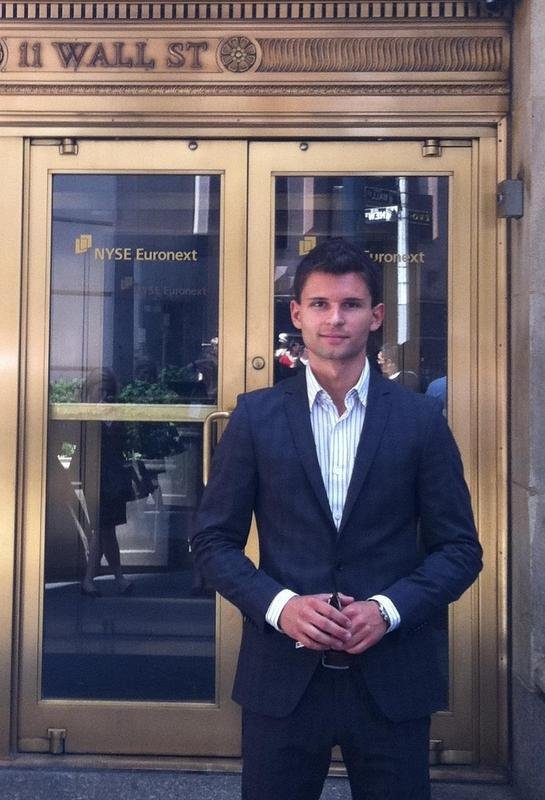 However, at one point I just realized that the things important to me have changed. And that I should take action and change my own life's course. Which I did.
I've always had a passion for complex things. Or, as I like to put it, non-trivial things. Before the investment banking thing came, I wanted to become an astrophysicist. Study black holes and all that. I still find that fascinating today, and sometimes I geek out on a documentary on quantum mechanics.
But anyway, who I am today probably matters most.
And that guy tries to help people live life on purpose and not by accident. That guy is open towards people, places and ideas - but skeptical by default (which is why I don't celebrate Steemit quite yet). I really like having my perspective challenged and changed - but I never hesitate to call bullshit.
I would describe myself as highly curious about and interested in (almost) everything life has to offer.
I'm super active, workout a lot, and love a good long hike. Here's a pic from last summer when I hiked in the Acadia National Park in Maine, USA (mind-blowing nature!).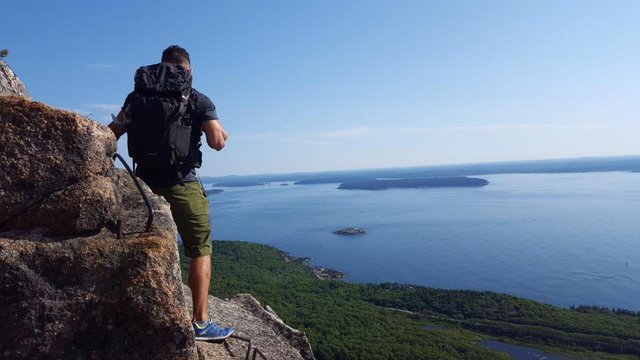 I read and meditate regularly to train my mind, and write and create a lot of content on Instagram (@fitphilh), trying to inspire people (the life on purpose thing).
I try to understand cryptocurrencies and the blockchain but, to be honest, didn't fully get it yet (besides that it could transform a lot). Didn't stop me from investing a bit (BTC, ETH, XRP, LTC, ADA, XLM, XMR, TRX) - for better or for worse.
There are two things I believe in very strongly.
And these beliefs guide what I do and especially influence what I try to communicate.
First, I believe that we all can live a good life. In fact, a great life.
A life full of growth and achievement, wonder and astonishment, joy and satisfaction. A happy life. Regardless of what we have and haven't done in the past, of what has and hasn't happened, irrespective of who we are and what we think we can and can't do right at this moment. 
Second, I believe that building and living such a life is our own responsibility.
Ours alone. Yes, things and people influence our lives. In both good and bad ways. That's a fact. But the responsibility to put ourselves on the right path, to learn how this path looks like, to advance regardless of obstacles on that path, and to thrive regardless of what life throws at us, always remains with us. Our responsibility lies in our choices, decisions and efforts. Whatever circumstance we find ourselves in. As soon as we deny responsibility, we throw away power over our own lives. Period.
MY PLEDGE
Okay, enough said, at least for now. This intro has been long enough.
Let me end with this:
I will put in a lot of effort to help Steemit become a strong tool of communication, interaction, information, and inspiration. I will do my best in sharing good ideas and enriching perspectives - thus, helping this community stand up to the expectations it has raised in so many people already.
I would love for you to be a part of my journey, and for letting me be part of yours. Never hesitate to comment - I love a good discussion!
And, of course, I would appreciate an upvote! :)
Cheers,
Phil
P.S.: If you want to get an impression about what my mind revolves around, you can check my Instagram profile @fitphilh.