W styczniu 2017 roku założyłem konto na Steemit. Dwa lata minęły super, wiele pozytywnych osób tutaj poznałem oraz się wiele dowiedziałem i zobaczyłem. Dzięki Wam za to!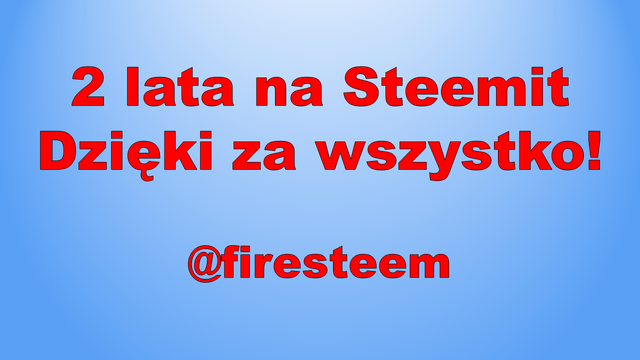 Jak już wcześniej wspominałem, Platformę Steemit pokazał mi Marian @bitland i też pomógł założyć na niej konto i zacząć się po niej sprawnie poruszać. Jestem mu za to bardzo wdzięczny. Dzięki jeszcze raz Marian . 
Na tablicę wrzucam posty, w których dzielę się z Wami za równo własnymi przeżyciami i doświadczeniami ale także pokazuję życie w naszej straży pożarnej w Jadownikach. Cieszę się, że dzięki mojej obecności tutaj mogę pokazać sposób w jaki działamy społecznie. W jakich akcjach ratowniczo-gaśniczych uczestniczymy oraz w jakich uroczystościach państwowych czy kościelnych jesteśmy obecni. W najbliższym czasie odbędzie się zebranie sprawozdawcze z działalności za ubiegły 2018 rok oraz będziemy zabezpieczać medycznie i ruch na drogach podczas biegu Tropem Wilczym.
Przeczytać także możecie o naszej Dziecięcej Drużynie Pożarniczej, która również pomaga lokalnemu społeczeństwu. Dzieciaki uczą się być strażakiem, poznają podstawowe zasady i techniki pojęć pożarniczych i ratowniczych. Zasady pierwszej pomocy żadnemu z nich już obce nie są. Jeżdżą na różne pokazy, na których doskonale to pokazują. W tym roku szykuje się II Ogólnopolska Olimpiada Dziecięcych Drużyn Pożarniczych w Wieruszowie, na którą już zaczynają się przygotowywać . W 2017 roku podczas takiej olimpiady nasza DDP w składzie dwóch drużyn jako jedyne reprezentowały woj. małopolskie. 
Czynnie uczestniczymy także w charytatywnych akcjach, takich jak np. akcje krwiodawstwa oraz koncerty charytatywne i zbiórki pieniędzy dla potrzebujących organizowane przez HDK MOTOJADOWNIKI, "Ratujemy i uczymy ratować" czyli odwiedzanie dzieci w przedszkolach i zerówkach.
Na mojej tablicy znajdziecie również porady, w których opisuje wskazówki postepowania w różnych okolicznościach, jakich zachowań unikać. Jeżeli zdarzy się mi gdzieś jechać na wycieczkę to także o tym napiszę . Czasem wrzucę jakieś zdjęcie w ramach samo-nauki  oraz zdjęć i informacji naszej strażackiej historii.  
Dziękuje wszystkim, którzy mnie wspierają i doceniają. Ja również staram się jak najwięcej działać na platformie i śledzić poczynania polskiej społeczności  oraz ją wspierać poprzez oddawanie swoich głosów. Przez te dwa lata, oczywiście na ile czas pozwolił, robiłem co mogłem – tak mi się przynajmniej wydaje, a czas minął mi tutaj bardzo przyjemnie! :)
Cały czas będę kontynuował swoją obecność tutaj i pisał posty jak dotąd o sobie i o mojej jednostce straży pożarnej. Do usłyszenia wszystkim!
Pozdrawiam Mariusz, @firesteem.