Hemodialysis: the challenge of a discontinuous life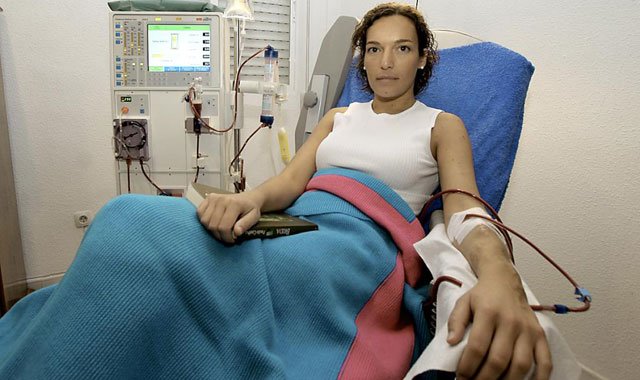 Source
-I'm going to have many limitations, I'm going to lose days of my life connected to an appliance," was the first thing Francys Rojas Ruiz thought sadly two years and three months ago when she heard the word dialysis.
The first day she saw her blood circulating through the tubes connecting her to the machine and felt strange. Not because of the impression, not because of the fear of "what will happen", not because of any effect of the treatment. I'd know why later on. After a while, it would leave anger against dialysis, against it and against the world.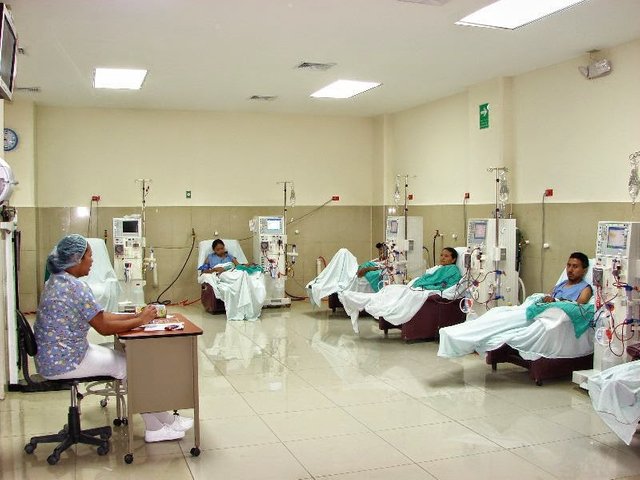 Source
The biggest change is in everyday life. Whether you're on a holiday or on vacation, you need to go on dialysis. You have a discontinuous life. But then you realize that it's the other way around, that it's because of this that I can do what I do outside, alive.
The kidneys are twin organs that perform important vital functions. Among others, and in simple language, they cleanse the blood of toxins and other substances that accumulate in the body. This, when kidney function is optimal, is done through the urine.
In Venezuela, more than 15,000 people are undergoing dialysis treatments because their kidneys only operate with 10% of their functions. The way out of dialysis is transplantation and about 7,500 people are on the waiting list for a kidney, according to the Coalition of Health and Life Organizations. This situation is increasing and becoming more critical due to the scarcity of inputs.
For more than two years now than three times a week, for four or five hours, this 40-year-old woman has been in the "Dr. Patrocinio Peñuela Ruiz" Hospital, part of the Venezuelan Institute of Social Security (IVSS). From home to dialysis, the "early morning," the traffic, the minutes. It's 6:00 a.m. on a Thursday morning and Francys gets up ready to get dressed, packs her suitcase with her sister's help and takes the things she usually brings to the center and then has breakfast. From Táriba they leave for the IVSS dialysis center in San Cristóbal.
I have 20 to 30 minutes of travel and I stay four hours doing the treatment. At about 12 o'clock I leave, she says proudly, while patiently waiting for the moment to enter the dialysis room.
In 2015, at the age of 38, Francys was diagnosed with kidney failure, a condition that can have several causes. His was hypertension, asymptomatic, which burned his kidneys, so he talks about the importance of prevention.
Suddenly I found out I had kidney failure, and with more time, two years and three months later, I was scheduled for dialysis. First she underwent surgery to place a catheter and a year later a fistula in one of her arms to join a vein to an artery, creating an access for blood to flow out and re-enter her body during dialysis. If it weren't for his left arm, no one would assume he was undergoing any kind of therapy. A covered lump appears on his forearm.
Then, he again emphasizes why nurses repeat it to him, in how easy it is to prevent or detect kidney failure early on. It's just a urine and blood test, but please, prevention is important," he asks, kindly, and remembers his diagnosis, not kind, concrete like the catheter that hides his body.
Twenty percent of new cases of kidney failure are of unknown origin. Thus, many of the dialysis patients arrive on dialysis overnight, according to the Coalition of Health and Life Organizations.
Francys walks into the dialysis room at 7:15 in the morning and knows exactly what to do. She greets her roommates, who number about 10, with a kiss and a hug. Among them are the jokes, the "how are you" and the jokes with winks at the nurses that only the everyday allows.
He then weighs himself, calculates how much liquid the machines must remove, washes his arm and prepares to sit on the couches to be "connected". First, he interrupts the rigorous medical ritual to impose his own, as do many of those who will be dialyzing. Get out his blanket, his pillow, his cell phone and some headphones. During those four hours you will take a nap while listening to romantic music. Others often read or listen to Tama stereo, the station that nurses have inside the room.
The nurse arrives, the person who knows how to handle the machine on his or her left and, yes, a puncture in the middle, the blood begins to circulate through the tubes. The machine filters the blood of the toxins that are produced when food is metabolized and removes excess fluid from the body," explains Francys, pointing to the device that lengthens her days. At that precise moment, the explanation, flat and friendly, imposes the image of the body as an almost clockwork machine.
"In December we have to take a step back," says a rather flirtatious man, about 74 years old, to one of the nurses, who smiles.
As the blood purifies, the noise of the machines sounds. A few conversations are mixed with a "get me 200 grams", the nurses come and go and Francys continues to sleep on the couch.
The clock strikes a quarter to twelve when the patients start to go out, dizzy and very cold. Francys, on her way out, places her head on her sister's shoulder. There she is encouraged to say that she has a degree in business administration and that after learning of her illness she decided to retire from the company where she had worked for many years but where her health was first.
She is also encouraged to count how many times the catheter stitches fell out and had to be re-sutured until they got the fistula, which was a "great relief" and in a slight smile she says she is her "faithful companion".
He also stresses the value of his family, especially his sister who helps him get the drugs, and even in the dialysis room patients share some drugs or divide them in half.
Among his phobias, he says that he is afraid of dying and in turn explains that it is necessary to take into account the family history, because the children of those who suffer from hypertension have a 50% chance of inheriting it. Then think of your family and the way out that awaits you. That's why I say this doesn't stop me, it allows me to go on with everything I do outside. In that first dialysis he had begun to realize something: no one and nothing would rob him of the hours of his life, only God.
THANKS FOR THE VISIT