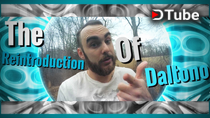 Click above to view the video on DTube

I decided to get back on camera again to let those that are new to following me on Steemit get a better feel for my personality. My aura exudes through the screen and I hope that you will feel more like my family after watching this video. This was taken in one cut, no script, without any trimming. I wanted to give the most natural communication as possible.

Excuse the slight wind at times, it is nothing that ruins the quality of the video, but I wanted to go outside as it was the first warm day we have had here in the mountains for well over a month.

Thank you for 300 followers, I just reached that mark today, I have been on Steemit for 2 months now. I am very much excited about what the future holds here for all of us that stay dedicated.

Best Regards,
@daltono