Launching The Biodiversity Project On Steem
    A
warm hello to everyone from our team.
You must be wondering why the name, and what are we about...you must be wanting to know what new and interesting things this account is going to put before you...
        So, let's introduce this new project..This will from now on be called "The Steem Biodiversity Project", and will be run from this account, i.e. @bioportal.steem
Setting Up The Stage
We are all very much aware of
Global Warming
,
Climate Change
and other environmental issues propping up in the current ages due to anthropogenic causes (human activities). Much of the brunt-bearers for these are the flora and fauna around the world (and of-course the humanity). The biodiversity of the world is getting severely affected by our activities and whatever is the most affected is very much on the brink of extinction. Entire species are getting wiped out from the face of the Earth as the situation grows in severity and damages move beyond repair.
Let's hear about the gravity of the situation from IUCN...
1. Introducing IUCN
Many of you must be already aware about
IUCN (International Union for Conservation of Nature)
.
    Wikipedia describes IUCN as:
"



The International Union for Conservation of Nature (IUCN; officially International Union for Conservation of Nature and Natural Resources) is an international organization working in the field of nature conservation and sustainable use of natural resources. It is involved in data gathering and analysis, research, field projects, advocacy, and education. IUCN's mission is to "influence, encourage and assist societies throughout the world to conserve nature and to ensure that any use of natural resources is equitable and ecologically sustainable".

"
We can know about their work at their official websites here: http://iucn.org and https://www.iucnredlist.org
2. What IUCN Has To Say...
A banner on the
IUCN Redlist website
sums it up quite clearly: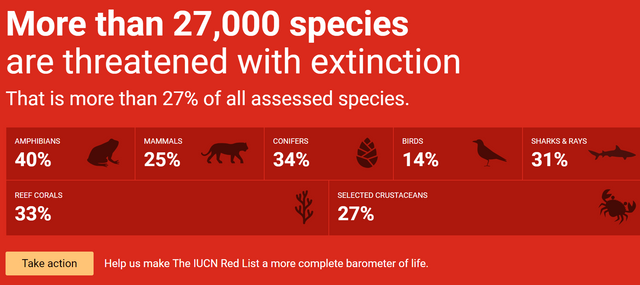 [NOTE: This is what we know about the species which have been classified and recorded (
"assessed"
as IUCN says in the banner above...). But do you know that the number of species which are yet to be discovered is very much comparable to the number of them recorded by us!! Meaning the Earth is losing species even before they could be recorded by us!! This is a huge set-back as far as our knowledge about Earth and its biodiversity is concerned...]
Are you now wondering what you can do as an Earthling to make the situation better?!
3. The Least That We Can Do...
What we as humans can do is to at least be aware of our surroundings, and record any new species which we may find around ourselves. We should not let the "book of species of Earth" burn away before we ever read it...
Aim Of This Project
The aim of this project will be to reward people for their efforts and possibly publish reports of biodiversity data contributed or cataloged by Steemians on behalf of the people who contribute giving due credits to the contributors.
The Steem Biodiversity Project will be a non-profit effort based on community support and contributions. We'll also try to use our funds to help deserving fellow Steemians contribute more towards the goal of the project. The remaining funds will be used for paying out some royalty to the people actively working as scientists and those helping in managing this project.
We'll try to keep things as open to the public as possible and the utilization of funds will always be kept public.
Project Founders
This project was the idea of the following people:
Medro Martin [@medro-martin]
Aakash Singh Bais [@aakashsinghbais]: An undergrad. student at Indian Institute of Science Education and Research, Bhopal. They were recently invited to join Steemit, so haven't started blogging yet.
Rajiv Kumar Singh Bais: An amazing photographer and naturalist. They have written several articles and have published papers in distinguished journals. They have been invited to join the community, not here yet.
Current Status Of This Project
We started supporting people working on biodiversity from the account of
@medro-martin
, but now with the project declared open, we will be using this account for our project activities.
We are still trying to develop working plans and ways to manage the project. But, with your support we'll start running on full throttle soon.
This Is Your Project, We Need Your Support...
This project will only succeed with the support of the community. Here are some ways you can help us currently:
With that I would like to conclude this introductory post.
For any queries and suggestions, please feel free to drop a comment.
---
Thanks for your time.
This is Martin Medro signing off on behalf of the Team, Steem Biodiversity Project.