The Most Expensive Domains In History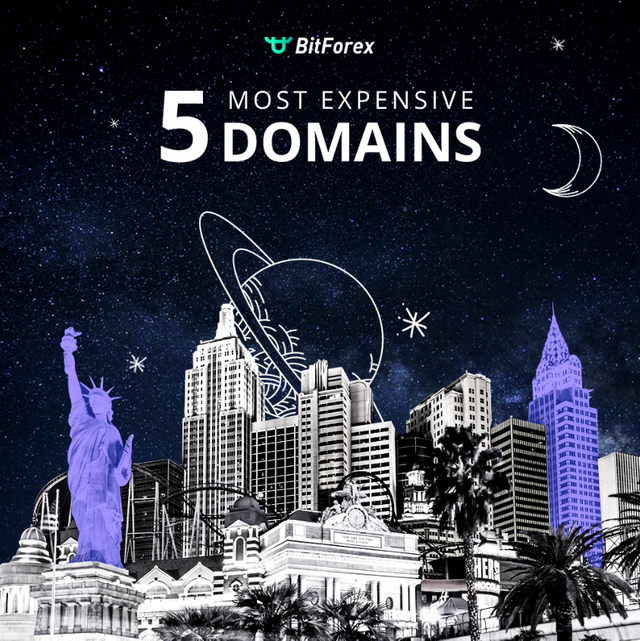 In August, 1995, the world changed. It was then that a gold rush began, which continues to this day: large companies are fighting to get a good domain. What amounts are they ready to pay for one? Today, we have prepared a list of the most expensive domains in history.
⠀
We'll start at 5 to fuel your interest!
⠀
5️⃣ VacationRentals.com ($35 million)
This domain was purchased solely to prevent a competitor from grabbing it first. In 2009, Brian Sharpis, the CEO of HomeAway, bought the domain after learning that his rival company, Expedia, was planning to do so.
⠀
4️⃣ Insurance.com ($35.6 million)
QuinStreet, a California-based marketing company, made headlines at the end of the last decade with the most expensive domain name purchases. These purchases place QuinStreet at fourth and third place on the list of the most expensive domain names.
⠀
3️⃣ CarInsurance.com ($49.7 million)
In just 13 months, the company acquired three huge domain names in the insurance world, culminating in the purchase of CarInsurance.com on November 8, 2010. This domain was already a highly profitable consumer site for researching and buying auto insurance policies.
⠀
2️⃣ LasVegas.com ($90 million)
This domain was acquired in 2005 by LasVegas.com, which wanted to merge the two domains to ensure that both search queries would direct online traffic to a Las Vegas travel agency. The previous domain owner agreed to a contract that began with a down payment of $12 million. The remaining amount for the sale of this domain is paid in installments until 2040.
⠀
1️⃣ Business.com ($345 million)
The purchase of Business.com for $7.5 million in 1999 was included in the list of the largest sales of domain names in history. But at that time, no one could have imagined that this domain would cost 47 times more eight years later. In 2007, the domain was sold to RH Donnelly for a whopping $345 million.
⠀
Do you think it is the norm to buy domains for such a price?